Introduction
A reading below 50 on the ISM manufacturing index, PMI®, indicates that the manufacturing sector of the economy is contracting. However, it is common for the PMI® to go below 50 during periods when the overall economy continues to grow. Such periods are shown below within the red circles.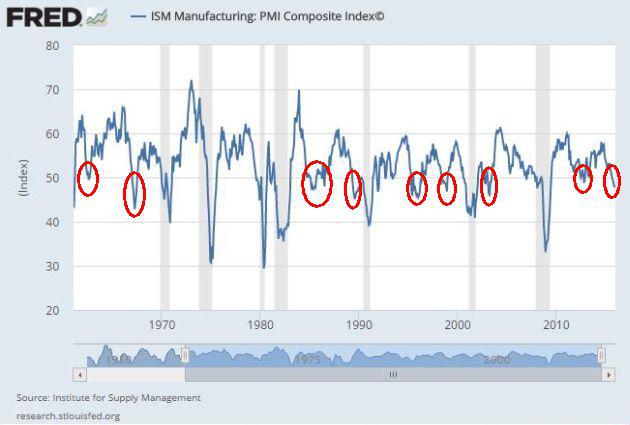 Despite this established recurrence, whenever the index goes below 50, a loud chorus of warning arises, insisting that a contraction in manufacturing portends a recession. As the charts shows, sometimes this is true, but often it is not.
ISM Knows Best
The ISM has been tracking the relationship between its index and GDP growth for many years. The ISM has concluded:
"A PMI® above 43.2, over a period of time, generally indicates an expansion of the economy."
January's PMI® reading of 48.2 is well above the threshold as determined by ISM. Apparently, the PMI® signals a recession only when there is a severe contraction in manufacturing, a reading we have not yet reached.
Current PMI® Indicates the Economy is Growing
Yes, despite the fact that the manufacturing index is below 50, indicating that the manufacturing sector of the economy is contracting, the current reading of 48.2 indicates the overall economy is expected to grow. As the ISM states:
"Therefore, the January PMI® indicates growth for the 80th consecutive month in the overall economy, while indicating contraction in the manufacturing sector ... the PMI® for January (48.2 percent) corresponds to a 1.6 percent increase in real gross domestic product on an annualized basis."
Stronger manufacturing performance is preferred, which would help boost overall growth, but, while weak, the current PMI® is still signaling growth and not a recession.
Current PMI® Indicates Manufacturing May Be Recovering
Importantly, manufacturing is showing improvement in two critical areas: new orders and production.
The index for new orders increased 2.7 percent from 48.4 in December to 51.5 in January, moving from contraction to expansion. The same is true for the production index, which increased 0.3 percent from 49.9 to 50.2.
Because new orders are considered to be a leading indicator, this is especially favorable news. Of course, we need to see an improvement for more than one month before we conclude a definite trend is emerging. However, there is more encouraging news. In January, eight manufacturing industries were expanding. In November, only five industries were expanding.
Low Commodity Prices Help Some Manufacturing Industries
In addition, let's keep in mind that some manufacturing industries benefit from lower commodity prices. In the current ISM manufacturing report, a chemical products representative was quoted saying: "Reduced oil and basic chemical prices providing favorable margin comparisons."
With the exception of oil and coal manufacturers, the overall manufacturing industry should benefit from lower commodity prices.
Never Rely on One, or a Few, Economic Indicators
Although following the PMI® is worthwhile, following an array of indicators that cover all aspects of the economy is even more important. Doing so can help one better ascertain the full impact of a contraction in manufacturing on the overall economy.
To read the latest ISM manufacturing report, go here.
Disclosure: I/we have no positions in any stocks mentioned, and no plans to initiate any positions within the next 72 hours.
I wrote this article myself, and it expresses my own opinions. I am not receiving compensation for it (other than from Seeking Alpha). I have no business relationship with any company whose stock is mentioned in this article.