Company Overview
Graham Corporation (NYSE:GHM) is a global business that designs, manufactures and sells critical equipment for the energy, defense and chemical/petrochemical industries. The company has been around since 1936 (previously with the name Graham Manufacturing Co., Inc) and has a strong reputation in the markets it serves. In the table below, summarized from information in the latest 10-K, there is a brief summary of the markets the company serves combined with the percent of revenue derived from these markets.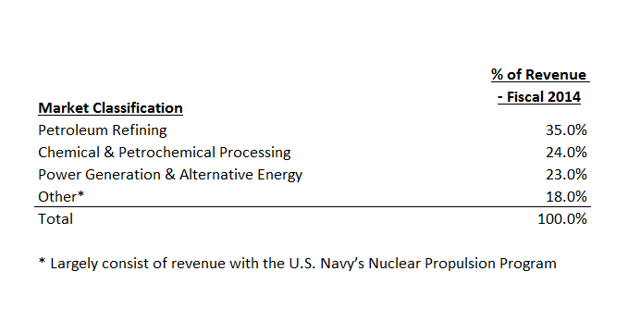 Click to enlarge
The company sells products such as vacuum pumps, surface condensers, and heat exchangers all over the world. The company is reasonably diverse in terms of customers as typically no customer accounts for more than 10 percent of revenue (based on the project nature there have been times where one customer will reach slightly above 10 percent, but it isn't the norm) and the company usually maintains approximately a 60/40 split for US/International sales.
In more recent times the company has seen large declines in the refining and chemical spaces, but has seen continued strength in the US Navy program. The company has aspirations to expand the nuclear business going forward and this could ultimately be done through acquisition. It might seem odd that the refining space is in such decline, as in fact refiners are doing quite well in today's environment, but the refining space is dominated by integrated and state-owned energy companies. With the decline in oil it has put significant strange on the budgets and lead to cuts across the board.
Strategy
The company has a stated strategy to reach $200M in annual revenue over the business cycle, either through organic growth and/or acquisitions. Given that the recent 2016 guidance is in the neighborhood of $90M, this would seem quite an aggressive goal. However, the company has a large net cash position that could (and likely will) be put to work in order to help achieve this goal. The company doesn't have a huge history of acquisitions, but in 2011 the company bought Energy Steel & Supply Co ("Energy Steel"), which helped diversify to give more focus to the nuclear markets.
The company has stated that, while it is conscious of costs, it is keeping staffing levels at a higher than needed level in order to better support its customers and keep a certain knowledge base in the company (paraphrasing). While this strategy may suppress results in the short term, it should help cement their relationships with their customers and improve longer term results. The company could still make reductions should they see the end markets will remain down for a protracted period of time and historically the company has maintained a positive operating income, even across a downturn. Additionally, they haven't entirely stood pat as they do have a voluntary reduction program in place.
Financials/Valuation
On January 29, 2016, the company released Q3 2016 earnings, which showed a very disappointing revenue level of around $17M and an operating loss (if you back-out the cancellation penalty of $1.8M) of a few percent. The company attributed the decline in revenue to engineering changes which made it difficult to get everything delivered in the quarter, but from a broader point of view it is also clearly challenged by end-market weakness.
Based on the company guidance 2016 could end with around $90M of revenue and operating margins around 7-8%. Additionally, the company should end 2016 with a healthy cash and short-term investment balance even if Q4 falls short of expectations. The company ended Q3 2016 with nearly $72M in cash and short-term investments despite returning approximately $8M to shareholders during the 9 months (through dividends and buybacks).
While the company didn't see a huge decline in orders and backlog, it is clear the end markets in energy and petrochemical are still weak. The company ended the quarter with backlog of $113M and about 45-50% of that is expected to convert to revenue in the next 12 months. However, in this backlog there is $10.1M order that is on hold (the company indicated this order was progressing though) and in the quarter there was a cancellations of $3.3M.
The company has yet to issue fiscal 2017 guidance (as 2016 still has another quarter remaining), but based on the some historical relationships we could take a guess as to where revenue might end up for modeling purposes. My purpose in setting a forecast is not to be precise as to the exact figures, but rather give me a feel for what certain forecast levels mean as to the valuation.
The table below shows the relationship between backlog at any particular point and the revenue that was generated over the following 12 months (this is from data starting in 2006). For this purpose, the backlog used was only the amount expected to convert to revenue over the following 12 months (in some cases this required some estimation as the company would give a range, e.g. 45-50%).

Based on the average number of 64% and an ending backlog of about $51M (total backlog of $113M with around 45% expected to convert in the next 12 months) this would suggest that revenue for the next 12 months would be around $80M. This covers Q4 2016 and then the first 3 quarters of 2017 and with the company guidance for 2016, on the low end, of $90M, this would say Q1 to Q3 2017 should be around $57M. Even if Q4 2017 declines 10% vs. where Q4 2016 should land, this would put 2017 revenue around $75M.
At $75M of revenue based on the current cost structure I believe the company would be just shy of break-even on an operating income level. That said, 2017 would also likely continue to build cash as the working capital requirements come down based on the declining revenue. Assuming that the energy markets remain depressed for a few years it is quite conceivable that the company could only be getting back to around $100M of revenue by 2020. I have included a very high level income statement forecast just to get a feel for what value this drives out in the future.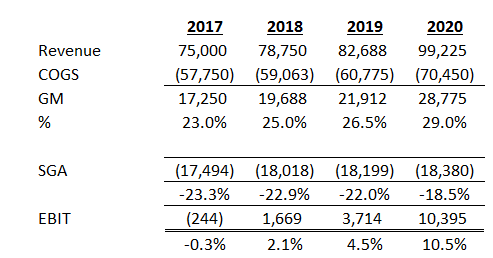 If something close to the projections above were to come to fruition it would still leave the company producing free cash flow over the 4 years (assuming CAPEX is kept to current levels and then grows from there). The most recent earnings conference call had management implying that the down turn in the chemical and refining markets isn't exactly at a bottom and that is the general idea I was hoping to model here (basically, assuming a couple more years of softness). If the above is roughly accurate and multiples remain on the lower end of the historical range, the company is likely not worth much more than $13/share by 2020.
Based on that it might seem strange to say that Graham is a buy at this point, but I believe there are a few reasons, listed below, that this is the case.
- The large cash balance could be used for more share buy backs the longer the share price remains "low". The company has bought back around $5.8M worth of shares in the last 9 months, after buying none in the comparable period the year before. Assuming all free cash flow and cash balances aren't used for acquisitions then I would expect the company to continue buying shares at $17 and under.
- The forecasted assumptions inherent in assuming the company doesn't get back to $100M of revenue until 2020 would have the company leaving costs at relatively higher levels than we have seen historically. In all reality, if the markets remained depressed for a few years, the company would be forced to take some actions on the cost structure. To put another way, SG&A expenses as a percent of revenue have not been above 17% for 3 straight fiscal years in the last 10 years of history, but this forecast assumes it basically remains that way for 5 years.
- In the last earnings conference call the company indicated it has a high level of interest in acquisitions. It seems likely to acquire something in the nuclear space or something in the core markets (refining or chemical). Given that the company will be paying with cash anything it acquires will be accretive (assuming it is making money) and the company seemed to have success with the Energy Steel merger back in 2011.
- The company is trading at a multiple to sales that is low by historical comparisons. At $16/share the company trades at about 1.2 times sales. In the past 4 years the multiples on the low end have typically not been much below 1.5. Prior to 2011 multiples did have low end ranges below 1. In this case however, the 2011 period and forward seems a better comparison as that is when the revenue stream started to become more diversified (the nuclear business). Additionally, Gardner Denver, one of the company's main competitors, was bought out by KKR (NYSE:KKR) in 2013 at a multiple of 1.6 times revenue. So it would seem that there is room for expansion here.
- As the shares trade down the risk/reward ratio becomes increasingly enticing based on the company's cash position. In the challenging times over the last 10 years the company has traded where cash (cash and short term investments) represented over 50% of the share price a few times. If we assume that as an approximate floor and realize that the cash represents more than $7/share based on the last earnings call, it would say $14 per share is likely a strong relative value, historically speaking. Now, to be fair, when I did this analysis I used cash balances from the prior fiscal year end (not updating them for quarterly changes) and if I modify it based on that then using 50% of the last fiscal year end cash number would imply a value of around $12 per share.
Summary
Graham is a company I have watched for a while, but never could quite find the value compelling enough to start a position. That changed in 2016 as I have started a position (averages out to $16/share) and would intend to add to it should it trade closer to $14/share, all else equal. This stock is a very illiquid small cap, but one that I feel will be rewarding to own if we look more than a couple years down the road.
Disclosure: I am/we are long GHM.
I wrote this article myself, and it expresses my own opinions. I am not receiving compensation for it (other than from Seeking Alpha). I have no business relationship with any company whose stock is mentioned in this article.