Shares of Netflix (NASDAQ:NFLX) have fallen around 10% over the last two trading sessions, after Comcast (NASDAQ:CMCSA) announced Tuesday it would begin offering a streaming video service dubbed Streampix. Streampix will offer streaming movies and TV shows to Comcast customers for around $5 per month (the service is free for premium service subscribers), a move which could entice many of Comcast's 22 million customers to choose the cable provider's streaming videos over Netflix's more expensive streaming service.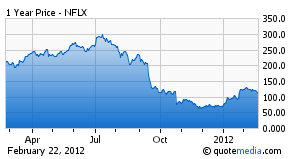 Comcast's move into the streaming market is the latest blow for industry-leader Netflix whose shares are down around 60% since last summer. Ironically, the stock is up by about the same percentage (60%) since its November lows in the mid-60s. Some of these gains are attributable to renewed investor optimism sparked by the company's fourth quarter report which showed the company added 600,000 subscribers during the period. Although the news was well recieved by investors, the reality is that subscriber growth actually fell 25% compared with the fourth quarter of 2010.
There are now three distinct challenges facing Netflix going forward. First, the company must ensure that it continues to grow its subscriber base. This could prove difficult as the memory of the company's poorly executed price-hike and botched attempt to split its streaming business and DVD-by-mail business still lingers in customer's minds.
Compounding that problem (and this constitutes the second challenge faced by the company) is the fact that new competition from Comcast and Verizon (NYSE:VZ) (who recently announced a streaming partnership with Redbox operator Coinstar Inc (CSTR)) could cause subscribers to defect in large numbers once they realize they can access similar content for less money from competitors. Comcast's Streampix for instance, will offer episodes of 'The Office' and '30 Rock', two popular shows also offered by Netflix. It is difficult to see why existing Comcast customers would choose to keep their Netflix subscriptions when they can access the same content for a monthly charge of only $4.99 which will simply be added onto their existing cable bill.
Lastly, Netflix must cope with the reality that streaming content is an inherently low margin business. In fact, if last quarter's results are any indication, streaming may indeed be a money-losing business thanks to the high licensing fees Netflix must pay for the content it offers to subscribers. Because Netflix has said it will gradually phase-out its high-margin DVD-by-mail service, it must now find a way to squeeze profits from the streaming business--a task that is by no means easy. One cannot help but wonder whether licensing fees will continue to rise as deep-pocketed rivals such as Verizon and Comcast compete for video rights.
The bottom line is, Netflix's competitors such as Comcast, Verizon, Coinstar Inc., and Amazon (NASDAQ:AMZN) all have other sources of revenue and will thus not have to depend on low-margin video streaming for any material portion of their profits. Licensing price-hikes then will disproportionately affect Netflix, and will put relentless pressure on the company's already low streaming margins.
Put simply, it seems increasingly unlikely that Netflix can survive in the long-run. Evidence of this is the fact that the company is expected to lose money in 2012. At $112 per share, this stock has a long way to fall - this could translate to hefty profits for holders of LEAP put options.
Disclosure: I have no positions in any stocks mentioned, but may initiate a short position in NFLX over the next 72 hours.