Price Target 2.25 Hold. (Based on a 0.8 Price to Sales)
For those who aren't familiar...
Zhone Technologies (NASDAQ: ZHNE) is a provider of GPON Gigabit Passive Optical Networks. Their fiber systems are installed in stadiums, universities and communities. Their products provide gigabit per second Internet service to the ISP enterprise and service customers at a reduced cost to traditional copper networks. The key advantages with their products include cost savings, easy deployment and substantially longer life span than traditional copper systems (50 years). The market they target is tier 2-3 ISP companies. They serve 1,000 customers in 50 countries with domestic competition consisting of Adtran (NASDAQ: ADTN) and Calix (NYSE: CALX), and international competition ranging from Alcatel Lucent (NYSE: ALU), Huawei and Cisco (NASDAQ: CSCO).
Looking ahead
Zhone management is performing brilliantly during this economic slowdown by cutting operating expenditures. It appears their opex is decreasing to better position themselves for increased profitability once their revenue returns to normal patterns ($30 million a quarter). Some catalysts include:
The delivery their FiberLAN product, which according to management has tremendous market potential ($100 million annual sales within 5 years).
Their new MKX-F product is being delivered and driving the carrier business
They reported an improved Q4 with $24 million in revenue and $0.01 EPS vs. analyst expectations of $24 million on ($0.05) EPS.
Connect America Funding (CAF-2) spending is expected to materialize in 2016 and drive sales.
Management also has been cutting operating expenses such as SGA and R&D to allow their breakeven sales number to drop and operating leverage to increase. This shows Zhone's flexibility to adjust in tough world economic conditions. Their margins are 40% and increased due to product mix and increased manufacturing efficiencies. They generated about $1 million in cash during Q4, which is good news because it reduces the chances they will need to issue additional stock and dilute current shareholders. They also have a $25 million revolving line of credit with Wells Fargo bank that they began to access in Q4 by recording a $5 million revolver as a liability. The remaining $20 million revolver should provide ample working capital to see Zhone through 2016.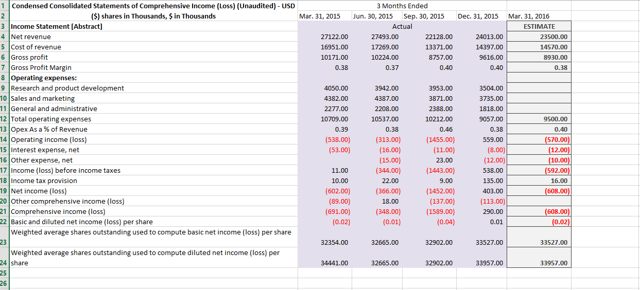 Click to enlarge
Zhone is under new management
The last two years has been a transitory period for Zhone. They have brought in a new CEO Jim Norrod who has experience streamlining tech companies to be bought out. He replaces the long-time founding CEO Mory Ejabat who left the company in 2014 to explore other opportunities. Some companies Norrod streamlined to be acquired include Telebit Corp (acquired by Cisco), Segway (Private sale), Infinite Power Solutions (Reportedly Apple) and GreenBytes (Oracle). This leads me to believe he came to Zhone to implement a business plan to make FiberLAN a $100 million a year business and thus generating a sale of the company for a premium. Unfortunately, Zhone's business has been slowed by global economic conditions and it is taking longer than anticipated to deploy FiberLAN and offer the company up for sale.
Bumps in the road
Some hiccups along the way include:
Their FiberLAN revenue has yet to materialize (less than 10 % of revenue, or $2.4 million a quarter).
The Q3 international revenue slowdown was attributed to slowing sales in the Middle East.
Currency remains a problem with the US dollar reaching all-time highs because so much of Zhone's revenues are derived internationally. I don't expect this to materially affect their earnings by more than $0.01 or $0.02 of earnings per share, but it remains a risk
The slowdown in sales lines up with falling oil prices.
The reason this matters is because international exposure accounts for 57% of sales. The global slowdown may cause their customers to reduce capital expenditures.
According to Zhone's CFO Kirk Masaka on the Q4 Conference call, international weakness has created a slowdown in sales. "As we discussed last quarter global economic uncertainties continue to cause many service providers to cautiously approach new network investments and as a result many of our international customers have reduced their network expansion."
These customers include telecommunications providers in emerging markets, which may or may not had their national budgets based on the price of oil remaining above $60 a barrel (Saudi Arabia). I don't find it a coincidence that Zhone's Q3 report had a revenue shortfall of $5 million during a period of declining commodities and energy prices. Middle East countries can't justify any unnecessary spending and sales will remain weak until the world economy shows signs of turning around. After all, during times of economic slowdown small businesses such as Zhone keep the ember glowing and will begin to thrive once things turn around.
Holding On
It is a hold because of the uncertain economic environment. As stated, Zhone derives 57% of revenues from small international customers and it remains to be seen if they will resume spending on their networks. If global economic conditions begin to improve in 2016, Zhone will be positioned to experience increasing profitability and thus be initiated as a Buy. Until then, I believe it is best to take a wait and see approach and hold on to your shares.
Other Risks
ZHNE is a micro-cap stock which experiences extreme volatility and illiquidity. Before investing seek advice from a professional. All data has been sourced from company 10-K's and their website.
Disclosure: I am/we are long ZHNE.
I wrote this article myself, and it expresses my own opinions. I am not receiving compensation for it (other than from Seeking Alpha). I have no business relationship with any company whose stock is mentioned in this article.
Additional disclosure: I have been a shareholder on and off since 2013.
Editor's Note: This article covers one or more stocks trading at less than $1 per share and/or with less than a $100 million market cap. Please be aware of the risks associated with these stocks.