We Highlight Our Expectations For Emerging Markets From A Fundamental And Market Standpoint
By Rashique Rahman, Head of Emerging Markets
Posted on Invesco US Blog: Expert Investment Views
Over the last few years, emerging markets (EM) have been marked by considerable volatility. Much of the anxiety over the emerging markets has been attributed to rising rates in the US, a surge of capital outflows and concerns relating to external debt following the "taper tantrum" of 2013. Recent declines in oil prices and China-related uncertainties have only served to exacerbate these concerns.
However, Invesco Fixed Income has a different view about what exactly ails emerging markets. We believe the emerging markets are going through a very painful and very disruptive macroeconomic adjustment. This adjustment is needed to address underlying domestic and external imbalances. Such imbalances have been generated through a period of arguably excessive private sector credit growth that fueled private consumption (or in some cases investment), strong economic activity, and with that - a steady deterioration in underlying competitiveness and a rise in underlying indebtedness.
So how do we think about EM prospects going forward? Our outlook can be best understood through the context of three Ds: divergence, disruption - but no disaster.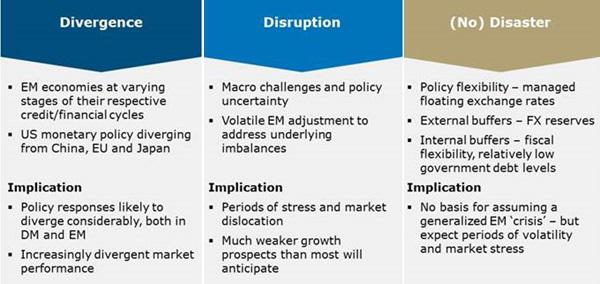 EM refers to emerging markets, EU refers to European Union, DM refers to developing markets, and FX refers to foreign exchange.
Divergence - Not all EMs are equal
We can't paint EM with a single brush, and in the near future, we expect to see further divergence in fundamental and market outcomes between different countries. For example, some EM countries benefit from lower energy prices, while others do not. Some countries are pushing for structural reforms; some are taking start-stop piecemeal attempts at reform; while some others (at least at this stage) aren't doing much of anything on reform.
Moreover, depending on the country's national balance sheet and where they are in their financial cycle, some have more favorable initial conditions than others - leaving them less exposed to overall macro-related risks.
We believe this disparity in outcomes for EM economies (and by extension their financial markets) is going to be quite drastic going forward and much more than what we've witnessed in recent years.
Disruption - Volatility to persist
Emerging markets, in aggregate, are just at the peak of their domestic leverage build-up, which is our primary concern. In contrast to broad sentiment, we believe most EM economies have the capacity to handle their external debt burdens due to ample foreign exchange reserve positions and comfortable external coverage ratios. However, we believe the extent of the build-up in private sector domestic debt has the potential to cause considerable strain on future economic growth, raising the prospect of mounting macroeconomic stress.

Sources: BIS, IMF, Invesco; March 1, 2000, to March 1, 2015. Past performance is not a guarantee of future results.
Sources: BIS, IMF, Invesco; Dec. 31, 2014.
While we do not believe that the emerging market domestic debt build-up will lead to a financial crisis per se, if history is any guide, we may very well see a prolonged period of sub-par economic growth in the years ahead. This low-growth environment may only serve to exacerbate concerns over elevated domestic debt burdens among many EM countries.
Indeed, most EM economies are suffering from an overhang of leverage, and in recent years, a lack of productivity to drive future growth. This growth is needed to pay down these rising debt burdens.
As a result, we believe disruption is common from a fundamental dynamics standpoint in the foreseeable future.
(No) disaster - Averting a crisis
While there may be some concern that the emerging markets are headed toward a crisis, we believe that recent volatility is not necessarily a precursor due to a number of factors.
We see much more flexible policy regimes now in the emerging markets, including managed floating exchange rates, by and large. This wasn't the norm in the lead-up to past crises, but it's certainly the case now. The build-up of fiscal and foreign exchange buffers also moderates the probability of outright crisis. We believe these factors should help most EM countries moderate an economic downturn and domestic deleveraging process that we expect over the next few years.
However, the ride will be bumpy - very bumpy. In fact, we believe at times it will feel like a crisis, but our central case is that crisis can be averted.
Our outlook
We believe volatility in emerging markets will continue in the foreseeable future, as their economies are going to remain challenged and markets will remain under pressure, particularly as the macro adjustment unfolds.
We see the macro adjustment playing out in three phases:
An external adjustment - Characterized by currency depreciation. Began in 2011 and is now nearly complete.
A domestic adjustment - Characterized by tighter domestic financial conditions, the moderation of domestic demand and slowing private consumption (or in some cases investment). This phase is now well underway.
A period of structural reform - Addresses underlying productivity challenges. Adjustment occurs via structural and supply side reform.
A sustained period of weaker growth may be the result of the domestic macro adjustment, which could also feature financial sector stress and fiscal deterioration as balance sheets are eventually repaired and competitiveness gradually restored.
We also foresee a period in which EM policymakers strive for economic reform and structural adjustment in a way that enhances underlying productivity and serves to support future growth. Recent signals in this regard are encouraging, though we are likely going to have to be patient. The scope for reform momentum will also surely vary considerably by country. Those countries that have already instituted structural reform measures should stand to reap dividends going forward.
We also cannot rule out the potential for further re-pricing in EM assets. Periods of volatility are likely to persist as the market prices - in the prospect of an ongoing macro adjustment. Valuations in EM are, however, increasingly accounting for the risks in our view, improving the risk-reward profile and opening up compelling opportunities for investment. In fact, the combination of much-needed macro adjustment and structural reform is likely, in time, to usher in a new era of prosperity for many EM countries. Nevertheless, selectivity is required, further validating the case for active management.
Important information
The risks of investing in securities of foreign issuers, including emerging market issuers, can include fluctuations in foreign currencies, political and economic instability, and foreign taxation issues.
The information provided is for educational purposes only and does not constitute a recommendation of the suitability of any investment strategy for a particular investor. Invesco does not provide tax advice. The tax information contained herein is general and is not exhaustive by nature. Federal and state tax laws are complex and constantly changing. Investors should always consult their own legal or tax professional for information concerning their individual situation. The opinions expressed are those of the authors, are based on current market conditions and are subject to change without notice. These opinions may differ from those of other Invesco investment professionals.
| | | |
| --- | --- | --- |
| NOT FDIC INSURED | MAY LOSE VALUE | NO BANK GUARANTEE |
All data provided by Invesco unless otherwise noted.
Invesco Distributors, Inc. is the US distributor for Invesco Ltd.'s retail products and collective trust funds. Invesco Advisers, Inc. and other affiliated investment advisers mentioned provide investment advisory services and do not sell securities. Invesco Unit Investment Trusts are distributed by the sponsor, Invesco Capital Markets, Inc., and broker-dealers including Invesco Distributors, Inc. PowerShares® is a registered trademark of Invesco PowerShares Capital Management LLC (Invesco PowerShares). Each entity is an indirect, wholly owned subsidiary of Invesco Ltd.
©2016 Invesco Ltd. All rights reserved.
Original article: Beyond the headlines: Our three 'D's' help put recent emerging market volatility into perspective