A fellow Seeking Alpha author wrote an article titled mREITs' Golden Era is Over recently, and while we have different reasoning for our conclusions, I believe that a "Golden Era" may be on the horizon for mREITs.
Some of the larger and better-known mREITs include Annaly Capital Management (NYSE:NLY), American Capital Agency (NASDAQ:AGNC), American Capital Mortgage (NASDAQ:MTGE), Chimera Investment Corporation (NYSE:CIM) and Invesco Mortgage Capital Corp (NYSE:IVR). I will not delve into the specifics of each company, as plenty of analysis already exists on Seeking Alpha discussing the merits or shortcomings of each vehicle. I'd rather explain why a mREIT golden age may be about to begin.
The Obama Administration revealed their 2013 budget this week, which included a proposal to eliminate the special, low rates currently paid on dividends. To the untrained eye, that may seem to be a bad thing for mREITs, because investors purchase them primarily because of their generous dividend yields. However, as any seasoned mREIT investor knows, mREIT dividends are already taxed at ordinary income rates due to the legal structure of mREITs.
So, if Obama's tax increase is approved (or even if a compromise is made), mREIT yields are going to become significantly more attractive compared to the yields of regular companies. The following example compares the yield of NLY, a mREIT, with Kimberly Clark (NYSE:KMB), a normal consumer goods company that yields a relatively-high 4%. (This example is simplified and assumptions are made, including: rounded yields, a highest marginal bracket taxpayer, that NLY's dividend is not a return of capital, and that the higher 39.6% rate kicks in next year.)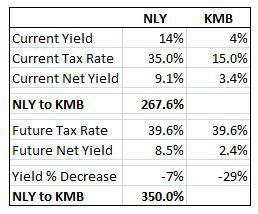 Obviously, the buyer of KMB and NLY may have different goals, but I believe that this chart helps demonstrate how mREITs will become increasingly attractive to yield-seeking investors, including retirees. Right now, wealthy holders of KMB enjoy a 15% tax rate on the distributions, while NLY holders (generally) pay tax at ordinary income rates; this means that NLY's yield is currently about 2.68x higher than KMB's yield. Of course, KMB can make up for this with a better chance of capital appreciation.
However, if all dividends were to be taxed at ordinary income rates (and the higher individual tax rate kicks in as planned), KMB's after-tax yield decreases significantly and NLY's relative yield increases dramatically. NLY's after-tax yield will decrease by 7% due to the tax increase, while KMB holders would suffer a 30% decrease in income. This means that NLY's dividend advantage would rise by over 80 basis points, as holders would enjoy a yield 3.5 times as great as KMB holders. That difference may be significant enough for additional investors to look to mREITs to provide income. A flood of investors would put upward pressure on mREIT prices and downward pressure on mREIT yields, but overall, it should work out well for current mREIT holders.
Another (potentially-intended) consequence of the tax increase is that it may discourage regular corporations from paying dividends at all. As the Wall Street Journal reported, corporate payment and individual tax reporting of dividends increased dramatically after rates were cut in 2003. The opposite would probably happen if rates were increased; companies would choose to retain money for internal investment or attempt to "return" it to shareholders by buying back shares. While both of those uses have the potential to stimulate capital appreciation and create shareholder value, a retiree (or dividend junkie) is really going to miss the income flow and may look to replace it investments like mREITs.
Obama's tax proposal is far from certainty, especially in an election year; chances are, dividends won't be taxed at ordinary income rates in the immediate future. However, the threat of the dividend rate eliminate will probably linger until it becomes reality in the not-too-distant future, as the country does need additional sources of tax revenue and this appears to be low-handing fruit. Therefore, current mREIT investors can sleep soundly knowing that their lucrative yields aren't going anywhere, while the potential for change in tax policy may make the asset class even more attractive in the future.
Disclosure: I am long NLY.