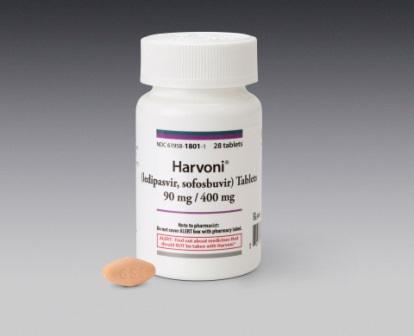 Gilead (NASDAQ:GILD) reports Q4 earnings on Tuesday after-hours. Analysts expect revenue of $8.13 billion and EPS of $3.00. The revenue estimate implies a 1% decline sequentially. This follows a 1% increase in Q3. Investors should focus on the following key items:
HCV Sales Is The Only Metric That Matters
Gilead's mercurial rise over the past two years has been buoyed by its blockbuster HCV regimen Sovaldi/Harvoni. It represents 58% of total revenue and drives sentiment for the stock. That's problematic. Though total Q3 revenue was up 1%, HCV sales fell 2%.
The tricky part is that the more people Gilead cures, the fewer patients remain that need to be cured. That said, HCV starts in Europe and the U.S. may have peaked in the first half of 2015.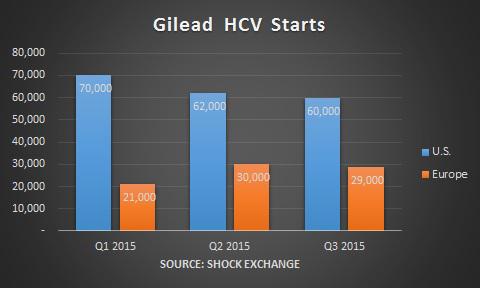 U.S. HCV starts fell from 70,000 in Q1 to 62,000 and 60,000 in Q2 and Q3, respectively. European starts ramped up to 30,000 in Q2 and fell to 29,000 in Q3. Management expects starts to flatten going forward.
Sales Per Start In Decline
In Europe, sales per start declined from about $48,000 in Q1 to $30,000 in Q3. Management has intimated that European HCV prices are determined by country-specific budgets. According to the European Central Bank, inflation in the Eurozone is tangibly weaker, despite nearly a decade of QE. If economic growth in Europe remains anemic, then HCV prices could continue to fall.
Sales per start actually increased in the U.S. from $49,000 in Q1 to $53,000 in Q3. The disparity in pricing in the U.S., Europe and emerging markets like India has become a source of angst for politicians and patients. Howls for price cuts from politicians at the state and national level could drive prices lower.
The company garnered $454 million from Japan last quarter, softening the stagnant growth in other markets. Japan's economic growth is also anemic, triggering its recent negative interest rate policy. Market chatter suggests that significant price cuts are expected on Sovaldi/Harvoni in Japan due to its rapid sales growth.
Profit Margins
Gilead is a profit machine with operating income margins at a jaw-dropping 67% in Q3. The one lever Gilead has to push amid stagnant top line growth is to cut costs. Look for the company to reduce its SG&A expense and R&D costs (a combined 20% of revenue) this quarter. This should help the company deliver an earnings beat despite dismal revenue growth.
Conclusion
GILD is down about 20% over the past year, versus a flat return for the S&P 500 (NYSEARCA:SPY). HCV sales will slow in this quarter or the next, which could put a lid on the stock.
Disclosure: I/we have no positions in any stocks mentioned, and no plans to initiate any positions within the next 72 hours.
I wrote this article myself, and it expresses my own opinions. I am not receiving compensation for it (other than from Seeking Alpha). I have no business relationship with any company whose stock is mentioned in this article.