News of the Vivus (NASDAQ:VVUS) FDA victory for its weight loss drug, Qnexa, Wednesday had shares after hours flying up nearly 100%. This news initiated a perceived sea change in the FDA's temperature toward prescription weight loss drugs. This was big news for peer companies with anti-obesity drugs up for approval soon.
Contact excitement spread to two other such pharmaceutical companies, Arena (NASDAQ:ARNA) and Orexigen (NASDAQ:OREX), with both companies' shares up over 15% after market. A glimmer into the future suggests the approximate $121 billion weight loss market in the United States could shift from supplements and diet plans to prescriptions.
This news may have some scratching their heads as to why Jim Cramer came out so bullish on Herbalife (NYSE:HLF), a supplement company, on Mad Money on the very day a holy grail of prescription weight loss became more probable. Herbalife, best known for its association with independent contractor sales weight loss supplements, appears on the surface to be hurt by an approval of prescription strength weight loss drug, but when considering the unique niche of HLF, it becomes apparent why it will not be killed by prescription weight loss FDA approval.
Financial Soundness
HLF closed Wednesday up nearly 7% to over $66 a share on nearly 5 times average volume. The $7.7 billion market cap stock is up 225% since 2009. The target price has been raised by analysts to over $80 a share. The direction appears to be supported, as the company announced Wednesday its most recent quarter saw a 20% increase in total sales. Guidance suggests a double digit volume growth for 2012.
click to enlarge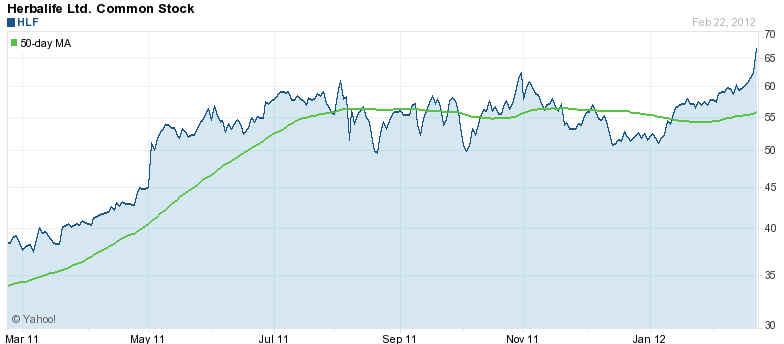 Click to enlarge
Herbalife is a company that truly relies on people. Without independent contractors, there is no Herbalife. Revenue has increased over 19% year over year. Net sales of over $3.5 billion in 2011 will reward shareholders with a quarter dividend increase of 50% to 30 cents per share. Being a dividend stock in this market may attract even more investors as it shows goodwill toward shareholders.
No FDA Hassles
While Vivus, Orexigen and Arena are spending time and money tap dancing for the FDA, Herbalife quietly streams its health products through its independent sales contractors worldwide. As a nutritional supplement, the products from Herbalife avoid regulatory hassle. The days of Ephedra scrutiny have passed and the ingredients found in HLF products have been cleared. Regardless of efficacy, the company is selling the idea of weight loss and health if nothing else and doing so effectively.
Diversified Product Line
Weight loss may have attracted many to Herbalife products, but the company has cast a wider net to include healthy lifestyle products. As noted by CEO Michael Johnson, half the world is typically trying to lose weight whereas the other half is trying to gain it. The company's products can address both desires. Herbalife's product line is diversified to contain supplements geared towards wellness, heart health, stress management, immune health, aging, athletic performance and skin care in addition to weight loss.
Herbalife's increasing holistic weight management approach relies on "personalized" protein regimens and supplements as well as nutritional plans. This approach builds on the successes from diet companies such as a the sliding Weight Watchers (NYSE:WTW), but with supplement support as opposed to a points system and meetings. Offering products ranging from skin care to perfumes, the company also has potential to garner some market share from the Avon (NYSE:AVP) niche.
Synergistic Marketing
Herbalife has become more of a household name in recent years. With less overhead due to its business model, more of its budget is freed up for larger scale marketing. Its sponsorship of athletes and athletic competitions worldwide has associated the company with a certain lifestyle and culture. David Beckham and Landon Donavan have sported the Herbalife moniker on their LA Galaxy jerseys in the MLS soccer league. The average fitness minded individual can run or bike in races under the company's planning as well. Its Herbalife24 product line is tailored specifically to athletes both part time and professional. The lifestyle marketing has branded Herbalife as a forward thinking, global health entity.
Trifecta of Factors
The obesity epidemic provides a platform to attract a market to Herbalife's main products. 33.8% of Americans are estimated by the CDC to be obese. Industrialization of foreign markets will also likely come with increased obesity rates as predicted by epidemiological studies. The business model of HLF offers those out of work a viable option in a slow job market to be a distributor. With global regression of markets, there has been an increase in self-employment methods such as Herbalife.
Further, expansion of the products to a global market is not limited by factors typical of a brick and mortar business. Herbalife currently operates in over 75 countries. The potentially large Asia-Pacific market saw a 32% increase in sales in 2011. South American sales increased 37%. The Chinese market, while experiencing sales growth of 14%, has added focus for improvement in 2012. The confluence of these conditions has been what CEO Michael Johnson called an "incredible intersection" for growth.
The Question of Effectiveness Amid Possible Prescription Competition
Herbalife, at its core, markets nutritional supplements, not silver bullets. Though it does offer some science to support its products, success may be as much attributed to a change in lifestyle as to a magic pill. Looking closer, there is limited data to support weight loss directly tied to HLF products. Data suggests successful weight loss with inclusion of meal replacement shakes (Formula 1) which showed no greater weight loss than a placebo group, but indicated increased lean body mass of those using the high protein shakes.
HLF's primary weight loss supplements do not have corroborated data to show efficacy in weight loss. Vivus' Qnexa showed greater than a 14% weight loss average in a double blind clinical trial at Duke University. Currently marketed and FDA approved Xenical (OTCQX:RHHBY) and its over the counter counterpart, Alli (NYSE:GSK), offer an approximate 5-10% reduction in body weight in addition to lifestyle changes. Still, Herbalife is selling the ideation of health and wellness and, doing so effectively for now.
Other Long Term Concerns
Considerations have to be taken in terms of the US market sales force dropping as the job market improves. Further, the business model that is so successful now has potential to flood the market with product and an over extended sales support system. CEO Johnson seems little concerned by these possibilities, noting that he would only worry if the obesity epidemic declined.
Why Herbalife Won't Be Killed By Rx Weight Loss Drugs
Moving from a weight loss company to a lifestyle company is key for HLF's future success. The company is not trying to compete with the prescription pads of tomorrow. The focus is on a health minded consumer which may include obese individuals just as likely as it may include the housewife who wants to shed a few pounds. Without the hassle of FDA approval, high prescription costs and medical monitoring, Herbalife has carved out a unique niche in the global market and should see returns for a long time to come.
Disclosure: I have no positions in any stocks mentioned, and no plans to initiate any positions within the next 72 hours.