From time to time, I enjoy writing articles about companies that my readers point out to me. In addition to performing a favor for those who enjoy and follow my analysis, it grants me the opportunity to dig into a company that I may have previously only glanced at or have never heard of before. Well, in this piece, I decided to dig into the numbers of Legacy Reserves (NASDAQ:LGCY), an E&P operator whose share price has been hammered in recent months as energy prices have taken a beating. Based on my findings, of all the major E&P operators I've conducted an analysis on, which consist of Linn Energy (NASDAQ:LINE) / LinnCo (NASDAQ:LNCO), Breitburn Energy Partners (NASDAQ:BBEP), Approach Resources (NASDAQ:AREX), Mid-Con Energy Partners (NASDAQ:MCEP), and Memorial Production Partners (NASDAQ:MEMP), it looks as though Legacy may be among the worst prospects I happened to find based solely on its cash flow outlook.
A look at Legacy
Unlike many of the other players in this space (or at least the ones I've covered), the capital structure of Legacy is materially different than its peer group. In addition to having common units, the business has two different classes of preferred shares; Legacy Reserves Series A (LGCYP) and Legacy Reserves Series B (LGCYO). Both share types have an 8% distribution rate from the $25 liquidation preference and both are considered fixed-to-floating rate cumulative redeemable perpetual preferred units.
I know that sounds like a lot of gibberish but, in simple terms, the company has agreed to pay out a fixed interest rate on these securities totaling 8% of their $25 issuance price (so $2.00 per annum) up until mid-2024. After this date, the units change from having a fixed interest rate to having a rate of three-month LIBOR plus 5.24% (5.26% for the Series B), so it exposes both investors and the company to interest rate risk. On or after their 5-year anniversary, in mid-2019, management may exercise the right to redeem shares (buy them back from investors) at a price of $25 apiece if they also pay back distributions that are in arrears at that time.
There is one aspect of these units, however, that makes them very appealing for the long run. While I am not terribly enthusiastic about the common units, the preferred units do have one big perk to them; the distributions are cumulative. This means that, if management cuts the distribution in whole or in part (which they recently did, putting them to $0), they must pay all of the accrued amount that has been foregone before they pay out distributions to common unit holders. Right now, the Series A units are trading at $3.80 apiece so the distribution rate totals $2.00 per year, or 52.6% annually.
If, for instance, the company can survive this downturn but it cannot have enough cash flow to pay out distributions until 2018, investors would receive a payment of $4.00 that year, plus another $2.00 for 2018's payments that would be due. As you can see, the upside here is quite meaningful. The picture looks even better for the Series B units, which are currently going for $3.06 apiece. Should the company see the same situation apply as I highlighted for the Series A units, this means investors could get paid up to $6 in 2018 (an annual return of 65.4%), plus they will benefit from any appreciation of the unit price.
But cash flow looks terrible
At first glance, this looks very appealing for long-term investors but I have to wonder whether or not Legacy will be able to survive long enough to come out of this energy downturn. In the table below, I looked at the company's projected cash flow should oil stay at $31.54 per barrel and if natural gas averages $2.154 per Mcf. This pro forma data assumes that the company's $37 million in capex is enough to produce 47,000 boe per day. It also assumes that all operating expenses remain unchanged from the third quarter, with the exception of LOE (lease operating expenses), which management thinks will be below the $11 to $11.50 per boe (barrel of oil equivalent) mark (I've assumed $10.75) and that natural gas liquids prices rise to average 32.5% of WTI (in the middle of management's range based on their third-quarter conference call).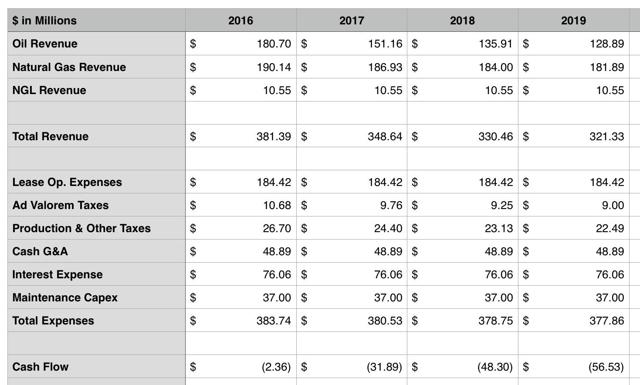 Click to enlarge
Based on all of these assumptions, current energy prices will imply a cash outflow for Legacy totaling $2.36 million during 2016. Due to poor hedging, particularly when it comes to oil, this outflow will jump in 2017 to $31.89 million. By 2019, if nothing improves, the company will be losing $56.53 million per year. This is driven, in part, by Legacy's interest expense, which comes out to $76.06 million each year based on current data. To add to this risk, the company does have $620 million that has been borrowed from its credit facility, which is subject to potential redeterminations. Fortunately, management did disclose additional borrowing capacity under this facility of $329.6 million so they do have a great deal of wiggle room, but the prospect of banks being generous to a business that is expected to lose cash this year, followed by even larger losses in the years to come, doesn't seem very likely.
On the other hand, this doesn't mean that Legacy is down and out. In previous articles, I've written that I am bullish on oil moving forward and I think that falling output from the U.S. will lead to higher prices, even more so if OPEC does manage to cut their output (which would be a significant game-changer). Once energy prices do recover, Legacy, if it can survive these cash flow challenges, could grant investors (especially those holding the preferred units) a significant return. Having said that, though, I do feel a bit worried about investing in a business expected to lose cash this year.
Takeaway
Right now, Mr. Market seems to be very pessimistic regarding Legacy and I understand why. I also believe that current energy prices warrant pessimism until the market situation changes and/or until management can cut costs to guarantee positive cash flow this year. I am quite bullish on crude and I'd imagine the probability of a loss for investors in the company is probably not as great as the market has been indicating but, until I see something change fundamentally, I intend to stay away from the units for the time being. If I do end up buying into the business, however, it will certainly be in the form of preferred units.
Disclosure: I am/we are long LINE, BBEP, AREX.
I wrote this article myself, and it expresses my own opinions. I am not receiving compensation for it (other than from Seeking Alpha). I have no business relationship with any company whose stock is mentioned in this article.
Additional disclosure: I may buy MEMP at any moment and may sell some other holdings to do so.
Editor's Note: This article covers one or more stocks trading at less than $1 per share and/or with less than a $100 million market cap. Please be aware of the risks associated with these stocks.