I took a long position and discussed my outlook for Union Pacific (NYSE:UNP) last time around. While I believe a portion of every portfolio should have a transport allocation, deciding whether or not UNP is the best investment for you really comes down to a matter of whether or not this company can continue to improve efficiencies in the face of falling commodity prices. When commodity prices rebound, so will UNP, but the Company still has plenty to be accountable for.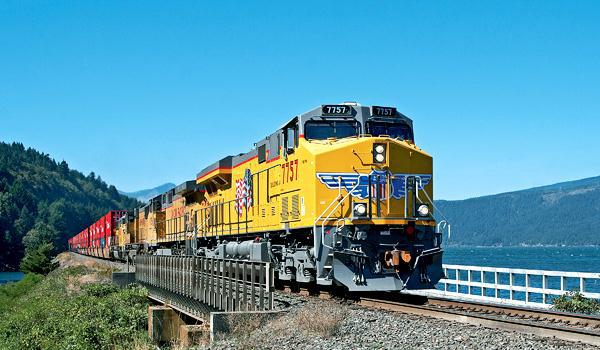 Gaining Color On Oil And Coal
The oil environment continually surprises investors and remains one of the riskiest spaces in the current equity market to take a position in. The attribution of Iran's supply coming online with over 1 million barrels/day comes at a time when OPEC has failed to cap production. Add in increasing efficiencies from U.S. upstreams and you have a large oversupply clearly visible in the high inventories and low WTI prices. The speculation that OPEC and Russia might make a deal is looking more and more like a pipe dream, leaving investors in the same place as they started: with beaten down energy- equities and a pessimistic outlook.
Union Pacific's oil exposure is largely contained within their chemicals segment, for which they saw a 2% decrease in volumes, but a 7% decrease in revenue. The fact of the matter remains that lower crude prices will continue to hurt UNP. The company actually has only a 7% volume mix within the chemicals segment for crude oil, yet it has been trading in a similar manner to oil companies. More strongly, however, the company has a correlation to coal companies, as coal represents a 15% volume mix, seen below.
We saw nearly every other major transport company, particularly Kansas City Southern (NYSE:KSU) and Norfolk Southern (NYSE:NSC), miss earnings and a common theme among these reports was lower coal volumes. Freight revenue, as a whole for UNP, declined 16% YOY. Below is the updated volume mix, as presented by UNP: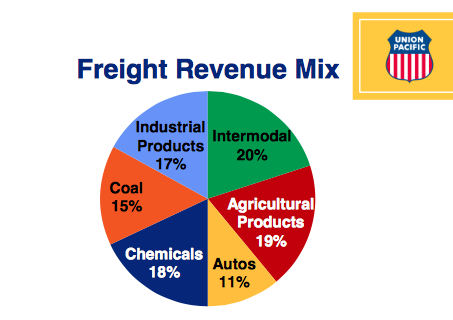 Source: Investor Presentation
Now, the automotive segment was up 8% in terms of volume, but was unfortunately the only increasing segment. While we should continue to see strong automotive and auto parts sales in the United States for the short-term, we don't know how sustainable this progress is. Perhaps more importantly, however, we can't ignore the 22% decrease in coal volumes, as well as the 16% decrease in industrial product volumes.
Thus, there is the large question of how can Union Pacific can diversify out of coal in order to combat falling coal prices and really, a general phasing out of this commodity over the next several years. Coal is going lower and it seems like every last report is indicating that, and that's a headwind the company needs to tackle head on. IF coal continues to be the driving factor behind lower earnings and lower equity levels, then I will exit my position. Just look at this recent report showing coal-generated electricity usage being at a 35-year low.
Furthermore, we should really expect to see continued weakness in Industrial Products given decreased drilling activity for natural gas attributable to the falling rig count and a stronger U.S. dollar that is making it harder for non-U.S. customers to retain buying power. Below is the WSJ Dollar Index, which measures the dollar's strength against a basket of currencies, but even it doesn't begin to tell the full story of the dollar's influence over the past twelve months, or few years for that matter.

Click to enlarge
Source: WSJ Dollar Index
Truthfully, many of their volumes are going to be continued to be impacted throughout 2016 and it doesn't help that the U.S. dollar remains strong in the face of consumers. The diversification out of coal is going to be a step in the right direction, but it takes time to begin implementing.
Cash Flow Consideration
My largest concern for UNP's financial health is how their cash flows are performing. If these can remain intact through the toughest of operating environments, then this company is going to be incredibly lucrative when the down cycle ends.
In Q4, we saw OCF come in at $1.72 billion, capex increase slightly to $1.33 billion, but FCF to remain positive at $392 million. This is down from $736 million in Q3, but the positive FCF figure reaffirms my belief that this company knows how to handle itself through a troubled operating environment and that it will continue to be strategic to preserve liquidity. They're still distributing just about $470 million in dividends per quarter, which is impacting cash flows, but I do not believe this dividend is in jeopardy. We could even reaffirm this with the debt to capital being stable at 40.7% on debt of $17.39 billion.
Can You Go Long?
This is really a question of whether or not it's the best time to. The stock was trading at around $77 the last time I recommended a long, and currently trades around the $72/$73 level. Below you can see the last six months, and really, it's been a sharp decline from the late October peak, just after the broader market experienced a quick bull run. While January trading may have created a ST bottom, investors do need to be cautious about the ability for this stock to keep finding new multi-year lows.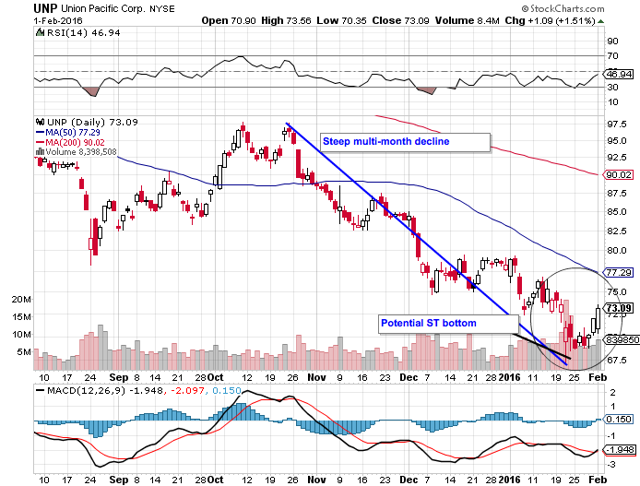 Click to enlarge
Source: StockCharts
I will remain long until I exceed my risk tolerance, but it's hard to ignore how cheap this company is. It's trading at a P/E of 13.32 and a P/S of 3.12, which is well below market averages. Additionally, the company repurchased 6.6 million shares during Q4 2015 and still has 53 million shares authorized in a buyback ending Q4 2017 to help prop up the price. If spread evenly, that's a pace of 6.625 million shares per quarter. The current yield for UNP is at 3.01%, still above the S&P 500 average yield of 2.24% and remains a major buying point.
Conclusion
Union Pacific has top-quality assets, improved its cost structure considerably YOY, and has increased its overall velocity. That's all overshadowed by the weight of low commodity prices pushing volumes down to multi-year lows. The company knows that it can't afford to continue seeing double-digit dips in segment volumes and if it did, the company would watch its equity fall considerably. That being said, the dividend is attractive and sustainable and we are seeing these commodity prices being pushed to a point where production cuts are realistic implementations, so I a bottom may be reached in 2016. That gives me hope, as a shareholder, to know that the risk/reward has been so drastically improved and this may be a great LT trade. Yet, the coal problem remains a large headwind that needs to be solved.
Disclosure: I am/we are long UNP.
I wrote this article myself, and it expresses my own opinions. I am not receiving compensation for it (other than from Seeking Alpha). I have no business relationship with any company whose stock is mentioned in this article.