In a previous article, I decided to analyze oil production and the trend that it should take for the Marcellus shale, one of seven major oil- and gas-producing regions regularly covered by the EIA (Energy Information Administration). As a result of my work, I was able to put together a comprehensive picture of the oil market that allows me to figure, within reason, how U.S. oil production should decline. At the suggestion of one of my writers, I decided to look at the same thing for the natural gas market and I was able to conclude that the Marcellus, America's most prolific region for the production of natural gas, is at risk of seeing production plummet in the months to come, a move that would be undeniably bullish for investors in this space.
A look at the Marcellus
In the image below, you can see that the Marcellus shale is located, for the most part, throughout West Virginia, Pennsylvania, and parts of New York. Although it overlaps with the Utica, which stems into Ohio, it's important to keep in mind that these are two different plays according to the EIA. As an example of the differences, the average decline rate of wells in the Utica is about 0.5% higher per month and rig activity results in about 26% less production, on a per unit basis, than what operators can get from its larger Eastern cousin.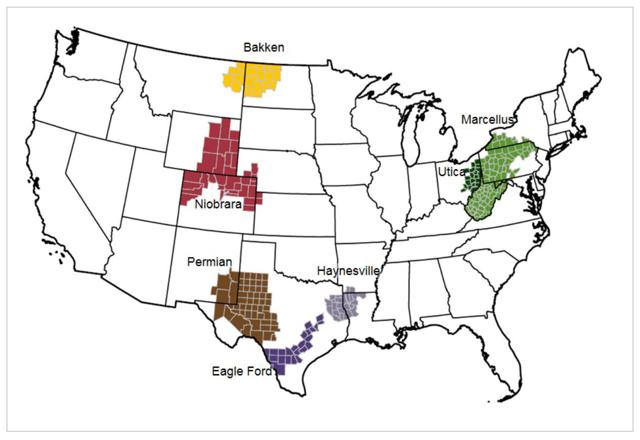 Click to enlarge
*From the EIA's Drilling Productivity Report
What's more is that the Marcellus is, quite literally, the most prolific natural gas region in the country. According to data provided by the EIA, the region produced an estimated 15,659,921 Mcf of natural gas per day during December of 2015. This is equal to about 2.61 million boe (barrels of oil equivalent) per day and makes the region account for 35.2% of total natural gas produced between the EIA's seven regions. Given its overwhelming prominence, there likely aren't many energy investors who haven't heard of the region. In the table below, you can see how output in the area compared to the Niobrara, Permian, Utica, Haynesville, Eagle Ford, and Bakken last December.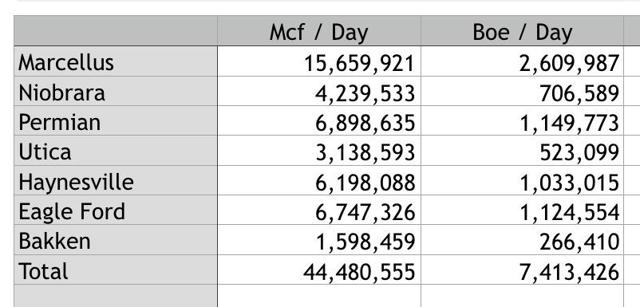 Click to enlarge
*Source: Created by author with data from the EIA's Drilling Productivity Report
Unfortunately, complete natural gas production statistics for the U.S. as a whole are not available as of the time of this writing for the month of December last year, but data for November is. Using the EIA's estimates, it seems that these seven regions account for about 56.2% of national output, which means that the Marcellus makes up 19.8% of all output throughout the country. No matter how you stack it, that's a large piece of the overall pie.
Setting the ground rules
As oil prices have plummeted and production has come offline, so too has the natural gas industry been hit to some extent. After seeing output rise throughout a good portion of 2015, the Marcellus saw production peak at 16,204,159 Mcf per day (or about 2.70 million barrels per day) in June. Since then, the drop has averaged roughly 90,706 Mcf per day on a monthly basis, or approximately 15,118 boe per day. Interestingly, however, as the number of rigs in the region drops, the decline in output should grow greater. In order to figure this out, however, I had to make some reasonable assumptions.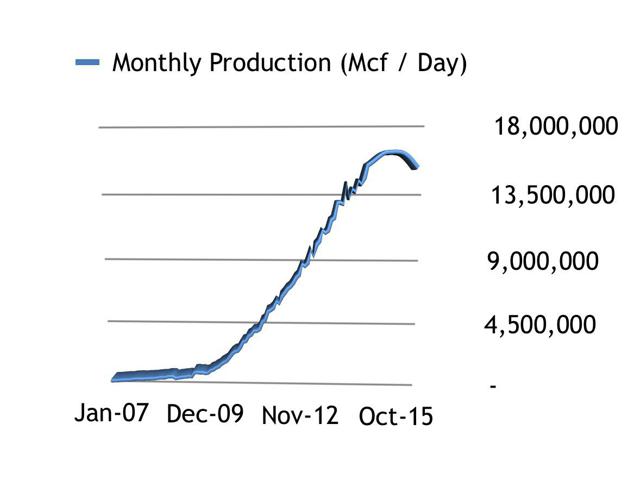 Click to enlarge
*Source: Created by author with data from the EIA's Drilling Productivity Report
In the graph below, you can see the historical decline rate of wells in the Marcellus. Over time, as drilling has been curtailed and as many companies in this space are likely trying to milk out every last bit of natural gas, decline rates have soared to around 4% per month. As a result of this trend, I will be assuming three different scenarios for decline rates moving forward; 3% for a conservative estimate, 4% for a moderate estimate, and 5% for what the data could look like if decline rates continue to grow.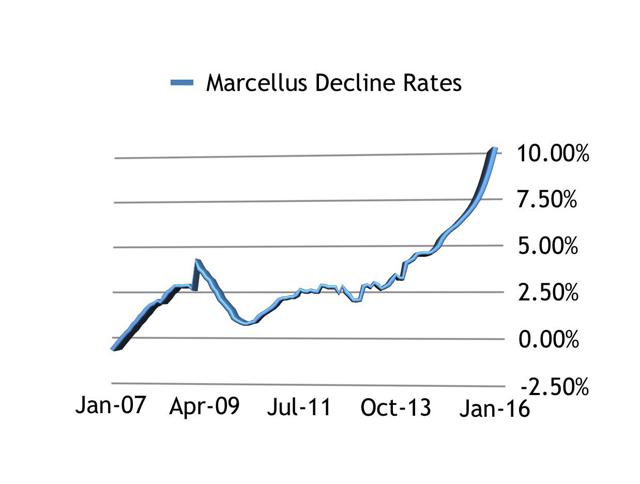 Click to enlarge
*Source: Created by author with data from the EIA's Drilling Productivity Report
In addition to this, I had to figure out what to use for a change in the rig counts moving forward. In my last piece on the Marcellus (linked in the introduction to this article), I explained my rationale for assuming that rig counts fall by four units each month (absent a move higher in prices). I am sticking to this base assumption for the purpose of my analysis but, thanks to the Baker Hughes (NYSE:BHI) rig count that is released weekly, I'm able to assume that January rig counts should be 34 units as opposed to my previously-forecasted 38 units.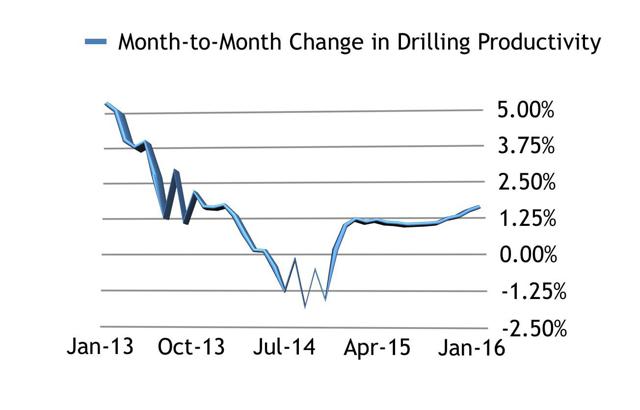 Click to enlarge
*Source: Created by author with data from the EIA's Drilling Productivity Report
Finally, I had to forecast what the situation should look like regarding rig productivity. In the graph above, you can see that the trend for improved month-to-month productivity gains has been extremely volatile but that the past year or so has seen an average improvement sloping up toward 1% or so per month. According to the EIA, the most recent month's improvement came in at 1.49%. Although the actual numbers may be materially higher or lower than they are today, I'm going to use this as a baseline and project continued month-to-month improvements of 1.5%.
Production looks set to fall... hard
After incorporating these assumptions, I was able to plot out where I think natural gas production should be in the months to come. Assuming a 1.5% improvement in productivity each month, decline rates of 3%, 4%, and 5%, and a four-rig drop each month, we can see in the table below that the output forecast for the Marcellus region does not look all that great between now and December of 2016.

Click to enlarge
*Source: Created by author with data from the EIA's Drilling Productivity Report
If my assessments are accurate, the conservative forecast would imply that natural gas production for the area should average about 12,499,043 Mcf per day by the end of this year, which translates into about 2.08 million boe per day. This implies a decline of about 20.2% year-over-year. In the more moderate scenario, which seems to be realistic given current decline rates, the drop could be far more severe. Between December of 2015 and December of this year, output could decline by 27.8%, while the liberal forecast suggests a drop of 34.7% year-over-year.
To put this in perspective, the conservative assumption would, if natural gas production is to remain constant in all other regions (which won't happen), means that daily production across the U.S. would decline by 0.7% per day. The moderate assumption suggests production would be down by 0.9% per day, and the liberal assumption would mean a decline of 1.1%. When you consider the fact that the general trend for consumption has been higher year-over-year, and that other regions are also likely to see output fall if the market does not recover, this could help to push natural gas prices up materially.
Takeaway
Based on the data provided by the EIA, it seems that the tide has already started turning when it comes to natural gas production but that the months ahead will likely see a much larger drop in output than anything we've seen so far during this cycle. Of course, if my assumptions regarding the oil rig count, drilling productivity, and/or decline rates turn out to be wrong, this picture could change. However, from what I've seen by looking at the historical data, it appears as though some sort of drop in output is highly probable for the foreseeable future and investors should keep a close eye on this space.
Disclosure: I/we have no positions in any stocks mentioned, and no plans to initiate any positions within the next 72 hours.
I wrote this article myself, and it expresses my own opinions. I am not receiving compensation for it (other than from Seeking Alpha). I have no business relationship with any company whose stock is mentioned in this article.