GM Shares: What will it take to rev this engine?
Perhaps no stock in the S&P 500 is more divorced from the results of its business than shares of General Motors (NYSE:GM). The iconic American Industrial has had a banner year as North American auto sales boomed in 2015, selling at a breakneck 17.5 million units while low fuel prices, improvements in fuel efficiency, and consumer tastes skewed the company's sales towards its higher margin trucks and SUVs. Despite persistent concerns over the Chinese economy, GM has notched stable growth in sales while many doomsayers were predicting a sales decline. The company's performance in Europe has been improving too, although results were still a net loss in Q3 of 2015. The company managed to largely put its ignition scandal behind it as well this year, with a $900 million dollar settlement that many viewed as a best case scenario, and the establishment and funding of a victim's compensation fund. The company has also reached labor agreements with its unionized workforce that are largely seen as providing the flexibility needed for the company to remain profitable throughout the business cycle.
GM's execution has also been stellar in 2015 as the company focuses on profitability and the quality of sales, reducing rental fleet sales and expanding 2016 North American pre-tax gross margins towards the goal of 10%, which seems increasingly likely.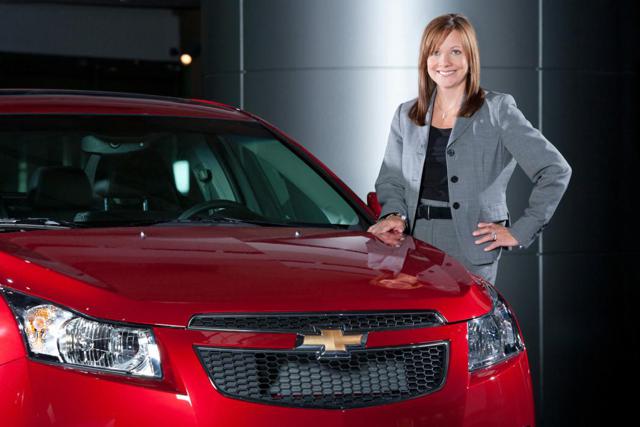 Click to enlarge
Equally important to investors in GM, the company's management has initiated massive capital return plans over the past 12 months that include a cash dividend currently yielding 4.63% and share repurchase programs that will buy back $9 billion of stock by the end of 2017. The company announced last month that it now expects to earn between $5.25 and $5.75 per share up from the $5.00 to $5.50 that was previously forecast.
In short, GM's business is booming, management is improving the quality and sustainability of sales and earnings, the bulk of its legal troubles stemming from the ignition scandal are resolved, its financial position is strong, and it is heavily returning capital to its owners. Yet, despite this rosy picture of GM's business, shares of the company have performed miserably over the past 12 months, down over 23% from their March 2015 high, trading at just more than five times the low end of the company's forecast 2016 earnings.
It is difficult to identify all of the factors depressing shares of GM, but two dominant concerns have seemed to nag the company throughout the latter part of 2015. GM Bears point to the company's major profit center (North America) and source of growth (China) and see signs that each is due for pain.
North America: Peak Sales?
In North America, the argument goes, the record pace of auto sales in 2015, up 5.7% year over year to a 15 year high of 17.5 million, is evidence that the highly cyclical market for autos has peaked for this cycle. Critics point to a variety of factors indicating peak sales or, in the extreme, artificially high sales inflated by easy credit and absurdly lengthy auto loans.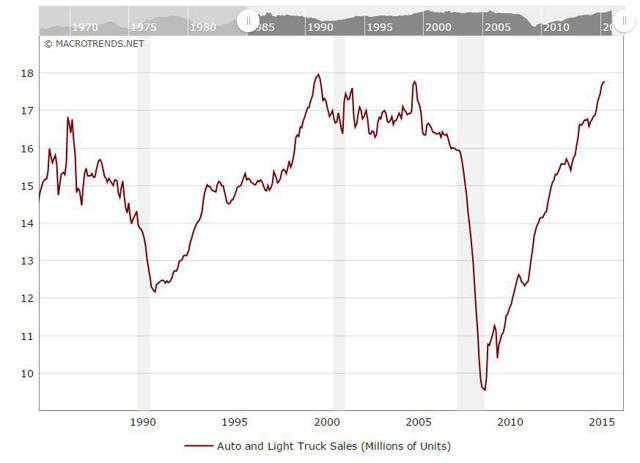 Click to enlarge
Historic auto sales trends over the past 25 years, however, would seem to indicate that a forecast of a collapse in auto sales over the next 24 months is unlikely. Sales trends in the auto market are indeed highly cyclical, but the depth of the collapse in sales between 2008 and 2012 engendered an enormous build up in demand for vehicles that is likely just now being worked off by record sales in 2015. Consider the average age of cars/light trucks in the U.S. reached a record of 11.4 years of age just two and a half years ago in mid 2013. As of May 2015, despite rising sales through all of 2013, 14, and nearly half of the record setting 2015 year, the average age of automobiles in the U.S. had not dropped from the record 11.4 year old mark according the U.S. Department of Transportation.
It may be doubtful that sales can climb significantly higher than 17.5 million in 2016, but it is also equally likely that sales will stay at or near this level for several years as pent up demand from the collapse of 2008-2011 is worked off. Low unemployment, strong consumer confidence, improving savings rates, and modest income growth all bode well for the sustainability of auto sales over the next 24 months.
Investors would be wise, however, to keep an eye on the financing conditions for new autos as a concerning trend in rising loan length could be a canary in the sales coal mine. Still, longer length loans of 73-84 months represent less than 30% of all auto loans and the delinquency rates on auto loans remains low. The S&P/Experian Auto Default Index, for example, is close to a 10 year low and has never peaked above 2.75% over the past 10 years. This measure of default indicates the simple truth that consumers prioritize auto debt over other forms. These historic trends also strongly suggest that it is unlikely to see a substantial rise in auto defaults in the next 24 months absent a dramatic deterioration of domestic economic conditions. During the height of the 2008-09 financial crises the index peaked at 2.75%, a level of economic duress that is highly unlikely to repeat in the next 24 months.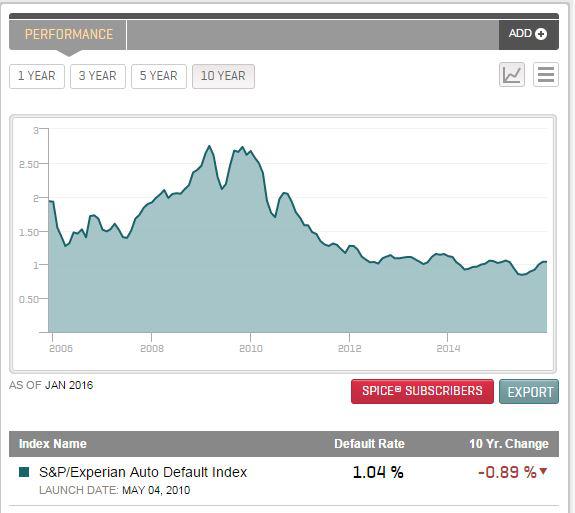 Taken as a whole, the age of the U.S. auto fleet, availability of credit, relative consumer strength, and stability of auto loans in even time severe economic recession seem to indicate that U.S. auto sales should continue to be strong over the next 24 months. The industry as a whole is projecting modest growth over the record 17.5 million autos sold in 2015 to around 17.7 million cars and light trucks. This forecast seems reasonable considering the variety of factors discussed above, and should be a strong catalyst for earnings growth for GM as its margin continues to improve and low gas prices continue the move of consumers to larger and more profitable trucks and SUVs.
Has the Chinese Growth Engine Stalled?
GM has pinned the lion's share of its future growth on China. The present condition of the Chinese economy is admittedly translucent at best, but investors can infer from the 2015 performance of GM in China that the country's demand for automobiles is not poised to fall off a cliff. GM sales in China rose 5.2% in 2015 to 3.61 million vehicles. GM sales in China did show the effect of the general economic slowdown impacted the rate of auto consumption as several months in 2015 actually recorded year over year declines in sales for GM and its joint venture partners. But sales accelerated through the end of the year as a government tax break for small engine vehicles (those with engines of 1.6L of displacement or less) ignited growth in the Chinese auto market. This tax break is scheduled to expire at the end of 2016, leading many to forecast continued moderate growth in sales for the full year that will likely accelerate at years end.
There are legitimate concerns that the tax break could possibly rob future sales growth in China as the tax policy pulls auto sales from 2017 or 2018 into 2016. While investors should be mindful of the effect of such a short term tax incentive on consumer behavior (one needs to look no further than the "Cash for Clunkers" program in the U.S.) the reality is that the Chinese market is strongly positioned for long term growth in auto consumption. Per capita GDP is forecast to rise by nearly 34% between 2015 and 2020, while the populations of China's major urban centers continue to climb. While some are rightly skeptical of official Chinese economic statistics, a number of divergent independent data points do point to rising levels of consumer spending in China that support the idea that a reasonable level of average growth in auto consumption is sustainable in China over the long term.
GM and its joint venture partners are strongly positioned in this growing market, boasting 3 of the top 10 best selling car models in 2015 while tripling SUV sales in the same year. The company's luxury Cadillac brand is also making headway with strong 2015 sales that have moved the brand into the top 10 in luxury sales in the country.
It seems clear that the Chinese economy is in the midst of a transition that will impact the country's rate of economic growth in the future, as the country's growth profile downshifts from breakneck industrialization to service driven consumption. While it is difficult to forecast precisely what will happen to the Chinese economy in the near term, the level of Chinese consumer savings and their rising purchasing power over the next five years would strongly suggest that investors should expect sustained rates of auto consumption growth over the medium and long term.
A Silly Cheap Stock
As a highly cyclical industrial company GM investors should expect shares to trade at a discount to the broader S&P 500. The shares of automakers have historically found their valuation ranging wildly, dependent on the position amidst the ebbs and flows of the business cycle. The company's current valuation, however, is far outside its norms as it is trading at over a 65% discount to the S&P 500 on a forward earnings basis, and nearly 45% discount on a valuation based on the previous 12 months of earnings.
When considering book value and the company's dividend yield, shares of GM look positively bargain basement cheap. This has led GM to become the darling of analysts with a value bias, such as Barron's who have regularly recommended the stock and placed it on their top ideas lists for both 2015 and now 2016.
Conclusion
It is difficult to imagine a further major decline in shares of GM. Shares of the company are trading at a dramatic discount to the S&P 500 despite forecasting strong earnings growth in 2016 and a 4.68% cash dividend yield. Even the very "worst case" concerns over the sustainability of North American Sales and growth in China are priced into shares at their current levels, despite the highly unlikely nature of either of these two events. It is reasonable for investors to anticipate modest share price appreciation in 2016 while collecting a nearly 5% cash payout, while a significant 30% rise in share price is possible considering that such a rise by December 2016 would still only value the company at seven times the low end of projected 2016 earnings.
Disclosure: I am/we are long GM.
I wrote this article myself, and it expresses my own opinions. I am not receiving compensation for it (other than from Seeking Alpha). I have no business relationship with any company whose stock is mentioned in this article.