For over two years, Google (NASDAQ:GOOG) management has been unable to move the company's stock ahead. Since December 2009, GOOG has had a 0% return, even though the Dow Jones Industrial Average is up 30% and Apple (NASDAQ:AAPL) is up 150%. The question is, "Why"? Is it because management has been foundation building for a major move in the future? Or is it because management has done a poor job? It looks to be the latter.
Google's continuing problem: weak management
I believe Google is saddled with poor leadership. Last July, in "Choosing Among Tech's 4 Horsemen," I gave this brief description of Google's problem:
Google's media approach is a winner, but the company's tech diversification efforts seem a bit disjointed and have had mixed results.
Then, in October, I focused on the problem in "Google's Go-Nowhere Earnings Cycle." My view was (is) that the many steps taken with only minor results show that management is the problem. Therefore, only a management change can make Google into a true growth company.
Couldn't the stock enter a new growth phase? Of course, but such a shareholder-friendly occurrence almost certainly requires a management change. Will the board consider doing so? Highly unlikely. Such a dramatic step invariably requires proof that management harmed the company, not that it squandered multiple opportunities. Moreover, Google's advertising "cash cow" can cover up many missteps.
Here is the updated performance graph from that write-up, showing Google's relative performance.
click to enlarge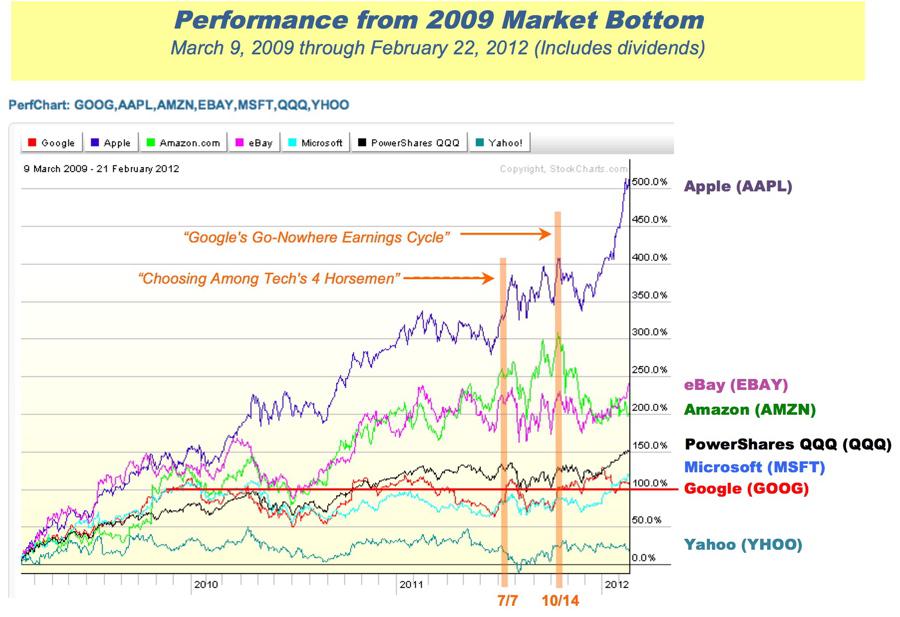 (Stock charts courtesy of StockCharts.com)
Management hits a new low
Google's hacker tactics regarding Apple's Safari browser and Microsoft's (NASDAQ:MSFT) Internet Explorer browser reveal both arrogance and naiveté. Management's statements contain circular reasoning.
Google management said Apple and Microsoft should have fixed their browsers' privacy software problems. As a result, Google says, it wasn't their fault that they exploited the flaws to hack through the privacy settings (even though Google knew it was going against both companies' stated objectives). Worse, at least in Safari's case, Google instructed people to use the Safari privacy settings in spite of knowing that it was circumventing the settings.
Amazingly, when asked about the virus-like resetting of advertising code in people's computers due to the hacking, Google explained that it wasn't intended, that their exploitive code was taken advantage of, that it was a flaw they didn't catch and fix, so, it wasn't their fault.
The fallout tells the story
This juicy story is just what the media likes. Now, it looks like Google management will get to tell it to the judge - many judges, in fact, and in many countries. Because privacy is a hot topic (with Facebook (NASDAQ:FB) and Google as commonly labeled culprits), Google's hacking tactics have put them on the global hot seat.
There is some positive fallout from Google's problems. First, of course, is the media being handed a long-running battle with widespread interest. Then there is the legal system's and Congress' efforts to right the wrongs and establish new controls. Security firms could come up with Google-safe services and software. Finally, and the biggest risk to Google, there are the competitors, especially in the search area, Google's cash cow. This opening could give Microsoft's Bing and others the opportunity to gain meaningful market share.
What about the stock?
Watching GOOG, we might think that the company isn't being adversely affected by the news. However, we are in a shortened holiday week, a period that often has limited drama. We'll probably need to wait until next week to see the real effect.
Now, let's look at the overall picture of the stock's position.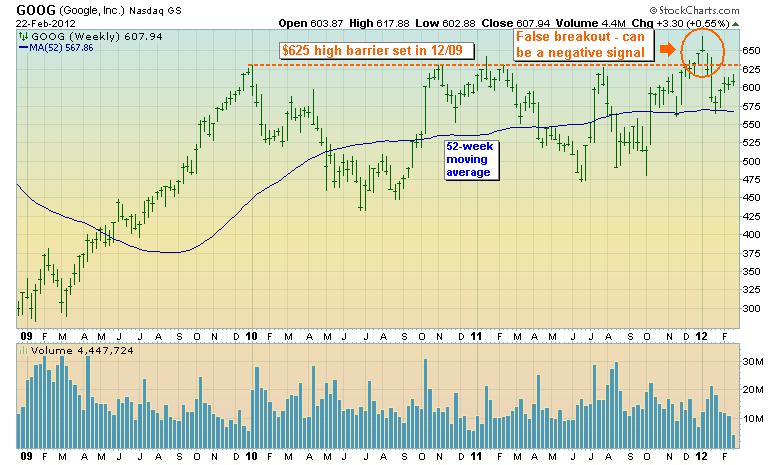 Notice the $625 high barrier established in December 2009. Along with other tech stocks and the general stock market, GOOG made a strong upward move recently and reached a new high. However, the new high didn't hold and the stock fell back. This inability to hold onto the rise puts GOOG into a "false breakout" category, a possible indication of poor performance ahead.
The bottom line
Google's past strategies and tactics have produced mediocre results, meaning management, likewise, is mediocre. Add in the latest anti-privacy, hacking actions, and the more apt description is "incompetent."
Avoiding GOOG looks to be the proper decision, especially at the stock's current level. (I don't short stocks, but Google's high price and management problems makes doing so seem attractive.)
Disclosure: Long U.S. stocks and U.S. stock funds. Recently sold AAPL.