Wellington Management is among the largest investment companies in the world. The company serves more than 2000 customers spread over 50 countries. Wellington is specialized in a wide range of investment vehicles, ranging from global equities to currencies and commodities. Assets under management amount to $651 billion as of December 31, 2011.
Wellington's equity portfolio managers apply disciplined and research-intensive processes when evaluating selected equities. While looking for global trends in specific industries, Wellington aims to construct portfolios consistent with the clients' needs. One of the things that I agree with Wellington is their contrarian approach:
Our investment philosophy is that stock markets are hyper-efficient at times, overreacting to both positive and negative information in the short term and thus creating opportunities for long-term investors. We utilize a contrarian approach focused on longer-term fundamentals.
As of the December quarter, Wellington had a diversified portfolio of equities. Financial stocks constitute 17.26% of the holdings followed by technology (16.72%) and energy (15.18%) companies. According to Edgar Online, Wellington increased its ownership of 865 stocks, while reducing its positions in 1014 stocks. I have examined the biggest 4 buys and 1 big sell from a fundamental perspective, adding their year-to-date returns.
| | | | | |
| --- | --- | --- | --- | --- |
| Company Name | Shares Held | Change in Shares | % of TSO* | YTD Return |
| Sirius XM (NASDAQ:SIRI) | 205.5 million | 83.5 million | 5.47% | 17.8% |
| Regions Financial (NYSE:RF) | 57.19 million | New Purchase | 4.54% | 39.53% |
| JetBlue Airways (NASDAQ:JBLU) | 31.76 million | 31.2 million | 10.69% | 11.73% |
| Cisco (NASDAQ:CSCO) | 610.64 million | 30.09 million | 2.43% | 12.60% |
| Sprint Nextel (NYSE:S) | 23.48 million | -58.63 million | 0.78 % | -1.71% |
*TSO: Total share ownership by the Wellington Management. Data obtained from Finviz/Morningstar.
Sirius XM
Based on the number of shares acquired, Sirius XM is the top buy of Wellington Management. Apparently, the shares are too cheap to ignore. Wellington is pretty bullish on the stock, and increased its shares by 68% in the last quarter. It currently owns 5.47% of outstanding shares. In fact, Wellington is the largest single shareholder of Sirius XM after Liberty Media.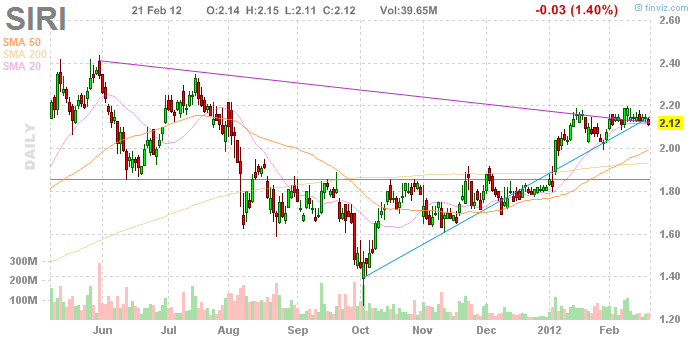 A recent article by Chris Ciaccia claims that "Sirius Stock Gets Dumped by Wall Street Bigwigs." I think that article is mistitled. Looking at Sirius XM's largest shareholders, I can confidently state that Big Money is flowing into the stock. Besides Wellington, Vanguard, Barclays, Fidelity, and JPMorgan significantly increased their holdings. John Griffin's Blue Ridge Capital also initiated a new position of more than 55 million shares in the last quarter.
Citigroup is bullish on the stock, and suggests a buy rating with an upgraded target price of $2.5. Sirius XM's management aims to increase its subscribers by 1.3 million in this year. According to Citigroup analysts, the strong automobile sales could boost Sirius XM's net subscribers by a number that is above management's guidance.
In a recent article, I suggested that the first half of the year is the best period to go long Sirius XM. Interestingly, since the XM merger, Sirius XM has been an excellent performer in the February months. So, hold on to your shares for now.
Regions Financial
Regions Financial has been of the best performing picks of Wellington Capital. The stock returned a whopping 39.5% in this year, and is still in high momentum. Wellington is pretty bullish on the stock, and initiated a new purchase of 57.19 million shares in the last quarter. It currently owns 4.54% of outstanding shares.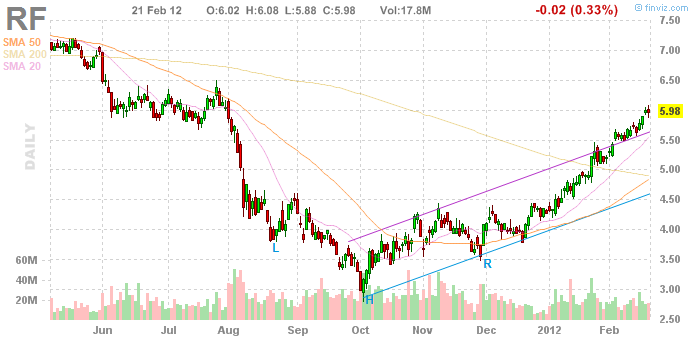 Financial stocks were among the worst performers of the last year, and Regions Financial is no exception. Even after returning almost 100% since October, it still returned -22% in a the last 12 months. The stock is trading at less than half the book value, and 8.6 times the forward earnings. RBC Capital has an outperform rating with a target price of $7. I think $7 is an attainable target, and suggest waiting for a pullback.
JetBlue
JetBlue has taken off the ground in 2012, and returned 11.73% since January. Wellington is pretty bullish on the stock, and acquired 31.20 million shares in the last quarter. It currently owns 10.69% of outstanding shares. (Wellington is the largest institutional shareholder).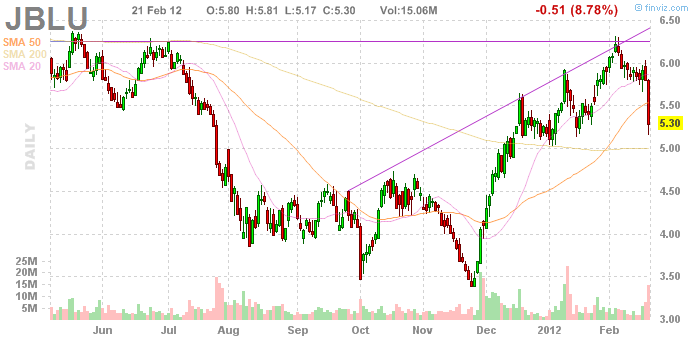 Investing in airline companies is similar to riding a roller-coaster. It could be pretty exciting, as the stock moves up and down in short periods. Airline companies have significant negative exposure to energy prices. Tighter rules and regulations and increasing competition from overseas companies also creates other risks. However, JetBlue is one of the safest ones among its peers, as it is trading near its book value. While the trailing P/E ratio of 20.75 is a bit pricey, the forward P/E of 8.80 suggests that analysts expect profits to increase by more than double in this year. If that happens, JetBlue can reach new highs. Nevertheless, I would wait for a pull-back below $5 before buying.
Cisco
Cisco is among the top tech picks of Wellington Management. The investment giant boosted its shares by 30%, and owns 130.4 million shares. Total share ownership stays at 2.43%.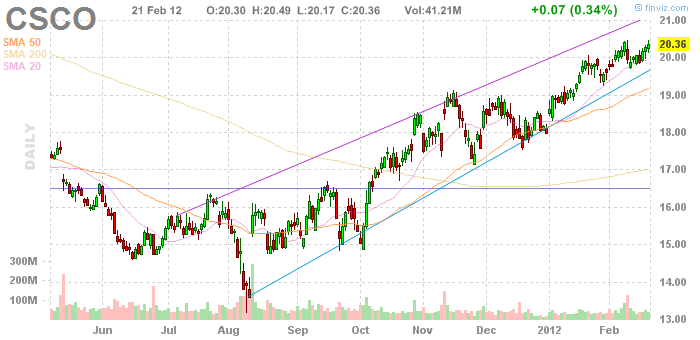 Cisco-- the star of the techno-bubble show-- is sitting on cash and equivalents of over $8 per share. That is almost $44 billion of liquid assets. Compared to this gigantic cash hoard, it offers a tiny dividend of $0.32 per share. That is a quarterly dividend of $0.08. Surely, that is better than previous yield of $0.06, but still not comparable to other tech giants. For comparison, Intel (NASDAQ:INTC) offers a dividend of 84 cents, Microsoft (NASDAQ:MSFT) offers a dividend of 80 cents per annum.
Even Cisco's long time shareholder Ralph Nader, who owns 18000 shares, is pretty frustrated with management's reluctance to offer higher dividends. Instead of paying dividends, management has opted for stock buybacks, which has not created much value so far for the long term shareholders.
Nevertheless, since reaching a dip of $14, Cisco is on the bounce. It is trading more than 50% higher than its 52-week low. The trailing and forward P/E ratios stand at 15.85 and 10.25. While these are solid indicators of risk-reward analysis, there are cheaper tech stocks in the market.
Sprint Nextel
Sprint is among the biggest losers of the market. After its market cap was slashed by 50%, the stock found itself a very strong support at $2. Sprint is one of the few stocks that failed to bounce back this year. Even Wellington gave up on the stock, slashing its holdings by 71.4% in the last quarter. It still owns 0.78% of the outstanding shares.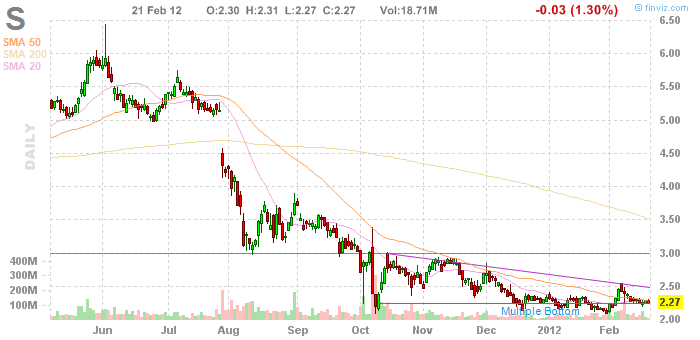 Sprint is one of the most controversial stocks in the market. Established in 1899, the Kansas headquartered Sprint is one of the oldest telecommunication companies in U.S. history. As America's third largest wireless communication service provider, Sprint serves over 55 million customers. However, its market cap of $6.9 billion is a fraction of similar-sized competitors. It is also a loss-maker with an alarming debt/equity ratio.
Even the big money is divided on the stock. While Capital Research Global Investors, Franklin Resources, State Street, and Barclays are bullish on Sprint, Bank of New York, Goldman Sachs, Fidelity and JP Morgan are bearish on the stock. The battle of the big money has been keeping the stock at around the $2-$2.5 range since October. While I think it looks like a good deal after losing half of its market cap, I can only recommend it as a risky buy for the speculative portion of the portfolio.
Disclosure: I have no positions in any stocks mentioned, and no plans to initiate any positions within the next 72 hours.