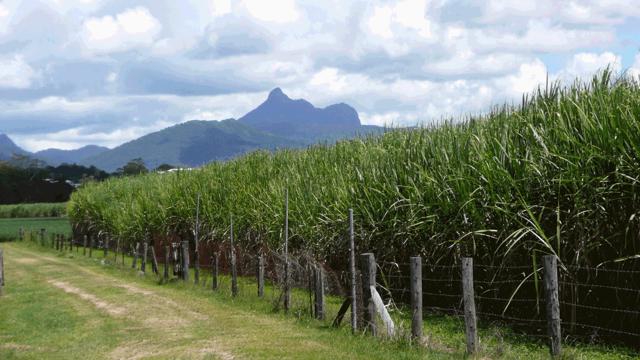 Click to enlarge
Much to the dismay of companies such as The Hershey Company (NYSE:HSY), Mondelēz International, Inc. (NASDAQ:MDLZ), and Grupo Nutresa SA ADR (OTCPK:GCHOY), the price of sugar looks set to climb in 2016 putting pressure on gross margins.
As sugar demand looks likely to outstrip production, the price of sugar could be about to increase, giving traders of futures or the Teucrium Sugar Fund (NYSEARCA:CANE), the iPath Dow Jones-UBS Sugar Total Return Sub-Index ETN (NYSEARCA:SGG) and the iPath Pure Beta Sugar ETN (NYSEARCA:SGAR) the possibility of good returns.
Crop forecasts show that there is a strong chance of a deficit looming with 177.5 million tonnes of sugar being harvested, down by 5.2 million tonnes on last year's harvest and a deficit of 4.1 million tonnes. After five years of surplus, a deficit will come as a shock to the market.
Good for growers but not for consumers
The expected deficit will be a huge relief to growers who should benefit from more sustainable returns, but consumers and the confectionery industry will be hit. This isn't great news for confectionery companies in the United States because the price is already subject to price supports under U.S. farm legislation. This legislation establishes import quotas and duties that support the price of sugar. The result of this is that sugar prices paid in the United States are already higher than prices on the world's sugar market. But, as most confectionery companies hedge commodity prices, the effects may not be felt for another year. But we feel it is definitely worth factoring into long-term forecasts for companies such as The Hershey Company.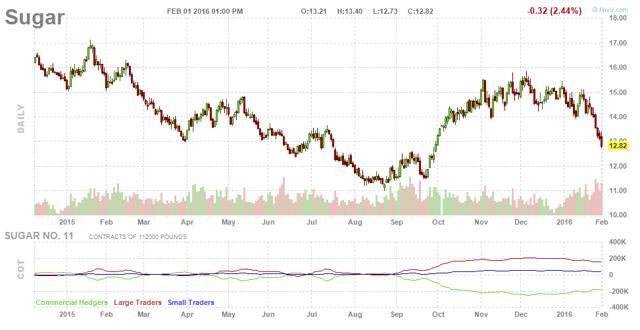 Click to enlarge
The effects of El Nino, poor economic conditions in Brazil, and low investment in India, are being blamed for the deficit. The weather conditions in the sugar growing regions of Brazil were far too wet, slowing harvest and reducing the yield. In India, it was the opposite problem, not enough rain. A poor monsoon season has meant the government in the largest sugar-growing region of Maharashtra has held back water in the dams and directed it elsewhere. Total acreage for the season is expected to drop by a third from previous levels, which could provide a boost to global prices which fell to a two-month low of 12.82 cents per pound recently, as shown in the chart above.
Sugar to climb to 16 cents
We share the view of analysts that this will lead to a deficit over the next two seasons, which will inevitably cause an increase in price due to the laws of supply and demand. We believe a climb to 15 cents per pound will occur in the next six months, with a further climb to 16 cents or higher in 2017.
The Teucrium Sugar Fund, the iPath Dow Jones-UBS Sugar Total Return Sub-Index ETN, and the iPath Pure Beta Sugar ETN that we mentioned at the top are a good way for investors to profit from the rise in sugar prices.
Shorting confectionery stocks
We would caution against shorting confectionery stocks for the time being due to their commodity price hedges. It is true that profit margins at The Hershey Company and Mondelēz are on the low side already, so higher input costs could have a detrimental effect on its future earnings growth.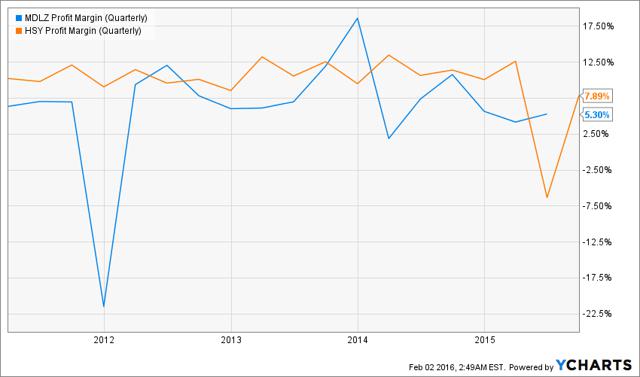 Click to enlarge
But as the effects of higher input costs won't necessarily be felt for some time, should sugar prices increase, then we believe it would be wise to hold fire. Companies can offset higher input costs through price rises and as long as they are accepted by the consumer, they will be fine.
We have taken a long position with sugar futures
We have taken a position at 12.414 with a take profit instruction at 15.092 and a stop loss instruction at 11.075. This provides us with a risk/reward ratio of 1:2 which we feel comfortable with.

Click to enlarge
Sourced from CMC Markets Trading Platform
Our feeling on risk/reward ratios is that 1:2 is the absolute lowest level we would go. We strongly advocate the 1:3 risk/reward ratio, and so feel obliged to point out this is not necessarily typical behavior. A risk/reward ratio of 1:3 means that you only have to be right one time out of three to end up square.
Best of luck with your trades, and we shall share our progress with you all in the coming weeks.
Disclosure: I/we have no positions in any stocks mentioned, and no plans to initiate any positions within the next 72 hours.
I wrote this article myself, and it expresses my own opinions. I am not receiving compensation for it (other than from Seeking Alpha). I have no business relationship with any company whose stock is mentioned in this article.
Additional disclosure: We are long sugar futures.
Editor's Note: This article discusses one or more securities that do not trade on a major U.S. exchange. Please be aware of the risks associated with these stocks.