Qsymia from Vivus (NASDAQ:VVUS) finds itself in rare territory this week in that it was the only branded anti-obesity pill to move up in sales instead of down. Sales were up 1.37% to about 9,200. Some may view this as positive, but the reality is that sales were in third place out of three drugs and sales are far lower than needed to drive equity appreciation. Certainly being the only player in positive territory is better than the opposite, but celebrating that event will not bring about equity appreciation.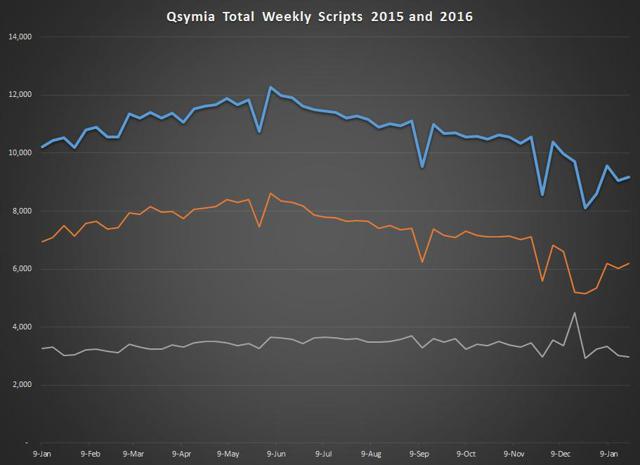 Click to enlarge
Chart Source - Spencer Osborne
Looking at the quarter-over-quarter numbers, we can see that 2016 is not starting off very well for Qsymia sales. Sales thus far in Q1 are 12.08% lower than the pace that we saw in Q4 of 2015. That is concerning in that Q4 is typically the weakest quarter of the year for the sector, and Q1 usually starts the cycle of a 6-month climb in scripts. In the first 3 weeks of 2016, there is little to get excited about.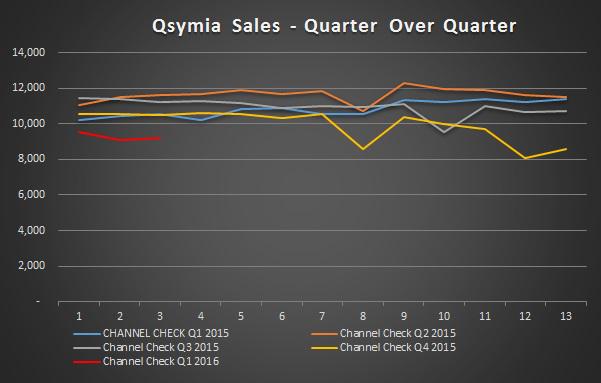 Chart Source - Spencer Osborne
On a year-over-year basis, we see the story is not quite as bad, but sales are down in this category as well. Qsymia has sold 10.78% fewer scripts in 2016 than it had at this same point last year. In general, the growth trajectory of Qsymia has been very modest, so one would not expect stellar year-over-year comparisons. That being said, a sales decline is never a good thing and means that the company must try to improve the bottom line by cost cutting or extracting more revenue from insurance companies or consumers. The insurance issue is worse this year than it was last, so that limits options. The company can get credit for keeping costs under control, but should not have a get out of jail free card when it comes to sales volume. The street will not get excited with these numbers, and there is little room to cut costs any further. As it is, this drug gets minimal marketing support and it shows with sluggish sales.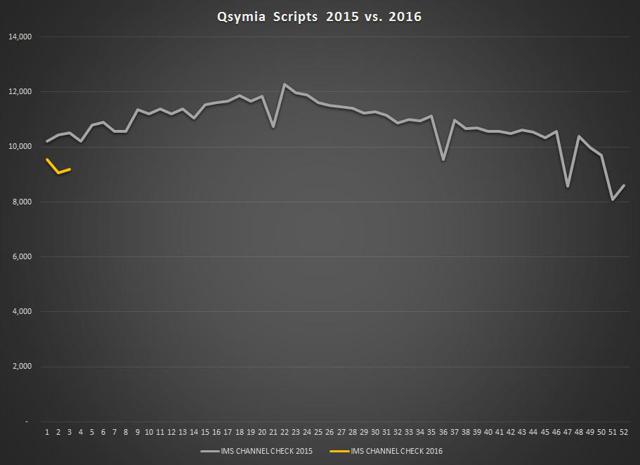 Click to enlarge
Chart Source - Spencer Osborne
Market share this past week went up slightly and is now above 28%. It is good that the share has remained stable, but the reality is that Qsymia needs to see market share growth as well as overall sector growth. It appears that Belviq from Arena (NASDAQ:ARNA) and Qsymia will be jockeying for position at the lower end of the market share chart, while Contrave from Orexigen (NASDAQ:OREX) seems to be flattening out a bit relative to its growth trajectory in 2015. In my opinion, Qsymia needs to demonstrate a selling ability before it can make any meaningful move in this space. With the smallest marketing force in the sector, obtaining that growth will be challenging at best.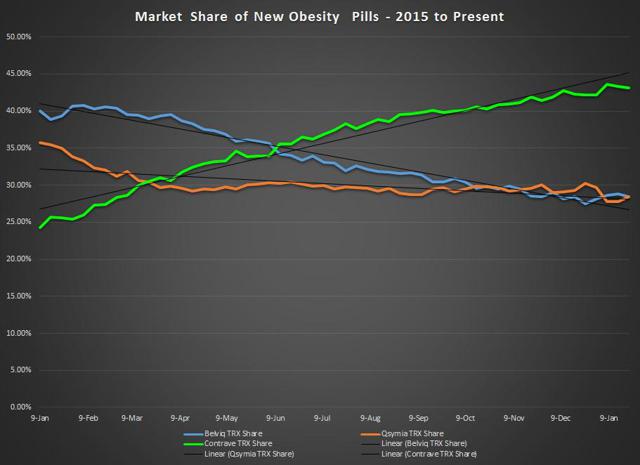 Click to enlarge
Chart Source - Spencer Osborne
The popular argument I see from Vivus investors is the revenue. Because this drug has no partner, Vivus gets all of the revenue from sales. The problem with such a stance is that it totally ignores the reality that it costs money to make and market Qsymia pills. To date, the cost has outweighed the revenue. That dynamic can exist for a small window of time, but we are now over 3 years into the launch of this drug and profits are almost as elusive as they were back in 2013.
Investors are in hopes that the erectile dysfunction drug Stendra can turn the story of this company around. There is also hope that Carl Icahn will swoop in with some amazing offer that makes everyone rich. The problem is that the ability of Vivus to relaunch Stendra is limited, and if Icahn was going to swoop in to save the company, why did he buy the debt instead of the stock?
Until such time that there is a substantial change, the bulk of revenue and cost will come from Qsymia and losses will continue to be the quarterly story. In my opinion, the opportunity with this stock is speculative and better served toward traders playing on the fact that there seems to be an effort to keep this stock above the $1.00 price point. There are some pretty regular 10% runs and dips that traders will play. This dynamic makes it hard to bring about a sustained run upward.
The bottom line is that Qsymia sales are at the bottom of an entire sector that is underperforming and changing that is no easy task. Stay Tuned!
Disclosure: I am/we are long ARNA, OREX.
I wrote this article myself, and it expresses my own opinions. I am not receiving compensation for it (other than from Seeking Alpha). I have no business relationship with any company whose stock is mentioned in this article.
Additional disclosure: I have no position in Vivus
Editor's Note: This article covers one or more stocks trading at less than $1 per share and/or with less than a $100 million market cap. Please be aware of the risks associated with these stocks.