WestJet Airlines [TSE:WJA] (OTC:WJAFF) (OTC:WJAVF) is a low cost Canadian airliner, also engaged in travel service. The airline is doing quite well despite increased competitive environment in the airline sector. The company has grown tremendously in the last decade making it the ninth-largest airline in North America by passengers carried. Since its inception, WestJet has had a good record of achieving profitability in a difficult industry. Oil prices are an important factor, as fuel is currently the airline's biggest cost. When oil prices and the operating environment are favorable, profits can be sizable.
WestJet has grown in strength in the last year due to the lower crude oil prices. Americans in the past had a annual discretionary spending on travel around 3.7%. Businesses in the consumer discretionary space such as Coffee, Restaurants and Airline have seen an increased boost in sales. An uptick in demand for travel overall because of an improving global economy has also helped, according to IATA. Global crude prices have nearly halved from June last year, lowering costs for airlines and logistics and shipping companies, among others worldwide. All these factors have an impact on the growth of stock of Airlines company like WestJet in future.
With a market capitalization of $2.33B WestJet is essentially a midsized company. The company has been consistently profitable for the last decade; it yields a dividend of 2.95% yield. WestJet is growing at a nice clip; the company has good growth despite being in the volatile market. According to Thomson Reuters the cost per available seat mile, a measure of how much an airline spends to fly a passenger, fell 8.1 per cent to 12.65 cents in 2015. Revenue passenger miles (RPMs), or traffic, increased 3.9 per cent year over year, and capacity, measured in available seat miles (ASMs), grew 6.1 per cent over the same period. In 2016 the growth is estimated to be 25.60% against the industrial average of 49.0% and S&P average of 1.5%.
The airline has averaged revenue growth of 7.96% annually over the last 4 years. The average international growth rate has been around 5.3% for international travel and 5.2% for domestic travel according to IATA. According to Yahoo financial statistics, over the last three years, earnings growth has averaged 27.64% annually. This is better than the industry average growth of 18.93%, but the forward P/E is projected to be 6.63 by end of 2016 and the PEG ratio (5Year) is expected to be around 0.84. Quarterly revenue (yoy) growth is at 3.50% but the quarterly earnings growth is exponentially higher at 95.10%, making it quite attractive.
Moreover, with a PEG of 0.84, the company is expanding at a decent pace. The current P/E ratio at 6.03 represents a rapid upward trajectory of business. The forward P/E of only 6.54 shows that the valuation is attractive at the current prices, considering the company's growth rate. The average sector wise forward P/E in the US is estimated to be 11.79. WJA trades at a forward P/E less then the average while rapidly growing and receiving multiple analyst upgrades and a price target above the current price of $18.70 CAD a share. This clearly represents a good value proposition.
Over 15 analyst have recommended a high price of 26.03 then the current price of $18.70 CAD. Analysts on average had expected earnings of 75 Canadian cents per share, according to Thomson Reuters I/B/E/S. Revenue rose 3.5 percent to $1.05-billion, beating the average analyst estimate of $1.02-billion in 2015.
Share Price to EPS (Annualized)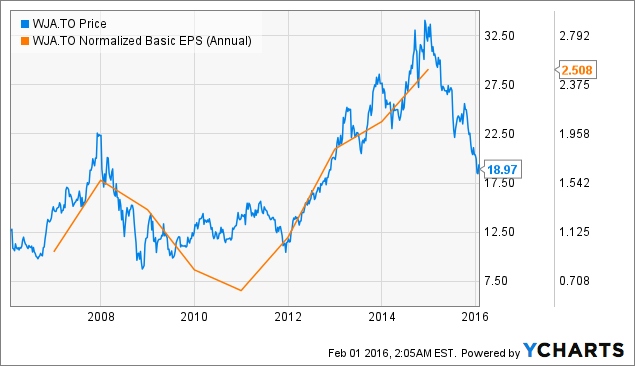 The current P/E ratio is at 5.96 as of 01/02/2016. We see that the analysts across the board see the company growing, with a given price target of around 26.3.
Note that in addition WestJet has been paying a good dividend of around 2.95%.It is still in the rather early growth phase, so the stock has been providing a steady cash flow from the dividend. Considering the lower gas price in the future according to a OPEC publication, WJA looks like it is in a good position, and the stock should see decent upside in earnings.
The Risk
WestJet is in the airline industry, which has historically performed poorly against the other industries despite the sumptuous growth in travel. The falling Canadian dollar to US dollar may also hurt the prospects of this airline as it enters into the increased crowded US market. However,caution needs to be exercised in view of the recent fall in net earnings of WestJet from C$63.4 million, or 51 cents per share,in the quarter ended December 31,2015 from C$90.7 million, or 70 Canadian cents per share, a year earlier. But, the lower Loonie could attract potential tourist in summer to Canada, thereby increasing the revenue in Summer and therby offset the lower earning.
Conclusion
WestJet has the potential to be a good prospect in the near future. Aircraft fuel is the company's largest expense item, so any downward trend in fuel costs benefits the company.
The most attractive Air Transport companies to invest in have the best track records for capacity utilization, fuel hedging and service, and have lucrative routes.
WestJet has a disruptive model for Canadian airline industry. The current lower crude oil prices and the increased traffic due to lower loonie and increased risk of Zika virus in the Caribbean, could potentially divert the tourist inflow to Canada, and this could make WestJet an attractive investment for the 2016 by following the tailwind.
Disclosure: I/we have no positions in any stocks mentioned, but may initiate a long position in WJAFF over the next 72 hours.
I wrote this article myself, and it expresses my own opinions. I am not receiving compensation for it (other than from Seeking Alpha). I have no business relationship with any company whose stock is mentioned in this article.
Editor's Note: This article discusses one or more securities that do not trade on a major U.S. exchange. Please be aware of the risks associated with these stocks.