GoDaddy (NYSE: GDDY) is an internet domain company that we are all becoming familiar with. The company produces tons of commercials that we see on all programs, especially during the football season. They have over 61 million domain names, which makes the company the largest ICANN-accredited registrar in the world. It is very popular among small businesses looking for an e-mail provider. This company IPO'd almost a year ago in April 2015, and so far has performed well. This article will first discuss how the stock has performed in comparison with the S&P 500. Then, I will go into discussing company financials - the "go" and the "no" if you will. From these trends and reports, I will draw my conclusion on a long-term investment in shares of GoDaddy.
GDDY vs. S&P 500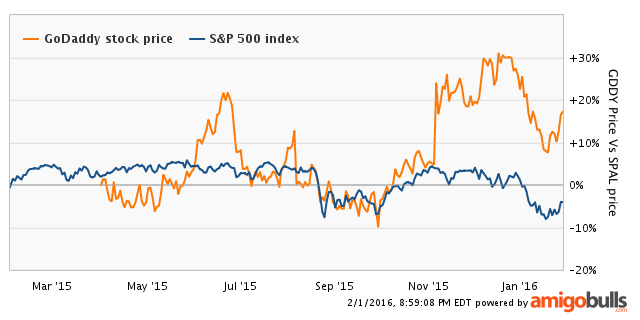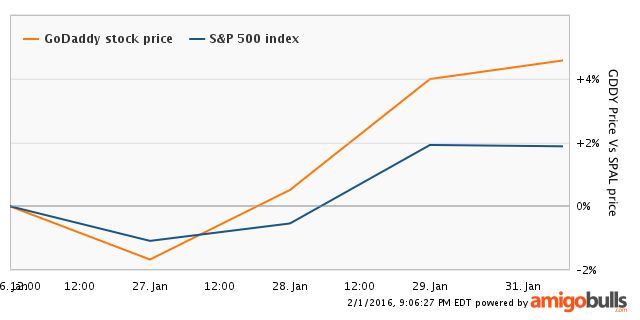 You can see that the graph above shows a good year compared to the S&P 500 index. GoDaddy is up 16.6% compared to the index for the market which is almost down to -3% since last year. When looking into how a stock has been trending in the last five days, investors can still find GoDaddy is performing twice as better as market expectations. When a company is outperforming its surrounding market, this is typically a good thing to reflect on. The best stock picks rest above these market trends. Since GoDaddy has seen growth favoring this trend in the past year, investors should buy in while shares are reasonably priced. Since its IPO, the company has seen the stock price reach over $35 a share. It currently rests at about $30 a share, which is still upwards from their $26 buy in at IPO. As long as GoDaddy continues to perform on par or better than the S&P 500, the share price should continue to grow in value in the future.
Financials - The "Go"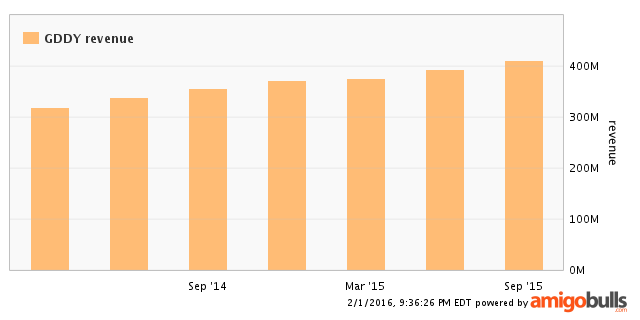 The above graph displays quarterly revenue for the past two years. Any potential investor would want to look for a company that consistently increases revenue on a quarterly and/or a yearly basis. As you can see, GoDaddy has been following this positive trend in consecutive quarters. Revenue has increased 4.21% from Q2-2015 to Q3-2015 and over $100 million in a year and a half. Aside from reflecting on revenue, the consensus forecast for GoDaddy's earnings growth is looking sharp as well. By the end of 2016, earnings are expected to increase by 78%. A year after that, they are expected to surpass well over 100%. The future estimates average out to 21% growth in the next five years. The graph below demonstrates this increase in earnings:
Financials - The "No"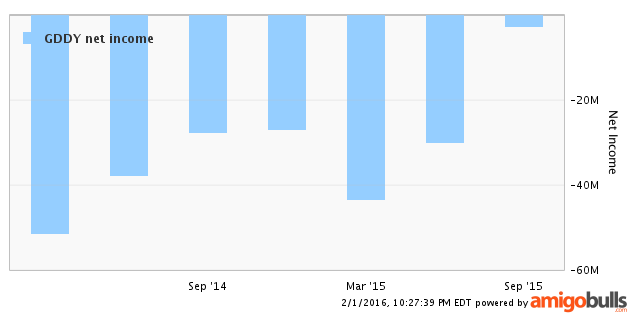 Although revenue has been increasing in most recent quarters, the graph above displays that GoDaddy has been operating their net income at a loss. In the case of GoDaddy, it is important to recognize this loss, especially since the past couple years they have recorded an annual income at -$100 million. If potential investors plan on adding this stock for the next couple of years, it is important to keep an eye on this company's net income. It is unfavorable to invest in a company that is operating at consecutive quarterly losses, especially if one is looking for company growth for the long-term. If GoDaddy plans on being a powerhouse at any point in the future, they must find a way to cut cost of goods sold and operate at a profit. Once they fix this problem, this should create solutions for other gray areas within the company. Earnings per share, for example, has been underperforming as of recently. The graph below displays this phenomenon, showing that every quarter has fallen below zero with no signs of going positive until September 2016.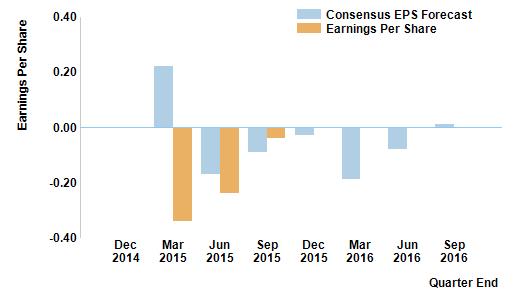 .
Conclusion - Go or No
GoDaddy does tons of advertising in a variety of creative ways, but one thing they have in common is getting their brand name across to potential customers. Customer growth has increased about 9% this past year and they now serve just over 13 million people. Their prospecting techniques are starting to pay off due to their revenue growing with customers. With the powerful brand they have created and a bulk of the market share, GoDaddy has set themselves up for an exciting opportunity to grow in the future. However, it will not be a smooth ride. In order to achieve success, they must find a way to operate net income at a profit or else there will be no thoughts of a long-term investment at all for shareholders. Even though they are not currently generating a profit, GoDaddy seems to be moving away from a loss in recent quarters. Given that and the positive forecast financials of the company, I say that investing in shares of GoDaddy is a GO.
Disclosure: I/we have no positions in any stocks mentioned, and no plans to initiate any positions within the next 72 hours.
I wrote this article myself, and it expresses my own opinions. I am not receiving compensation for it (other than from Seeking Alpha). I have no business relationship with any company whose stock is mentioned in this article.