There's a very popular stock which has lost 24% of its value so far in 2016. While the markets have not done well, this is a company which is still a week away from reporting earnings. I'm talking about electric vehicle maker Tesla Motors (NASDAQ:TSLA), whose shares have fallen toward their 52-week low as worries are piling up into earnings.
The first piece of bad news came when the most bullish Tesla analyst on the street cut his price target by 26%. Adam Jones is taking down his expectations based on a slower ramp of Model X production, along with lower Model 3 sales expectations. The analyst also threw in one of my recent worries - the impact of lower gas prices. Jonas cut his target to $333, well above where shares are currently, and Tesla shares have never seen a 3 handle.
On the same day, the other Tesla mega bull (Trip Chowdhry) stated that Model X production seems to be hanging in the 250-300 vehicle per week range. Trip states that the company is focusing on quality instead of quantity, but these latest figures suggest production hasn't risen much from the end of 2016. A much slower ramp for the Model X reinforces my opinion that Tesla will reduce its yearly delivery guidance from its original 83,200-93,600 vehicle range.
On Tuesday, we received the third negative note in just two days as Pacific Crest slashed its 2016 estimates, as it believes demand for the company is waning. The firm stated that Model X orders in the US appear to be falling behind expectations, and that the Model S may be approaching its "run rate ceiling." The firm lowered its non-GAAP EPS estimate to 27 cents from 76 cents, a figure that was already about a dollar below the street average.
In just two days, we've seen three negative notes regarding Tesla, including two from the analysts who were the company's biggest supporters. The key takeaway seems to be that we will be getting bad news on the company's earnings report on February 10th, but the question is how much?
I believe that Tesla will lower its delivery guidance for the year, and it wouldn't surprise me if guidance suggests very limited non-GAAP profitability. If Tesla's Q1 forecast is much weaker than expected, it is likely that we'll see another capital raise from the company. We've already seen a dramatic reduction in EPS estimates, as evident below, but it wouldn't surprise me to see these numbers go even lower.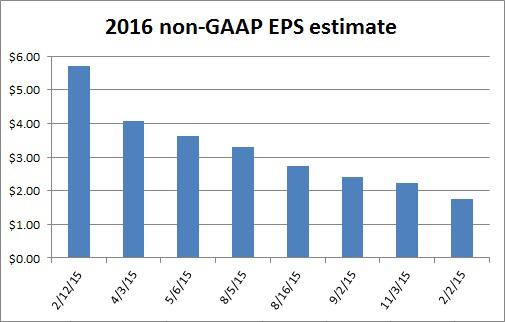 (Source: Yahoo Finance analyst estimates)
At this point, Tesla management needs to find some catalyst to offset the pessimism. While the Model 3 reveal may do the trick, that's still at least a month or two away. Perhaps Tesla Energy is starting to generate meaningful results? That could help offset worries about struggling vehicle demand.
I do believe we are getting closer to the point where enough bad news is priced in. However, if oil prices continue to decline and take the market down with it, Tesla shares will hit a fresh 52-week low. I've previously stated that management might want to sandbag guidance, with sentiment this low, almost like what I believe happened with Apple (NASDAQ:AAPL). A meaningful reset of expectations might be needed for this stock to put in a bottom.
Disclosure: I/we have no positions in any stocks mentioned, and no plans to initiate any positions within the next 72 hours.
I wrote this article myself, and it expresses my own opinions. I am not receiving compensation for it (other than from Seeking Alpha). I have no business relationship with any company whose stock is mentioned in this article.
Additional disclosure: Investors are always reminded that before making any investment, you should do your own proper due diligence on any name directly or indirectly mentioned in this article. Investors should also consider seeking advice from a broker or financial adviser before making any investment decisions. Any material in this article should be considered general information, and not relied on as a formal investment recommendation.