The oil futures curve over the past half year, dating from August 2015 to the end of January 2016, has undergone a radical downward move.
In August 2015, the current March contract level was priced at over $48 per barrel. By mid-January, the contract dipped below $28 per barrel concurrent with the point in time the February contract expired. After expiration, the futures curve rallied over 25%, with the front-month contract increasing to about $33 per barrel. The rally overall has been uniform across the entire contract spectrum, with mid-term, longer-dated contracts faring better.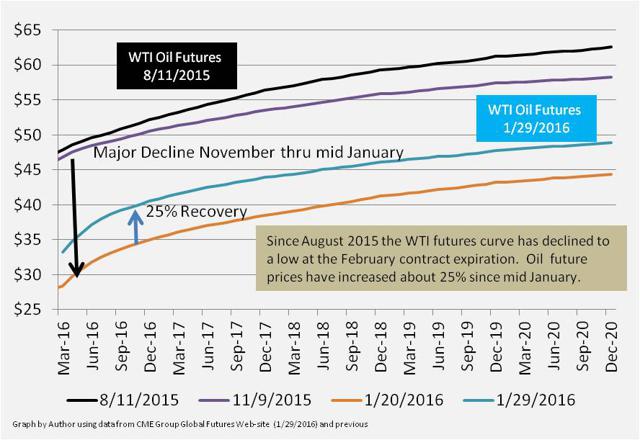 Click to enlarge
For this price rally to hold, signs should continue to become evident that future supply relative to demand is tightening, forcing the longer-dated contracts to become more expensive while the front end of the curve exhibits volatility as traders maneuver to make money in the process of clearing excess oil in storage.
Why the Current Oil Rally has Stronger Legs
The recent rally shows more potential as a true bottom because the longer-dated contracts are beginning to respond more strongly to upward price moves than the short end. A rally on the front end of the curve was attempted in early October 2015, (NYSEARCA:USO) (NYSEARCA:OIL), coinciding with a major rally in the energy sector overall. However, it was concentrated in the front-month contracts while the long-end remained stubbornly anchored and then continued lower moving into year-end and early January.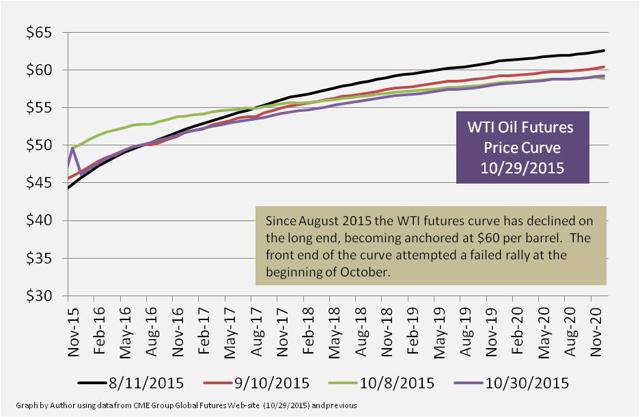 Click to enlarge
You can see how the early October 2015 rally failed in the chart above (look at the lime green 10/8/2015 line) as prices resumed a downward move by the end of October. The market carnage in December and January is now well known.
Current Forward Oil Price Expectations
The average future price per barrel of oil through February 2021 is currently $43.88. In August 2015, it was $56.34. I estimate that the August 2015 price level is a break-point where much of the U.S. shale became unprofitable to drill. As the front-month contract price broke below $40 per barrel and even $30 per barrel, a large portion of the shale sector reached a point of being unprofitable to do anything but make bare bones capital expenditures. This point is illuminated by the onslaught of major new announcements of major budget cuts in January not only by shale producers such as Continental Resources (NYSE:CLR) (see announcement here), but also by the large integrated operators like Exxon (NYSE:XOM), Shell (NYSE:RDS.A) (NYSE:RDS.B), BP (NYSE:BP), Chevron (NYSE:CVX) and ConocoPhillips (NYSE:COP) (see "2016 Budget Cuts: Chevron, Shell, BP And More"). The movement to make deep cuts in capital spending by the big oil suppliers is the real sign that oil supplies will definitely begin to tighten dramatically in the intermediate term.
The evidence is clear that new exploration is not feasible at current oil price levels, and at some point in the next 2-3 years, there will be a severe shortfall worldwide in production relative to current supply. The rumblings of production cuts being agreed to by Russia and Saudi Arabia, although yet to be confirmed, show the current price level is exerting the same pain level on their operations, and will result in a tightening of production worldwide going forward. However, the high level of oil inventories currently means that the shift back to normal E&P budgets will take some time, and the damage to the longer-term supply balance is almost inevitable.
Once major customers for oil begin to realize that abundance now does not translate to supply levels 2-3 years from now, the oil futures curve is very likely to take on a very steep, upward sloping shape. And, the longer that capital spending remains suppressed due to short-term panic, the more dramatic the issue will become on down the road. The divergence of the intermediate and longer end of the curve from the front end will be the ultimate sign that the oil market has truly reversed course.
Oil Future Possibilities
In my opinion, the oil market is beginning to show small signs of pricing in the impact of the inevitable decline in production that will likely pick up pace in the second half of 2016. I do not expect a dramatic spike in 2016, as $40 oil is the price point that will force maintenance-only operation across the industry, and there is a major storage excess that needs to be worked off. However, by this time in 2017, the futures curve is very likely to be back into the position it was in August of 2015, with a front-month spike not out of the realm of possibilities at some point thereafter.
In this environment, I have been doing financial homework and picking up quality energy investments that have been beaten down in the downdraft of the price swoon. Due diligence is important in any investment selection, and in the case of the current energy market, debt leverage has become a major factor in company valuations across the sector. If you are risk averse and unable to deep dive in individual company financials, average into the Energy Select Sector SPDR ETF (NYSEARCA:XLE) in anticipation of a market rebound and you will most likely beat the market in the coming 2-3 years.
But for more active, risk-managing investors, I suggest sticking with large, low-leverage energy company names like Occidental Petroleum (NYSE:OXY) with a 4.55% dividend yield for equity investments at the current time. The reason is that the debt market shake-out is going to take some time to digest, and the winners will be the stronger companies that get to pick over the assets of smaller companies that have taken on too much debt. Not all large integrated oil companies are safe bets. Even the dividend yield of larger integrated companies like BP is under pressure to be cut because the company is highly leveraged, and is now borrowing to make its dividend payment.
Energy-related long-duration bonds in higher-quality, lower-risk companies are also an opportunity for fixed income investors presently. COP's (CUSIP 20825CAQ7) longer-term debt is showing up on my radar as a potential buy presently. I also like the debt of the major pipeline MLPs like Energy Transfer Partners (NYSE:ETP) (CUSIP 29273RAJ8) and Plains All American Pipeline (NYSE:PAA) (CUSIP 72650RAR3). These investment options are currently investment grade, pay a high coupon and are long duration. They are near-equity in risk profile, and are good long-term fixed income plays when priced at the levels the market is currently trading.
If you are really in the mood for a high risk/reward opportunity, I suggest looking at the 2021 maturities of Memorial Production Partners (NASDAQ:MEMP) (CUSIP 586049AB4). It currently trades at $0.30 on the dollar and carries a 7.625% coupon. The partnership's production is substantially hedged at close to $90 oil and $4 natural gas through 2019. Other than the covenants with its line of credit which could force a liquidity event, the first debt maturity is 2021, and the partnership is not projected to need to borrow in the interim under its present plan. The partnership has lowered, but not yet suspended its distribution. Odds are good that this partnership will be a survivor in the present market carnage. There are many more high-yield plays in the energy sector like MEMP, but beware of the intentions of the senior credit holders in these situations. There are usually reasons when a company's debt is trading at a very deep discount to par.
Disclaimer: All opinions and analyses shared in this article are expressly Daniel Moore's own, and intended for information purposes only and not advice to buy or sell. Daniel Moore is the author of the book Theory of Financial Relativity: Unlocking Market Mysteries That Will Make You A Better Investor.
Disclosure: I/we have no positions in any stocks mentioned, but may initiate a long position in ETP over the next 72 hours.
I wrote this article myself, and it expresses my own opinions. I am not receiving compensation for it (other than from Seeking Alpha). I have no business relationship with any company whose stock is mentioned in this article.
Additional disclosure: I own debt positions in ETP, PAA, MEMP