With a market cap of $4.03 billion, Umicore (OTCPK:UMICF / OTCPK:UMICY) is the largest materials technology group from Belgium. The company's history is fascinating - a couple of decades ago, it was a heavy polluter, but nowadays, it's a champion in sustainability and clean tech thanks its strong focus on the environment and the way it addresses megatrends like resource scarcity, renewable energy (NYSEARCA:PBW), the need for cleaner air and the electrification of transportation.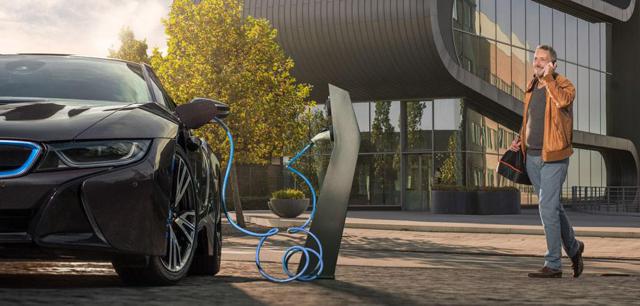 Image source: Umicore
From a dirty past to one of the most sustainable companies in the world
Umicore is centuries old, but today's company can in no way be compared with its predecessors. The oldest root of the company stretches back to 1805, when Napoleon Bonaparte granted Jean Dony control of the Vieille-Montange zinc mine. These assets were merged with the more commonly known Union Minière in 1989.
The Union Minière du Haut Katanga was created in 1906 to exploit the vast natural wealth of Belgian Congo. The colonial mining company initially focused on copper, but later expanded its business to other metals like cobalt, tin and zinc. It was involved in mining, casting and smelting activities. Additionally, Union Minière enjoyed a near-monopoly in the radium and uranium markets until well after the middle of the 20th century. As such, the company played a key role in the Manhattan Project, as it provided the uranium for world's first atomic weapons.
After the independence of Congo, most of the firm's assets were nationalised, so it was forced to adopt a Western-European focus. In 1989, Union Minière merged with three of its subsidiaries and evolved into an integrated industrial group.
The next major phase in the company's history was the transformation from a struggling, notorious polluter to a research-based company focused on materials technology, recycling and clean tech. Union Minière changed its name to Umicore in 2001, divested its polluting activities and acquired PMG in 2003 to gain a major presence in the automotive catalyst sector. The former copper refining activities were spun off as Cumerio in 2005, and the zinc refining assets were divested to Nyrstar (OTC:NYRSF) in 2007.
Sustainability is heavily ingrained in the company's culture, and in 2013, Corporate Knights ranked Umicore as the most sustainable company in the world.
Three major business segments centered around recycling and clean tech
The former miner and smelter had four major business pillars in 2014: recycling, catalysis, and energy & surface materials. Umicore has 76 industrial sites and 20 R&D facilities all over the world, and targets a wide variety of markets, including automotive, energy, recycling, chemicals, electronic, optics and display and precious metals. Umicore's products and services cover 29 metals and materials.
The last full-year report covers book year 2014, so for this short overview of Umicore's business segments, I will be using 2014 data. During 2014, the company generated 2.38 billion EUR ($2.59 billion) in revenue (excluding metal) and recurring EBIT of 273.7 million EUR ($298 million). The total group reported a recurring EBIT margin of 10.3 percent. Umicore prefers to report its revenue excluding the value of purchased metal, because this significantly skews the financial performance. The total turnover for 2014 was 8.83 billion EUR ($9.61 billion).
The company's Recycling unit speaks to the imagination and is often referred to as urban mining. Umicore is the world's largest recycler of precious metals (NYSEARCA:GDX) - it recovers gold (NYSEARCA:GLD), silver (NYSEARCA:SLV), platinum, palladium, rhodium and various other precious and non-ferrous metals from a wide range of waste streams, including consumer waste like discarded electronic devices and old jewelry, and more importantly, by-products and residues from mining, smelting, refining and industrial activities.
To put it in other words: end-of-life cell phones, computers and all sorts of other electronic devices get shipped to Umicore by truck or boat, and the company transforms this waste into usable products for the industrial, jewelry and investing markets.
Electronic waste is very rich in precious metals. Umicore can recover one troy ounce of gold from just 1,000-1,250 cell phones, whereas traditional gold mines need to process anywhere from two to well over ten metric tonnes of gold ore to recover the same amount of gold. On top of this, electronic waste also yields numerous other metals, including silver, palladium and copper, so as little as possible goes to waste. I think the alchemists of old would be very jealous about this :-)
The company offers a wide range of gold, silver, platinum and palladium bars, but does not sell directly to private investors.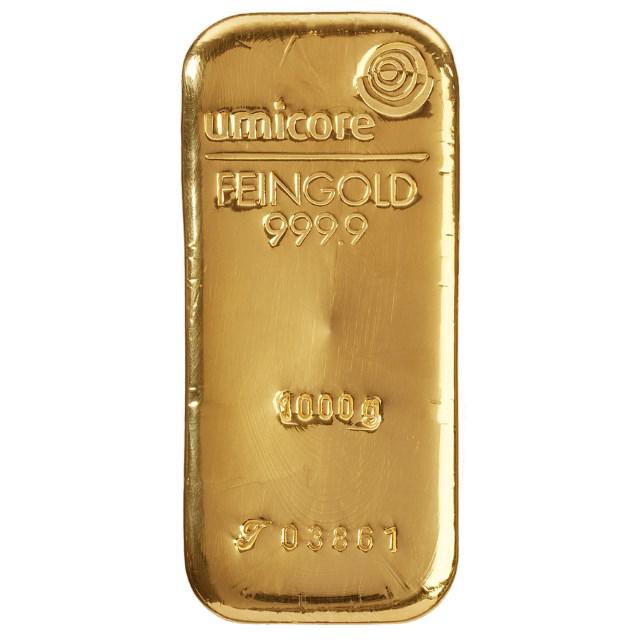 Image source: Umicore
Additionally, the company also recycles automotive catalysts, industrial catalysts, fuel cells and batteries. The battery recycling segment covers a broad range of applications, including li-ion, li-polymer and NiMH rechargeable batteries from not only small devices like smartphones and laptops, but also from electric vehicles. For example, Tesla (NASDAQ:TSLA) picked Umicore as it European battery recycling partner.
Most of its competitors in the recycling industry focus on specific niches. Umicore is the only company that can take in such a wide span of materials and metals.
In 2014, its recycling unit accounted for 22 percent of Umicore's revenue, but 43 percent of the firm's recurring EBIT. It is the best-performing segment of the company's business, I think it has a very strong economic moat, but profitability is under pressure due to continued weak precious metal pricing.
Catalysis is the firm's biggest revenue driver - it accounted for 38 percent of 2014's revenue, but just 26 percent of recurring EBIT. This division focuses on lowering emissions of gasoline and diesel cars and trucks. Stricter emission norms drive demand for more complex catalytic converters, but the dependency on the automotive market makes this division cyclical.
The company's third largest unit was Performance Materials, which accounted for 21 percent of Umicore's 2014 sales and 19 percent of recurring EBIT. This division is organized around five business units: Building Products, Zinc Chemicals, Technical Materials, Electroplating and Platinum Engineered Materials.
Among other things, Umicore provides zinc powders for coatings and paints, silver plating solutions for high-performance LEDs, platinum equipment for display glass production, and power technology materials. Umicore also has a 40 percent stake in Element Six Abrasives, a company that makes industrial diamond for a variety heavy-duty applications.
Lastly, we have the Energy Materials unit, which generated 19 percent of the company's 2014 sales, but only 12 percent of recurring EBIT. The Energy Materials division focuses on metals, alloys, compounds and engineered materials for several interesting areas, including high-end germanium-based photovoltaic panels, touchscreens and cathodes for the production of rechargeable batteries for portable devices, electric bikes and electric cars.
It is important to realize that battery plants like Tesla's Gigafactory are not competition for Umicore - the company does not make batteries itself, but provides the materials required to manufacture batteries. In the EV battery market, Umicore does not focus on low cost, but on providing high-performance materials.
Last year, the Performance Materials and Energy Materials were regrouped into the Energy & Surface Technologies unit, as the company plans to sell its zinc and building product units.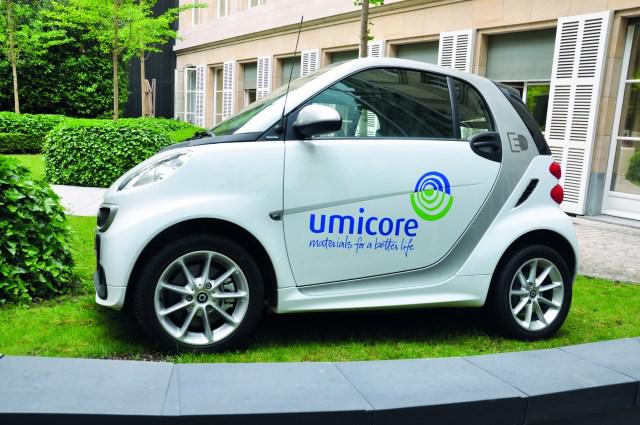 Image source: Umicore
Biggest shareholder keeps buying
Umicore's largest shareholder is Groupe Bruxelles Lambert (OTCPK:GBLBF). GBL is a Belgian holding company, and over the last couple of years, it has steadily build up a position in Umicore. The investment was made public in 2013 after the holding crossed the 3 percent threshold. It surpassed the 10 percent mark in 2014, and according to the latest declaration, it now owns 16.3 percent of Umicore's share capital.
BlackRock (NYSE:BLK) owns 5.03 percent, Capfi Delen Asset Management holds 3.08 percent and Norges Bank has another 3.06 percent. Additionally, 3.04 percent of the shares are held by Umicore's treasury.
Umicore's dividend policy
The company has a policy of paying a dividend that is steady or gradually increasing. It does not stick to a fixed payout ratio, but has a history of infrequent dividend increases.
For most of its history, Umicore paid one dividend a year, but in 2010, the company switched to a bi-annual dividend payout cycle. It's less ideal than the quarterly payments offered by most US dividend-paying stocks, but better than the traditional once-a-year dividend paid by most European large caps. The interim dividend corresponds to half the total dividend paid for the previous year.
The interim dividend is announced towards the end of July, the stock goes ex-dividend around the first trading day of September and the payout date is just two days later. The final dividend gets approved at the Annual General Meeting in late April, the stock goes ex-dividend a couple of days later and the payment hits your account in early May.
The dividend is declared in euros, so US investors will need to mind currency fluctuations. Based on a trailing gross dividend payment of 1EUR ($1.089) per year, the stock is currently trading at a dividend yield of 3.08 percent. Investors can buy Umicore on the Brussels stock exchange (ticker symbol "UMI") or on the Over-The-Counter market.
There are two ADRs: one represents one ordinary share and two shares represent one ordinary share. Both ADRs are illiquid, so it may be prudent to buy the shares via the Brussels exchange.
Belgian dividend tax
Belgian shares like Umicore are subject to a dividend withholding tax of 27 percent. There's a tax treaty in place between Belgium and the US that lowers the withholding rate to 15 percent. I suggest contacting your broker or a tax advisor to find out how you can benefit from this.
The company's full dividend history
As mentioned above, Umicore was created in 1989 and was the result of the merger of several companies. It paid out dividends in 1989 and 1990, but distributions were cancelled until book year 1997, as the firm went through a massive reorganization that turned it into the innovative materials technology company that it is today.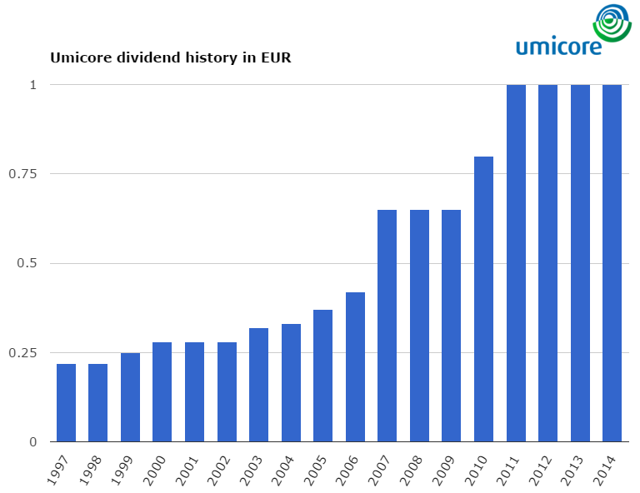 In its current form, Umicore started paying out dividends in 1997. Since that year, it has never lowered its dividend, but the growth rate is very choppy, with a lot of dividend freezes. The data below is adjusted for the 5-for-1 stock split from 2008.
| | | | | |
| --- | --- | --- | --- | --- |
| Year | Interim dividend | Final dividend | Total dividend in EUR | Notes |
| 1997 | | | 0.218 | |
| 1998 | | | 0.218 | *dividend freeze |
| 1999 | | | 0.25 | |
| 2000 | | | 0.28 | |
| 2001 | | | 0.28 | *dividend freeze |
| 2002 | | | 0.28 | *dividend freeze |
| 2003 | | | 0.32 | |
| 2004 | | | 0.33 | |
| 2005 | | | 0.37 | |
| 2006 | | | 0.42 | |
| 2007 | | | 0.65 | |
| 2008 | | | 0.65 | *dividend freeze |
| 2009 | | | 0.65 | *dividend freeze |
| 2010 | 0.325 | 0.475 | 0.8 | *switch to bi-annual dividends |
| 2011 | 0.4 | 0.6 | 1 | |
| 2012 | 0.5 | 0.5 | 1 | *dividend freeze |
| 2013 | 0.5 | 0.5 | 1 | *dividend freeze |
| 2014 | 0.5 | 0.5 | 1 | *dividend freeze |
| 2015 | 0.5 | TBA | TBA | |
The 2015 final dividend hasn't been announced yet, but in the 1997-2014 period, the dividend rose at a compound annual growth rate of 9.37 percent. It will be interesting to see if Umicore increases its dividend this year, failing which it will be the fourth consecutive year of no dividend increase. I'm hopeful of a dividend increase, as the company seems to be getting back on track in terms of profit growth.
The chart below tracks Umicore's dividend growth rate. The track record is very inconsistent - it includes a massive 54.76 percent dividend increase in 2007, but also eight years of dividend freezes.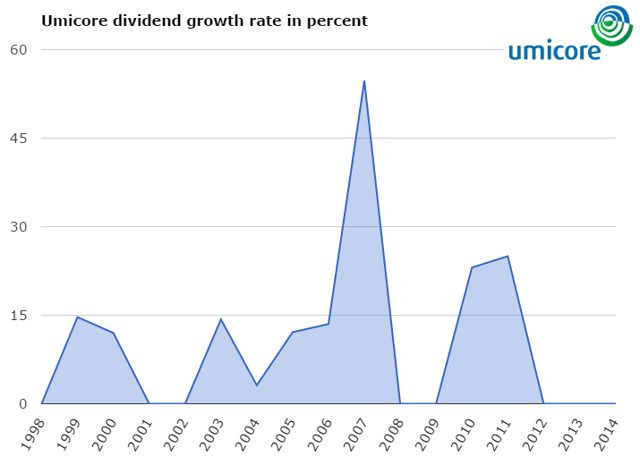 Also worth mentioning is the 2005 spin-off of Cumerio, which consisted of Umicore's former copper activities. Each share of Umicore gave right to one share of Cumerio. After the spin-off, the copper company traded for 10.50EUR (2.1EUR split-adjusted), and in 2008, it was bought by Norddeutsche Affinerie for 30EUR (6EUR split-adjusted) per share.
After the merger, Norddeutsche Affinerie changed its name to Aurubis (OTC:AIAGF). When taking a look at the long-term performance of a company, these kind of details are important, as a stock chart reveals just one element of the total return.
Dividend payout ratio
Here's a look at the dividend payout ratio versus the company's recurring EPS. It appears that there was a loss in 1998, and all the other years were profitable. The chart reveals that the dividend freeze is the result of a decline in recurring profit, and the payout ratio increased steadily since 2010. The payout ratio versus free cash flow was pretty much in line with the 2014 payout ratio versus recurring EPS.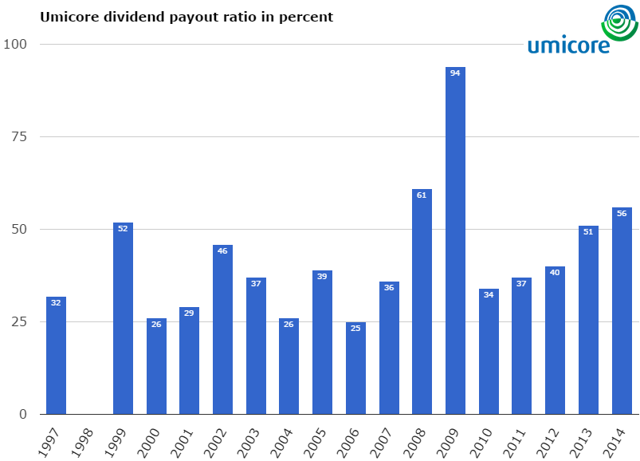 Share buybacks
Umicore has an active share buyback program. The company bought 2.44 million shares in 2013, 2.03 million shares in 2014 and 0.92 million shares in 2015.
The following chart shows the number of outstanding shares (excluding treasury shares). Split-adjusted, the number of shares declined from 128.09 million in 2000 to 108.06 million at the end of 2014.
Overall, the trend is downwards. Since the year 2000, the number of shares declined at an average rate of 1.2 percent per year.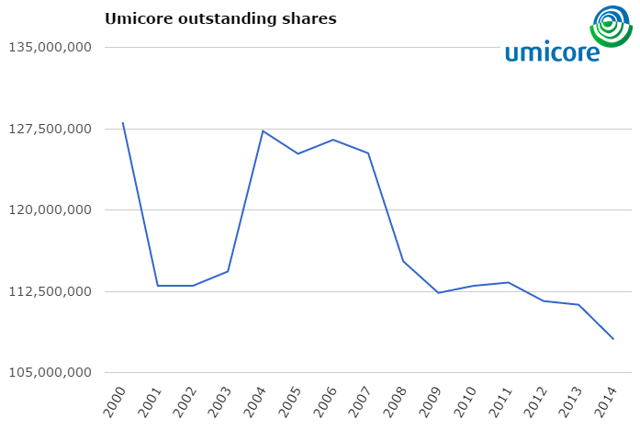 Recent business performance
Umicore will be reporting its full-year 2015 results later this week. The first half-year was very strong - the company saw a 12 percent rise in revenue, a 24 percent boost in recurring EBIT and 38 percent higher recurring EPS.
Similarly, third-quarter revenue soared 10 percent versus the year before, as strong revenue growth in the Catalysis (+19%) and Energy & Surface Technologies segments (+24%) more than offset the 12 percent decline of the Recycling unit.
Catalysis performed well due to strong demand and a good product mix, while the Energy & Surface Technologies segment saw continued volume growth for rechargeable battery materials as well as higher revenue for cobalt & specialty materials.
Recycling performed weak due to the slump in pricing for base metals and precious metals. Additionally, revenue was also down due to a planned extended shutdown of the precious metals refining in Hoboken, Belgium. The good news here is that this was part of Umicore's investing program to increase recycling capacity by 40 percent, so even if precious metal pricing stays stable, the company's recycling activities are expected to show significant growth in the near future.
According to the half-year 2015 report, net debt stood at 314 million EUR ($341 million), responding to a gearing ratio of just 14.6 percent. Net debt versus recurring EBITDA stands around 60 percent, so the company's balance sheet looks healthy due to a low amount of financial debt. Return on equity for 2014 came in at 10.0 percent. If we use the DuPont model, we can see that about half of this return is earned on debt at work in the business.
Outlook
Since 2011, Umicore has seen a decline in net profit, but this trend seems to be turning. The company is growing again and claims it can double its profit (versus the 2014 level) by 2020. Furthermore, Umicore set a goal of increasing its return on capital to at least 15 percent, up from 12.2 percent in 2014. In case the demand for electric vehicles takes off stronger than expected, the company's growth may be even higher.
Umicore spends around 6 percent of its revenue on R&D to keep its edge, and has set its sight on addressing three megatrends: resource scarcity, increasing emission norms for cars and the electrification of vehicles.
Based on the firm's Horizon 2020 vision, I expect investors may see some acquisitions in the Catalysis or Energy & Surface Technologies markets, as Umicore wants to rebalance its portfolio to become less dependent on the performance of its recycling division. The company's balance sheet can support this, but the valuation of takeover targets may be a concern.
In the short term, the company faces risks like continued weak metal pricing and a downturn in the Chinese economy, but longer term, the future looks bright. We'll know for sure later this week, but I think there's a good chance Umicore will increase its dividend to reward shareholders for their patience.
Based on analyst estimates, the company is currently trading at just 16.74 times its 2015 earnings and 15.28 times the projected 2016 earnings, which makes it attractively valued in regard to its clean balance sheet and high growth potential.
Conclusion
Umicore has a strong market position and ambitious growth plans centered around long-term trends like the recycling of valuable waste streams, the ongoing electrification of the automotive powertrain and the increasing regulatory focus on emissions of vehicles with internal combustion engines.
I feel this company provides a great way to invest in recycling and clean technology. It has a healthy balance sheet, a reasonable valuation and significant growth potential. Umicore also has a nice yield; dividend growth has been lacking in recent years, but could pick up significantly if the company can achieve its goals. I'm adding Umicore to my watch list and will consider picking up shares in the near-term future.
If you enjoyed this first look at Umicore, please click the "Follow" button and check out some of my previous dividend-focused articles:
What is your favorite clean tech stock?
Disclosure: I/we have no positions in any stocks mentioned, and no plans to initiate any positions within the next 72 hours.
I wrote this article myself, and it expresses my own opinions. I am not receiving compensation for it (other than from Seeking Alpha). I have no business relationship with any company whose stock is mentioned in this article.
Editor's Note: This article discusses one or more securities that do not trade on a major U.S. exchange. Please be aware of the risks associated with these stocks.