There has been a lot of negative press on Research in Motion (RIMM) and negative reports from most of the analysts on Wall Street. Some of this criticism and negativity is justifiable, but most of the critics are missing the crucial points regarding this company. I would go as far as saying that many of these articles and reports are misleading. Furthermore, the same negative stories are repeated time and again no matter how insignificant these stories are.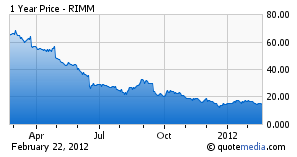 There is no doubt that the company's senior management team made some serious mistakes by not responding in a timely and effective manner to the challenges from Apple (NASDAQ:AAPL) and Android a few years ago. I attribute this to their arrogance and complacency. Further, this management team had a sub-optimal marketing/PR and developer relations strategies. They also mismanaged expectations given to Wall Street. I believe the management has realized its mistakes and is taking corrective actions. For example, recent departures of senior executives (not counting the two ex-CEOs) from RIMM and streamlining/reducing the number of devices are just two examples of changes taking place at RIMM.
The company's stock took a huge beating from its all-time of around $148; but at $16, the valuation of this company is extremely cheap and this has become a value play. I disagree with those who say this is a value trap. Just to put things in perspective: Skype was bought for $8.5 billion and Motorola Mobility (NYSE:MMI) for $12 billion. By any metrics, RIMM has to be worth well over $25 billion (resulting in a share price of $50) but this stock is trading below book value at slight more than $8 billion in market capitalization.
RIMM has 75 million recurring subscribers that contribute more than $4 billion in annual revenues on the "blade" side of the business. The profitability of this business segment is very high. The soon to be introduced "fusion mobile" service will bring another recurring revenue stream while entrenching RIMM deeper into the enterprise.
BlackBerry is losing market with the retail consumers in North America. This particular demographic makes up a small percentage of the worldwide market. Those who are bearish on RIMM have no idea about the popularity of the BlackBerry brand in regions like Latin America, Asia and the Middle-East; for example in Peru, India, UAE and Indonesia, RIMM is very popular. The smartphone adoption rates in those countries are estimated to be quite impressive and Research in Motion will be a big beneficiary because of its BlackBerry brand.
Security, despite a couple of recent problems, is a major differentiator of the BlackBerry brand. Is it any wonder that the President of the United States and most leaders use BlackBerry? With ever-increasing information put on the mobile device security will become more important both for businesses and the consumers and RIMM will benefit.
Not too long ago, the analyst community was valuing the BES/BIS/BBM part of RIMM at $40 billion ($77 a share). Today the enterprise value RIMM is less than $7.5 billion. The BES/BIS/BBM business segment throws enough free cash that any rational analysis will conclude a valuation of $20 billion ($38 a share) for that segment alone.
Even if BB10, Research in Motion's new operating system to be launched in the latter half of 2012, takes off moderately, RIMM could trade north of $100 a year after BB10 is introduced. QNX based BB10 platform could be a game changer. But some people in the media and on Wall Street have already written RIMM's obituary. RIMM has shown consistent growth over the last several years; a few quarters do not always make or break a company. RIMM is making a big transition and those platform transitions take time. One analyst put a price target of $12 on RIMM while maintaining a $2.70 EPS of the year 2013. According to his estimates and numbers, the book value of RIMM will be $24 by the end of $2013 and profitable while his price target is $12.
In Summary: RIMM is a company that is certified by virtually all carriers in the world; is a standard bearer of security; has very strong international brand equity and a strong foothold in enterprise market worldwide. It has a loyal installed base of 75 million subscribers and growing that generate loads of cash. The company has valuable patents. Its breakup value far exceeds the current valuation. But talking about break-up value is a stupid idea when the company throws a lot of free cash flow.
The company is facing increasing competitive pressures. That is how the world works; no one can have a market worth hundreds of billions of dollars market to itself. RIMM has realized its blunders but it is very profitable and I expect the company to resume its upward trajectory with the new QNX platform.
This is a $50 dollar stock today that has a potential to go past $100 in 18 months even if BB10 is just a moderate success.
Disclosure: I am long RIMM.