Last week, STAG Industrial (NYSE:STAG) announced that its CFO, Geoff Jervis, and the company had mutually agreed to terminate employment to pursue other opportunities. Commenting on the termination, STAG's CEO, Ben Butcher said:
On behalf of the board of directors and management, I want to thank Geoff for his invaluable contributions to STAG during his tenure. We wish him continued success in his future endeavors.
According to SNL Financial, Jervis was paid around $2.2 million (including stock options) and his replacement (also announced last week) is Bill Crooker, recently serving as Chief Accounting Officer and Sr. VP of Capital Markets.

Click to enlarge
Last week, I spoke with Ben Butcher along with other key members of STAG's management team and they informed me that Cooker's promotion will reduce G&A costs related to the replacement (of Jervis) since the company was already "top heavy" in the accounting department.
Butcher implied that STAG would not be hiring anyone to fill Cooker's position as other key employees were available to support the job function. Although Jervis was the second highest paid employee at STAG, his actually "take home" pay was on the low end.

Click to enlarge
Butcher pointed out that Cooker had been with STAG since inception, serving as Chief Accounting Officer. Prior to STAG's formation, Crooker served as the Chief Accounting Officer for STAG's predecessor, STAG Capital Partners, LLC from 2010 to 2011, where he was responsible for the company's accounting, tax, and financial reporting.
From 2002 to 2010, Crooker worked for KPMG LLP in its real estate practice focusing primarily on publicly-traded REITs where he held various positions with KPMG LLP, including most recently as senior manager. Crooker is a CPA and received his Bachelor of Science degree in accounting from Bentley University.
While speaking with Butcher last week, I specifically asked him whether the mutual termination had anything to do with accounting related issues, and he was quick to respond that there were absolutely no accounting issues and that Crooker had been with the company since the beginning. He added that it was just "business as usual" and Crooker's promotion was a positive for the organization.

Click to enlarge
In an effort to gain more insight into STAG's accounting practices and the depth of management, I went onto the website to research other players. In addition to Crooker (the new CFO), I also ran across the bio of Jaclyn M. Paul, Sr. VP and Corporate Controller. Paul joined STAG in 2011, and from 2004 to 2011, she worked for PricewaterhouseCoopers LLP in its real estate practice, focusing primarily on publicly-traded REITs.
She has held various positions within PricewaterhouseCoopers LLP, including most recently as Assurance Manager. Paul is a CPA and received her Bachelor of Business Administration degree in accounting and finance from Ohio University.

Click to enlarge
My takeaway on the CFO switch is simple. I am an investor in the company, and while I would like to see consistency within the executive ranks, I realize that the average tenure for a CFO of a publicly-traded company is just around four years. I was glad that the CEO of STAG reinforced the fact that there are no accounting issues and when I ended the call I said, "good luck with earnings."
What I'm Looking For On STAG's Earnings Call
STAG reports Q4-15 earnings on February 25th and the conference call is on February 26th. I have written on STAG recently HERE and HERE, and in this article, I decided that I would provide a few bullet points related to the company's upcoming earnings call. Here's what I'm looking for:
How Does STAG Fund Its Business? Obviously, STAG's stock price is not helping the company's "low cost of capital" advantage as shares are still trading below normal ranges.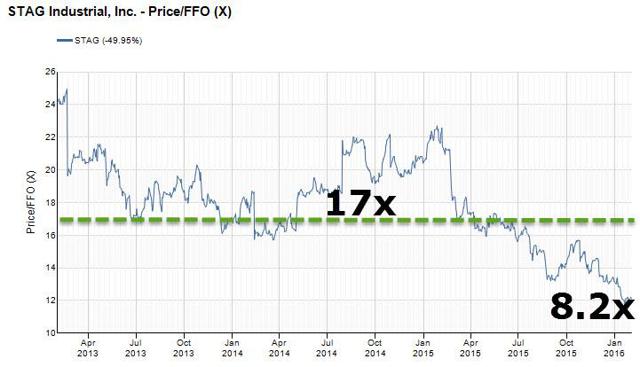 Click to enlarge
Clearly, STAG can't grow its business by conventional means, so it must resort to more creative strategies such as dispositions, preferred equity, and JVs. On the upcoming call (3 weeks from now), I will be looking for STAG to demonstrate how it intends to grow in lieu of its expensive equity channels.
What Is STAG's G&A Guidance? In Q2-15, several analysts questioned STAG's increased G&A load that has caused bottom line numbers (FFO and FFO per share) to be basically flat for multiple cores. Had G&A not grown over the last year, STAG would have held at the Q2-14 levels, and its Q2-15 FFO per share would have been $0.39 per share or $0.03 per share higher than reported in Q2-15.
On the Q2-15 earnings call, STAG said that the company's "G&A growth should level off over the next few years, and G&A is projected to be at least in line with the industry and this makes sense."
Then on STAG's Q3-15 earnings call, the CEO said that the company would "demonstrate G&A discipline. We had moderated G&A cost in this quarter and will moderate the growth in coming quarters."
Ben Butcher was referring to STAG's G&A in the third quarter of $6.4 million, down 14% from last quarter (Q2-15), primarily due to reduced compensation. For the year, STAG expects G&A to be approximately $29 million, down from the previous forecast of $30 million. Looking to 2016, STAG expects G&A of approximately $32 million, down from the previous projection of $33 million.
Perhaps the CFO switch aids in the 2016 forecast. Nonetheless, I am hoping that STAG continues to scale back from the things it "wants" versus the things it "needs."
What Are The Acquisition Opportunities?
The first item referenced, "how STAG funds its business," is directly correlated to "how STAG increases its business." STAG reports acquisitions (and leasing activity) monthly, but it will be good to get a year-end recap on competition, cap rates, and opportunities in the marketplace.
One positive indicator is that Prologis (NYSE:PLD) has already announced Q4-15 earnings, and the 800-pound gorilla reported great numbers. Fellow analyst (and friend) Bill Stoller wrote an excellent article referencing PLD's latest earnings and here's his summary:
Prologis pretty much hit the cover off of the ball during Q4 2015.
FFO Growth - Core FFO increased 19% Y/Y to $2.23 per share.
Occupancy - A record 96.9% overall, with every region above 95%, and customer retention a hair below 86%.
Leasing - Over 166 million square feet of leases were signed during FY 2015.
PLD's CEO, Hamid Moghadam, spent much of the earnings call talking about the disconnect with industrial real estate and the economy, as he suggested that the real "boots on the ground" story - as PLD frequently speaks with its tenants/customers (i.e. Home Depot (NYSE:HD) and Wal-Mart (NYSE:WMT))- is about "their changing space needs". He explained:
Demand continues to exceed supply…Supply chain reconfiguration is a key long-term driver of our business. This is true for the full spectrum of our customer base…To meet consumer demand for faster deliveries, this channel requires facilities that are closer to labor and population centers.
He added:
Industrial real estate market conditions are healthy in most of the world, in spite of concerns about emerging market economies, including slower growth in China.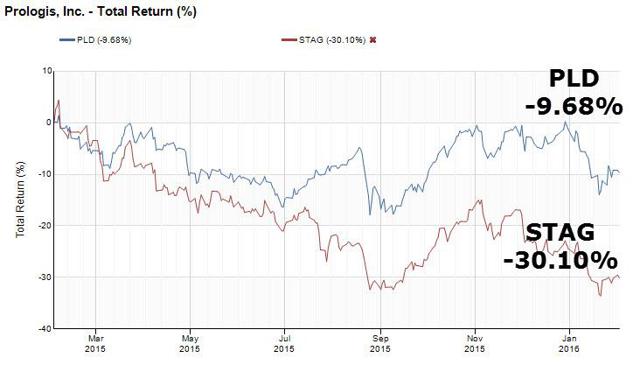 Click to enlarge
What About The Balance Sheet? One last thing that I will be looking for on STAG's Q4-15 earnings call is the overall health of the balance sheet. STAG has one investment grade rating (BBB from Fitch), and in October 2015, Fitch said its recent upgrade took into account the STAG's credit strengths, including strong leverage and fixed-charge coverage metrics for the rating, improving unsecured debt capital access, "excellent" liquidity and a sizable unencumbered asset pool.
The rating agency added that it expects STAG to operate through the cycle with metrics that are appropriate for the BBB rating. I expect STAG to continue with its same disciplined approach to continue to fund its ongoing business activities.
In Summary, I remain bullish with regard to STAG's investment model, and although shares have performed rather poorly, I am holding on for a hopeful rebound. The more recent pullback has provided investors with an opportunity to pick up more shares "on the cheap." In addition, STAG has an attractive dividend yield of 8.1% (paid monthly). As far as I'm concerned, the CFO switch-out is a "non-event," and I'm satisfied that management is executing with a focus on shareholders first.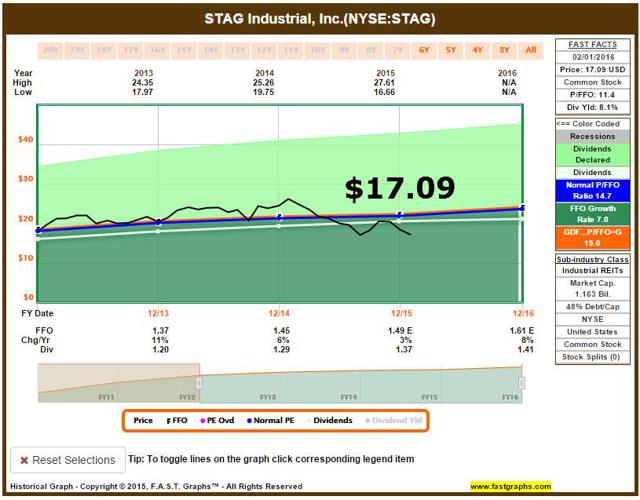 Click to enlarge
Author's Note: I'm a Wall Street writer, and that means that I am not always right with my predictions or recommendations. That also applies to my grammar. Please excuse any typos, and I assure you that I will do my best to correct any errors if they are overlooked.
Finally, this article is free, and my sole purpose for writing it is to assist with my research (I am the editor of a newsletter, Forbes Real Estate Investor), while also providing a forum for second-level thinking. If you have not followed me, please take 5 seconds and click my name above (top of the page).
The only guarantee that I will give you is that I will uncover each and every rock I can in an effort to find satisfactory investments that "upon thorough analysis promises safety of principal and satisfactory return. Operations not meeting these requirements are speculative." (Ben Graham)
Disclaimer: This article is intended to provide information to interested parties. As I have no knowledge of individual investor circumstances, goals, and/or portfolio concentration or diversification, readers are expected to complete their own due diligence before purchasing any stocks mentioned or recommended.
Disclosure: I am/we are long O, DLR, VTR, HTA , STAG, GPT, ROIC, HCN, OHI, LXP, KIM, WPC, DOC, EXR, MYCC, BX, TCO, SKT, UBA, STWD, CONE, BRX, CLDT, HST, APTS, FPI, CORR, NHI, CCP, WSR, CTRE, WPG, KRG, SNR, LADR, HCN, HCP.
I wrote this article myself, and it expresses my own opinions. I am not receiving compensation for it (other than from Seeking Alpha). I have no business relationship with any company whose stock is mentioned in this article.