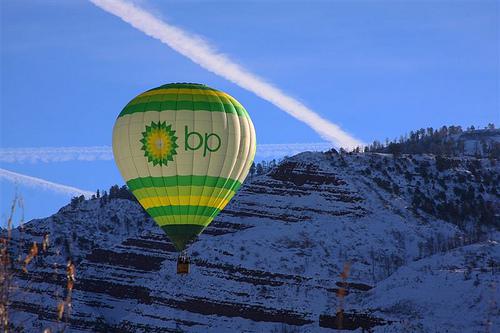 Source: Offshoreenergytoday.
BP Plc. (NYSE:BP)
On February 2, 2016 BP released its fourth-quarter and full 2015 earning results. You can find the conference call transcript from Seeking Alpha here.
A Quick Financial Look At 2015:
2015
4Q'15
3Q'15
2Q'15
1Q'15
2014

Total revenues and other income

in $ billion

225.982
49.172
56.152
61.800
54.920
358.678

Cash and Cash equivalent

in $ billion

26.389
26.389
31.702
32.589
32.434
29.763

Underlying replacement cost profit

$ billion

5.9

Operating Loss/Profit

$ billion

(6.482)
(3.307)
0.046
(6.266)
2.103
3.780
Diluted EPS $
(2.12)
(1.08)
0.02
(1.91)
0.85
1.23

Replacement Cost ("RC")

$ billion

5.716

5.905 (Adjusted)

(1.834)
3.309
1.911
2.330

12.762

12.136 (Adjusted)

Operating Cash Flow

$ billion

19.133
5.806
5.183
6.286
1.858
32.754

Organic CapEx

$ billion

19.531

18.7 (excl. acquisition)

6.138
4.270
4.658
4.465

23.781

22.9

BP Gross debt $ billion
53.168
53.168
57.405
57.104
57.731
52.854
BP Net Debt $ billion (Debt - cash)
27.158
27.158
25.646
24.830
25.123
22.646
Net debt ratio
21.60%
21.60%
20.0%
18.8%
18.4%
16.7%

Oil & gas production, including Russia, in Mboe/d

3.277
3.214
3.2
3.1
3.3
3.151
Dividend per shares per ADS holder $
2.40

0.60

3/24/16

0.60
0.60
0.60
2.40
Share outstanding in billion
3.069
3.069
3.058
3.053
3.042
3.033

Total hydrocarbon average BP price

in $/boe

34.78
29.54
33.25
40.04
37.00
60.85

Gulf Of Mexico spill cost

$ million

11,956

55,451(total)

443
-
-
-
-
Reserves replacement ratio
61%
-
-
-
-
-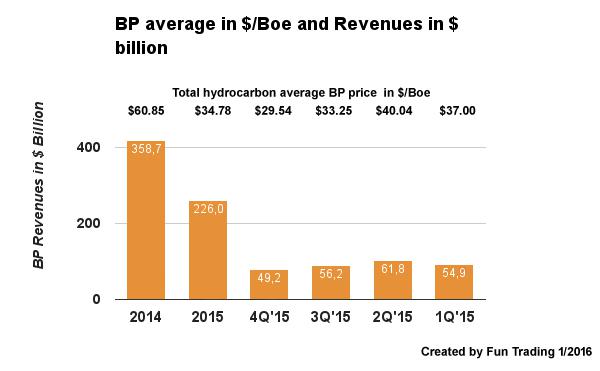 Commentary:
BP released its 4Q'15 and full year 2015 earning results on February 2, 2016. The company posted a quarterly loss of $1.08 per share due to a rapid degradation of the oil and gas prices. Crude oil is again below $30 a barrel.
I was expecting a pretty dismal quarter, and the results matched my worst expectation. Mr. Robert W. Dudley, Group CEO, said it in the conference call:
Between September 2014 and the end of 2015, we saw the price of oil fall by over $60 per barrel. And as we enter 2016 the fundamentals that caused this are still in play, which means prices are likely to remain very volatile in the near term.
On a positive side, BP reduced its 2015 capital spending from its projected level of $22.9 billion to $18.7 billion whereas increasing total production by 5.4%.

The company expects to spend a little less on capital expenditures in 2016 and in 2017; somewhere between the $17 billion to $19 billion range.
On the negative side, BP is not expecting to be cash flow positive below $60 a barrel, which is a long way from the $29.71 a barrel reached today. It is quite evident that if oil and gas prices are not improving the situation for BP will deteriorate further, and we can be already certain that 2016 will be a tough year. The company anticipates a rebound by 2017.
The company renewed its commitment for the dividend, however, it is difficult to imagine BP keeping the dividend at the actual level, if the oil and gas prices are not improving significantly in the second half of 2016?
M. Brian Gilvary, CFO, said in the conference call:
As we laid out in October our principal objective is to re-establish a balance in our financial framework by 2017, where operating cash flow covers capital expenditure and the current dividend at an average Brent oil price of around $60 per barrel. We see this as consistent with sustaining the dividend at a level supported by the long term through cycle capability of our underlying businesses.
Thankfully, BP was able to put behind the Deepwater horizon oil spill "issue", on July 2015. However, the issue is not resolved totally and other costs will probably occur (liability for business economic loss claims difficult to evaluate now).
We also reached a milestone, a significant one in July, with the announcement of the agreements in principle with the United States government and five Gulf States to settle all federal and state claims arising from the Deepwater Horizon oil spill. This leaves us able to focus more clearly on the future.
The company is expecting further reductions of the upstream workforce of an additional 4,000 people.
Overall, the company is well managed with a long-term strategy. However, BP is not controlling the price of oil and gas, which are of a paramount importance and will affect the company's future results.
It is difficult to be optimistic for 2016, and it is highly probable that the company will show a struggling balance sheet throughout 2016, consequently, I expect further PPS weaknesses.
Conclusion: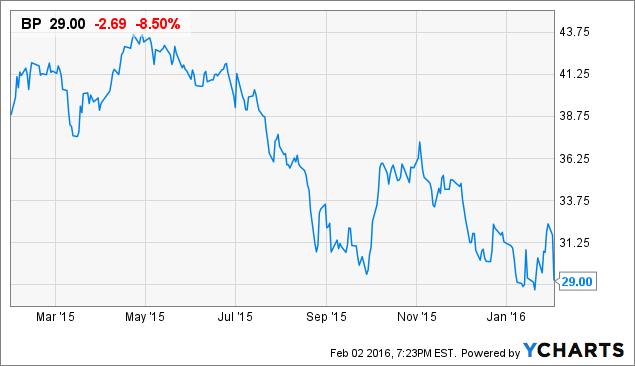 Despite this difficult environment, BP should be part of a well balanced portfolio, and investors should focus on accumulating the stock for the next rebound that will eventually come. This bear cycle is not different, and will certainly end. The question is when not if.
It is likely that BP will trade below the $29 range, if the oil prices cannot recover next quarter, above $40, which seems unlikely now? However, I think BP should be considered as a good opportunity from a long-term perspective and I recommend to accumulate.
Disclosure: I am/we are long BP.
I wrote this article myself, and it expresses my own opinions. I am not receiving compensation for it (other than from Seeking Alpha). I have no business relationship with any company whose stock is mentioned in this article.