About a week has passed since American International Group, Inc. (NYSE:AIG) released its strategic update with which management laid out its own plan to turn the insurance company into a more profitable entity. Management presented its plan to shareholders on January 26, 2016 who, by and large, were not impressed with AIG's proposal. The stakes couldn't have been higher for American International Group since Carl Icahn ramped up the pressure just shortly before the insurance company was due to release its strategic update, and he made clear that he expected a "bold" proposal.
That proposal didn't come. American International Group resisted calls to de-conglomerate the insurance company, and said that it would instead return more capital to shareholders, reduce operating expenditures by ~$1.6 billion, and sell/IPO some assets. AIG's proposal fell way short of expectations in terms of "boldness", but the $25 billion capital return plan is a positive for shareholders regardless.
In its investor presentation American International Group broke down how it would generate $25 billion for its capital return plan over the next two years.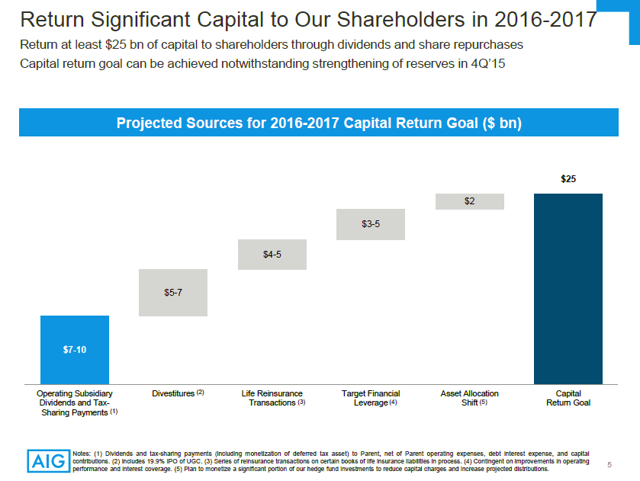 Click to enlarge
Source: American International Group
Not ambitious enough?
American International Group has been buying back stock for years, so the relatively large capital return plan did not really come as a surprise for observers that followed the insurance company and understood its reliance on buybacks.
Nonetheless, the insurer is opening itself up to criticism that it isn't adequately addressing the problems in its property casualty business. American International Group's strategic update actually added to this concern by formulating relatively mediocre operating return goals for the insurance company.
For instance, American International Group said that it shoots for a consolidated operating return on equity of 8-9% over the next two years. That's not exactly a ROE that Icahn nor anybody else would describe as overly competitive...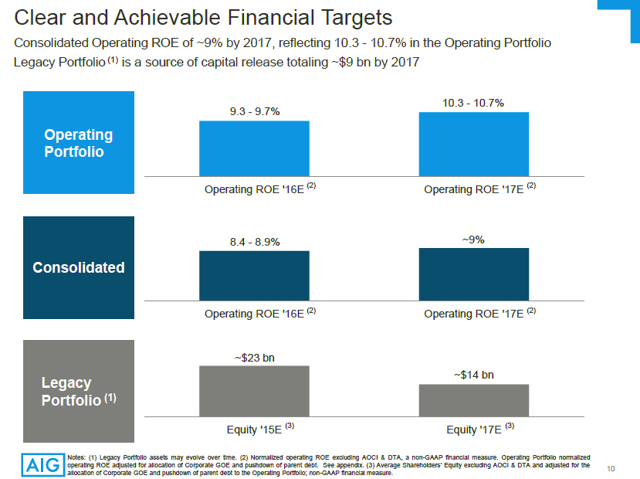 Click to enlarge
Source: American International Group
Icahn is not happy
Everybody is waiting for Icahn's official response to AIG's largely disappointing strategic update, and it won't be something that American International Group's management will like. Bloomberg reported yesterday that Icahn is "assembling his slate of directors to shake up the company", which is the next logical step for Icahn to take: Bring the fight right into AIG's headquarters.
Since Peter Hancock essentially rejected Icahn's plan to break the insurance company into pieces and follow a path to de-SiFi AIG, Hancock and Icahn's lieutenants are on collision course, and they are going to clash sooner rather than later. It is a very distinct possibility that Peter Hancock faces the prospect of losing his job over his resistance to seek a bold solution to AIG's problems. The next couple of months are going to be very interesting.
Your Takeaway
American International Group did try to woo investors with its own proposal, but failed in its attempt to do so. The $25 billion capital return plan is a positive, but it doesn't do anything to boost profits at the notoriously underperforming property casualty side of AIG's insurance business. American International Group also pointed out last week that it considers a break-up into parts not a value-creating strategy. In any case, Icahn's slate of directors are surely going to stir things up a little, and that might be just what is needed.
Disclosure: I am/we are long AIG.
I wrote this article myself, and it expresses my own opinions. I am not receiving compensation for it (other than from Seeking Alpha). I have no business relationship with any company whose stock is mentioned in this article.