CSX Transportation (NASDAQ:CSX) reported Q4 earnings after market close on January 12th. Union Pacific (NYSE:UNP) reported their Q4 earnings before market open on January 21st. Although CSX beat EPS estimates by $0.02, CSX and UNP both posted double-digit year-over-year revenue declines. Additionally, there was not much in the forward guidance from either company to get investors excited and both stocks sold off immediately after posting earnings.
The high point of results for both companies was solid growth in automotive shipments. UNP reported an 8% increase in automotive carloads compared to a year ago. As exciting as an increase is in this environment I can't seem to shake that auto sales are cyclical and I have to admit it does make me a little nervous how poorly other categories compared to automotive. When an analyst pressed about the declining carloads possibly forecasting a recession, CSX CEO Michael Ward stated "…I think you can almost think of it as a straight recession, except for say markets like automotive and housing related…"
By far the worst performance recorded was coal shipments. High inventory levels and low natural gas prices hampered domestic coal and a high US dollar slowed export coal. UNP and CSX saw coal volumes decrease 22% and 33% year-over-year. But even after the declines, coal still makes up a sizeable portion of volume for both shippers. Coal was 15% of UNP revenue in Q4. Coal was 19% of CSX revenue in 2015, down from 30% just 4 years ago. The multi-year decline occurred as they recorded record EPS. They've been able to grow earnings per share in the face of a commodity collapse and strengthening US dollar.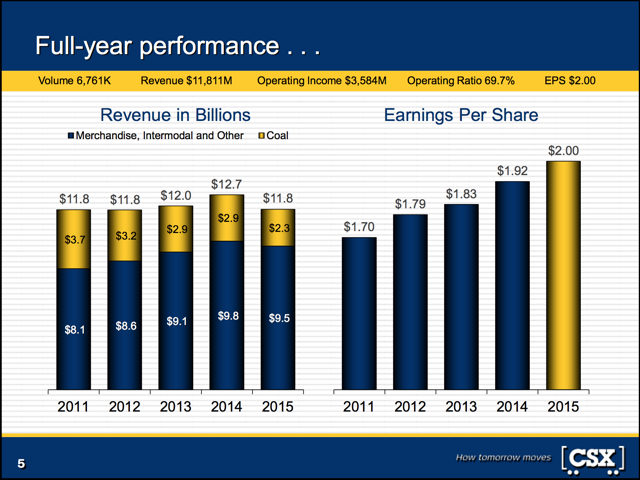 Click to enlarge
Source: CSX
Selectively looking at 5-year volumes for both companies highlights that total carloads including intermodal have stayed relatively constant during this time frame with 2014 showing peak carloads. There's a clear decline in coal carloads for both UNP and CSX over this time period. There's no denying that coal has been in decline for years and it's debatable how much of that may come back. What I do know is both shippers are still hauling coal and will continue to do so even if it is at lower volumes. Contrasting to that there were constant increases in petroleum products, automotive and intermodal. Chemicals were flat for CSX and marginally increased for UNP. Of these, I view intermodal as the most likely candidate to continue making up for the lost coal carloads.
Source: UNP AAR data
Source: CSX AAR data
Over the 5 year time frame UNP witnessed a 6.7% increase in total intermodal volume. They have the largest intermodal network in the United States and have invested over $1.1 billion in their facilities since 2000. CSX has done remarkably better in intermodal volume growth, showing a 30% increase as they are benefiting from their own intermodal investments. The first phase of their $850 million National Gateway public-private project was completed in 2013. This involved clearing pathways for intermodal double-stacking from CSXs' existing terminal in Chambersburg, PA to their new hub facility in Northwest Ohio. The second phase of the project will clear double-stacking from Chambersburg, PA and mid-Atlantic ports. An important connection to the National Gateway is the Pittsburgh Intermodal Rail terminal currently under construction. The $60+ million project is expected to finish construction in mid-2017. Additionally, they are trying to secure a site for their $272 million Carolina Connector Intermodal Facility in Johnson County, North Carolina. If they can secure state funding and a site, this facility will open in 2019.
Intermodal growth will have a greater impact for CSX because of their geography. Their network has a smaller footprint than UNP and it's more congested. The CSX network is capable of reaching 2/3rds of the American population and includes major Eastern population areas such as New York, Philadelphia and Boston in the Northeast as well as Atlanta, New Orleans, St. Louis and Chicago to name a few. With one intermodal train capable of carrying what 280 trucks can, there's a lot of incentive for companies and lawmakers to reduce the amount of trucks on the interstates.
Conclusion
Total volumes for both CSX and UNP have remained relatively stable over the past 5 years. Both became more efficient and were able to push through single-digit price increases in 2015. While the decline in coal shipments have been challenging for both companies to grasp, the future is about intermodal and CSX stands to benefit greatly from their current intermodal projects and over-crowded expressways of the East coast.
Disclosure: I am/we are long CSX & UNP.
I wrote this article myself, and it expresses my own opinions. I am not receiving compensation for it (other than from Seeking Alpha). I have no business relationship with any company whose stock is mentioned in this article.