Texas Roadhouse Inc. (NASDAQ:TXRH) is a well managed company that has earned its success over the years. The company has lived up to their motto, "Legendary Food, Legendary Service."
Chick-fil-A and Texas Roadhouse are considered to be the highest ranked restaurants in a customer satisfaction survey according to the American Customer Satisfaction Index. The numbers can confirm this with very healthy trends in the last few years in terms of increased foot traffic, more stores, and higher profitability.
Per the most recently filed quarter report the company has 475 locations in 49 states and in four foreign countries. 394 are "company" and 81 are "franchise." Management plans to open another 30 company owned stores in the 2015 including four Bubba's 33 restaurants (seven Bubba's 33 are part of the 394 company owned - the 33 stands for the 33 degree beer they serve).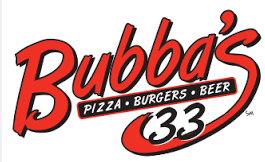 The last quarter was impressive as restaurant sales increased 13.6% and comparable sales growth was 6.9%. Unit volume also increased at a healthy rate.

The company will be reporting earnings on February 22nd, 2016 after market close. Analysts expect 0.30 per share in this quarter compared to 0.26 in the same quarter last year, I expect they will meet or beat expectations in this quarter and primed for continued success.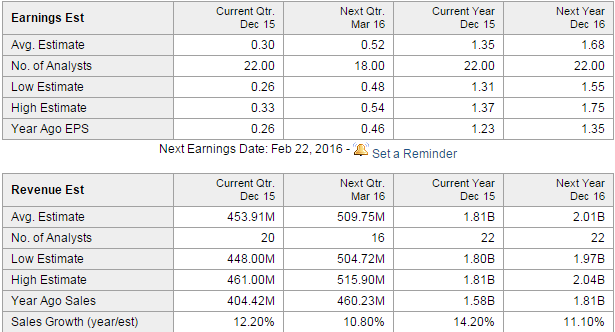 Another positive sign is management's assertion that average capital investment for Texas Roadhouse restaurants opened in 2015 are expected to be $4.7M compared to $5.1M in 2014. On top of the reduced capital spend required for opening new stores, menu prices increases are most likely on the table in the near future to combat rising labor rates in certain areas where TXRH operates. Although I did not notice an area where management committed to a number for a price increase - I expect there to be some indication of a price increase in the area of 1 - 3% based on how menu prices have increased since 2011. Lower gas and beef prices are also two macroeconomic forces that create an environment where TXRH will thrive.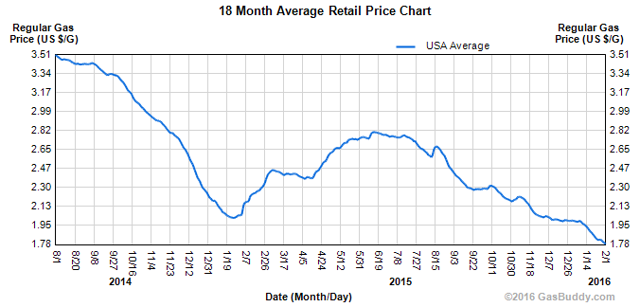 Click to enlarge
From a valuation perspective, TXRH is trading at a slight premium with a current P/E of 28 with a 5-year average PE of 22. Also, a current P/S of 1.5 versus a 5-year average 1.3. Compared to peers Texas Roadhouse has outperformed under the leadership of their CEO W. Kent Taylor who took over in August 2011. Below is the performance under his tenure compared to competitors.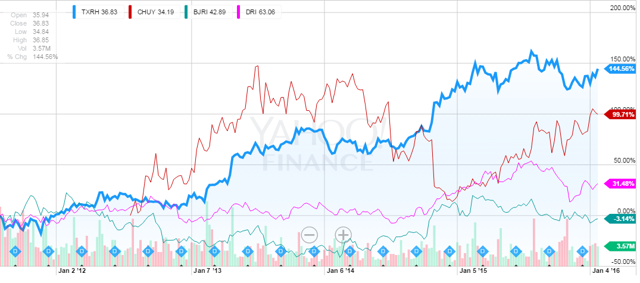 Click to enlarge
The CEO has 25 years of experience in the restaurant industry and appears to be well respected by employees with a 91% approval rating according to Glassdoor. Listening to the last earnings call I gathered that the CEO isn't patting himself on the back yet - his management team will continue to focus on ways to grow profitably. This is a humble approach that investors should appreciate as this man has crafted an excellent service model.
Key risks include higher labor rates in areas like New York which has dented margins in the past, above historical valuation, and short interest which has been increasing steadily as the stock price has appreciated.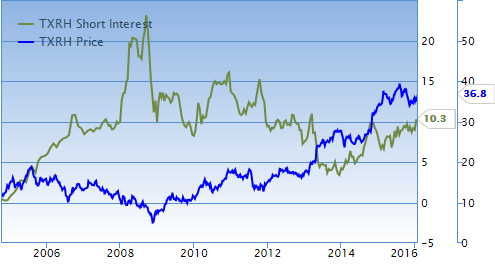 Weighing the risks and opportunities of this stock I am bullish on the future prospects of this business and believe this model works. Interestingly, the first time I visited a Texas Roadhouse was outside of my home country at the Dubai Mall in the United Arab Emirates. The place was packed and admittedly I was a bit shocked at how well their business model was doing in a different country. While the stock trades at a slight premium, there are very good reasons for why this company is loved by investors.
Disclosure: I/we have no positions in any stocks mentioned, but may initiate a long position in TXRH over the next 72 hours.
I wrote this article myself, and it expresses my own opinions. I am not receiving compensation for it (other than from Seeking Alpha). I have no business relationship with any company whose stock is mentioned in this article.