After a disappointing time in 2015, Silver Wheaton (NYSE:SLW) is finally showing signs of recovery. In the past week, Silver Wheaton shares have appreciated over 14% as silver pricing has been improving. Now, the trend of silver prices plays a key role in determining the direction that Silver Wheaton shares take in the long run since it is a streaming company with no mines of its own. As such, Wheaton's costs are more or less fixed as a result of which better silver prices enhance its margin performance.
As such, we need to first take a look at the reasons why silver prices have improved of late, and also see whether or not the momentum will continue.
Will silver prices get better?
The answer to this question looks to be in the affirmative due to a couple of reasons. First, the equity markets across the globe have got off to a very weak start in 2016 on the back of weakness in the Chinese economy and highly volatile crude oil prices. As a result, though the Fed had resolved to raise interest rates in December last year, it has not acted on its policy due to the uncertainty in the stock market.
Now, the markets had already priced in a Fed rate rise, and since this action was supposed to have a negative impact on silver prices as it does not pay any interest, the price of the metal jumped. In fact, so far this year, silver prices have jumped over 5% and more upside cannot be ruled out. Looking ahead, it is quite likely that a muted interest rate environment will continue as the International Monetary Fund believes that economic growth will be patchy this year.
The organization has "revised its growth forecasts lower for the global economy to just 3.4% in 2016 and 3.6% in 2017. It also reduced its outlook for the U.S, to expand this year and next at 2.6%, compared to earlier projections of 2.8% for both years."
As a result, the Fed's hands might remain tied and it will not be able to raise the interest rate. This is good news for silver pricing as historical data shows us, as illustrated in the chart given below: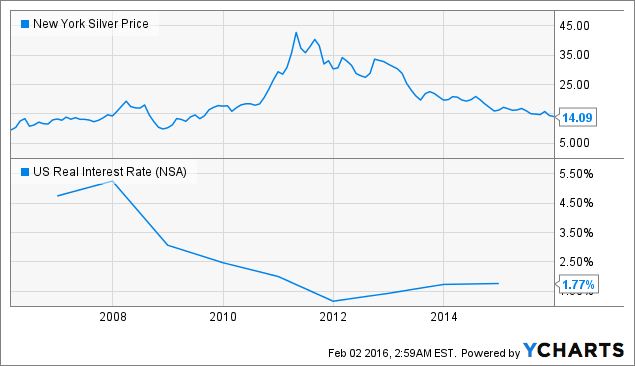 New York Silver Price data by YCharts
As seen above, a sharp decline in the real interest rate from 2008 onward led to an impressive rally in silver pricing. However, a slight improvement in the interest rate from 2012 onward, along with the down cycle in the commodity market, lead to a decline in silver prices. Thus, a weak interest rate environment will act as a tailwind for silver prices, and this is good news for Silver Wheaton.
But, another reason why silver prices can get better going forward is the continuing improvement in demand-supply conditions. After a third consecutive deficit year in 2015, where silver supply lagged demand by 57.7 million ounces, another deficit year can be expected in 2016. This is because output is expected to go down by 3%, or 6.3 million ounces, this year. But, on the other hand, an increase in industrial consumption is anticipated to power up demand and lead to a 20% increase in prices this year.
Thus, as far as the price front is concerned, Silver Wheaton looks set to do well in 2016. Better pricing will allow the company to take advantage of its smart streaming agreements that have allowed it to increase its potential silver output at a very low price.
Wheaton's latest move is a smart one
Last week, Silver Wheaton strengthened its streaming profile by entering into an agreement with Panoro Minerals in a deal worth $140 million. As a part of this deal, Silver Wheaton will receive 25% of Panoro's gold production and all of its silver production from the Cotabambas mine in Peru for the upfront payment of $140 million.
In return, Silver Wheaton will receive the gold and silver streams at the prevailing market price or a silver price of $5.90 per ounce and gold price of $450 per ounce, whichever is lower. This is a good move from Silver Wheaton as the company will get access to a high resource base at a lower cost.
According to a preliminary economic assessment that was announced in September last year, the Cotabambas project has an "after tax NPV of $US 683.9M, an IRR of 16.7% and a payback of 3.6 years," which is not surprising given the indicated resource of 117.1 metric tons at silver grades of 2.74 grams per ton. This particular agreement will further strengthen Silver Wheaton's already strong streaming profile, allowing it to increase production at lower costs.
In fact, as shown in the two charts given below, Silver Wheaton will command a strong share of global silver production and maintain its robust position, while keeping its costs under control. This will allow it to grab a larger share of silver demand and benefit from better pricing: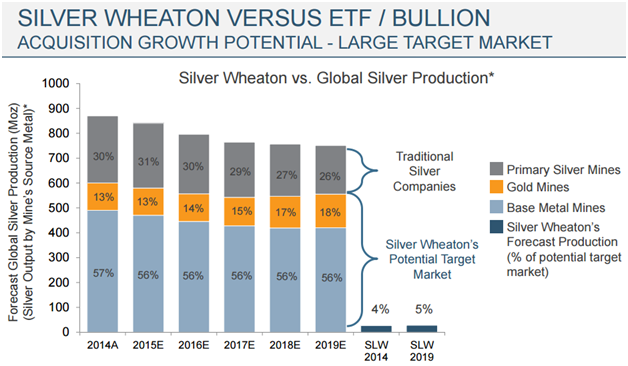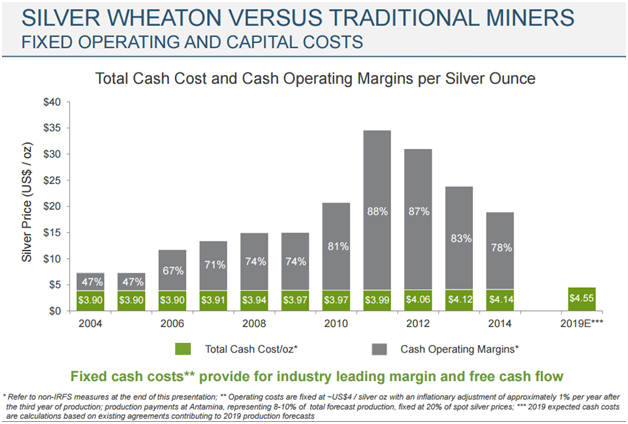 Source: Silver Wheaton
Conclusion
In light of the points discussed above, it is quite likely that Silver Wheaton will be able to sustain its recent rally going forward. A continued rally in silver pricing, coupled with Silver Wheaton's streaming agreements that have allowed it to build a favourable cost and production profile, will allow the company to improve margins and cash flow. So, it will be a good idea to remain invested in Silver Wheaton shares since 2016 could be a breakout year for the stock.
Disclosure: I/we have no positions in any stocks mentioned, and no plans to initiate any positions within the next 72 hours.
I wrote this article myself, and it expresses my own opinions. I am not receiving compensation for it (other than from Seeking Alpha). I have no business relationship with any company whose stock is mentioned in this article.