Of all the stocks getting slammed in 2015 and so far this year, mortgage REITs were among the worst performing. One only has to look at some of the P/B ratios in the industry to see that investors don't have much love for them. Mortgage REIT American Capital Agency (NASDAQ:AGNC) sells for 75 cents on the dollar. Annaly Capital Management (NYSE:NLY) does not do much better with investors: Its equity sells for 79 cents on the dollar, which isn't reflecting a lot of confidence in these income vehicles.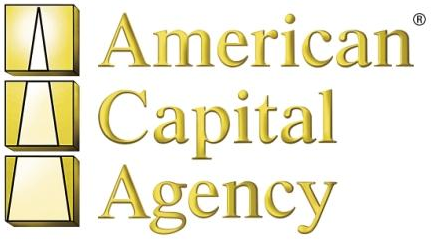 American Capital Agency's and Annaly Capital Management's shares have also both fallen to new 52-week lows in January, a tough pill to swallow for dividend investors. But mortgage REITs are not alone in their struggle to stand out from the crowd: Many business development companies also sell for sizable discounts from their net asset values. The only explanation: Investors don't have a lot of love for high-yield income stocks right now, and an uncertain economic outlook, led by fears over a painful economic slowdown in China, continues to weigh on all U.S. stocks. And in such a market it doesn't even matter that energy prices have reached the lowest level in more than a decade, usually a positive for stocks.
Truth be told, I have not been a big fan of American Capital Agency in 2015 because of its permanent GAAP book value losses that contributed to the stock being dragged down. Unfortunately, Q4 did not see a trend reversal: American Capital Agency's Q4 accounting book value slumped ~1.8%, or $0.41/share compared to the previous quarter, dropping to $22.59/share. Since December 2012 American Capital Agency's reported net book value has dropped ~29%, or $9.05/share.
Importantly, its net book value slipped in all four quarters of 2015, which is part of the reason why American Capital Agency is now selling for just 75 cents on the dollar.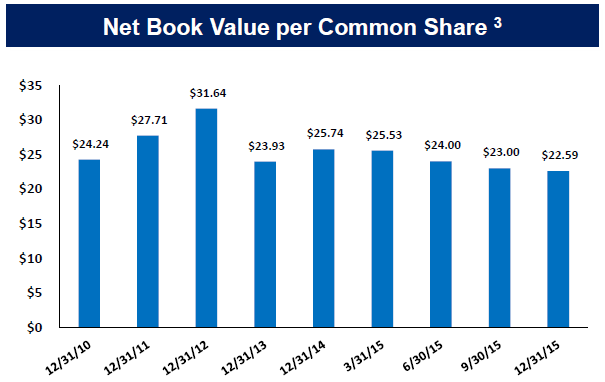 Source: American Capital Agency
All considered, it wasn't too bad a quarter for American Capital Agency, but it could have been better.
Q4-15 comprehensive income was $0.06/share, comprised of $1.70/share in net income and $(1.64)/share in other comprehensive losses. In the fourth quarter of last year American Capital Agency earned $0.86/share in comprehensive income. Q4-14 comprehensive income was comprised of $(0.94)/share in net losses and $1.80/share in other comprehensive income. American Capital Agency's economic return in Q4-15 was 3.3% annualized.
Importantly, the mortgage REIT continued to buy back stock WAY BELOW book value in the fourth quarter: As per its press release, the company said it bought back 9 million shares for an average repurchase price of $17.88/share in Q4-15. Total consideration: $161 million.
Your Takeaway
Mortgage REITs including American Capital Agency have a difficult standing in the market due to investors' distaste for high-yield income stocks and China and oil concerns weighing on U.S. stocks. American Capital Agency's fourth quarter wasn't the worst, but its net book value kept slipping, and that is a problem. AGNC sells for 75 cents on the dollar and a ~14% yield. I am going to pass on this income stock for the foreseeable future.
Disclosure: I am/we are long NLY.
I wrote this article myself, and it expresses my own opinions. I am not receiving compensation for it (other than from Seeking Alpha). I have no business relationship with any company whose stock is mentioned in this article.