We think the increase in wages and disposable income in the United States together with a steady growth in the sale of new houses under construction should be welcome news for retailers in the homeware industry.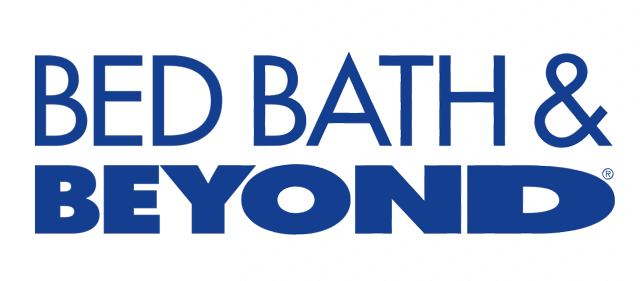 One such company that should benefit is Bed Bath and Beyond, Inc. (NASDAQ:BBBY). The company, as the name indicates, is a retailer of household items and home furnishings through its numerous brands that includes Bed Bath & Beyond, Buy Buy Baby and World Market.
While some consumers' wage increases are being offset by healthcare increases, there is undeniably more money in the pockets from savings in gasoline. While negligible on a transactional basis, the monthly savings do add up. It has been estimated by The Energy Information Administration (EIA) that the average American household would have saved $700 on gasoline in 2015, thanks to lower prices. With gasoline remaining at extreme lows, this level of saving looks set to continue or even improve in 2016.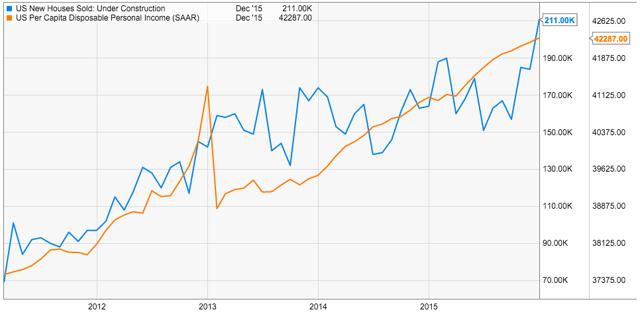 (Source: YCharts)
We like the New Houses Sold (Under Construction) statistic as an indicator of how Bed Bath and Beyond may perform in the future. We like this statistic because a newly built house is like a blank canvas, in our opinion. Of course, a regular house sale can still result in consumers buying new household items for it as they look for a fresh start, but it can also be simply just moving possessions from House A to House B. No purchases necessary. A newly constructed house means lots of new purchases to furnish it. Companies like Bed Bath and Beyond are exactly where these new homeowners are going to have to head to. With 1,526 stores, the company is positioned well to benefit.
There has been a significant improvement in its ecommerce operation in recent years, which we feel will start to show in the company's results. We've been very impressed with the way customers can pay in almost any currency and ship it to almost any country. We would expect to see significant growth in the segment when the US dollar weakens, as at present, it makes little sense for international consumers to purchase American goods, as the pricing just cannot compete with local goods. Another feature we like is "Reserve Online Pay In Store", as shown below. The two-hour turnaround is great and saves time for consumers that are time-poor. It also provides the company with an edge over Amazon (NASDAQ:AMZN), in our opinion.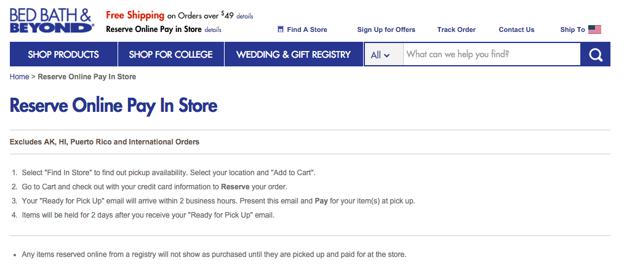 (Source: Bed Bath and Beyond Website)
Bed Bath and Beyond has been expanding its operations internationally by stepping foot into Mexican and Canadian markets through joint ventures. This is a sensible move considering the logistics side of things. If it is successful, then we imagine the company will look further afield. As mentioned above, the ecommerce site should offer a great insight into which countries have existing demand that could support a brick-and-mortar offering.

(Source: Company 10-Q)
As you can see above, Bed Bath and Beyond isn't setting any records this year, but has grown sales year over year by 1.6%. The issue the company has had, though, is with its margins. Gross margins dropped from 38.54% down to 37.99% for the nine months ended November 28, but the real drama was with the operating margin, which dropped from 11.96% to 10.54%. The effect this has had on the bottom line is diluted earnings per share coming in 9 cents lower at $3.22 for the period.
As mentioned above, the company has made meaningful investments in its ecommerce platform, which has impacted its operating profit. On the earnings call, we felt management explained the drop in operating profit well, and we believe that the return on investment will be seen in future quarters. Management said:
"While we recognize that the investments we are making impact our operating profit in the short term, we believe our 'never say no' culture and the strength of our balance sheet provide a strong foundation, and through the differentiated products, services and solutions we provide, we continue to further our efforts to become the destination for our customers' needs and wants as they express their life's interests and travel through their life stages."
The balance sheet is very strong, we must agree. Many people's (and ours) favorite gauge of its health is the current ratio - the current assets divided by current liabilities - and Bed Bath and Beyond has a healthy level of 1.911. The debt-to-equity ratio is also a good 0.5846, and that very debt is being earned 45 times over. Finally, the company has around $500 million of cash in its reserves.
Because the shares have taken a dive since the turn of the year, it leaves them in an undervalued position as far as we are concerned. Analysts had been busy downgrading the stock in January, but after a 10% drop, we feel this has been priced in, making for a great entry point.
Although the stock is trading well below its average price-to-earnings ratio, we don't expect that to change much in the near future. As you can see below, BBBY is trading at just 8.676 times earnings.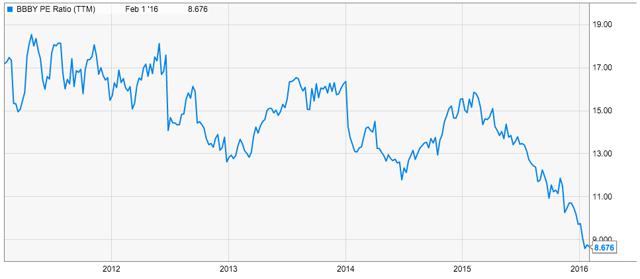 (Source: YCharts)
In the long term, we do see it trading at around 11 times earnings, but while earnings are flat, there will be resistance to this. Most analysts, ourselves included, believe there will be a slight decline in earnings per share year over year. We expect the company to report full-year earnings of $5.02, compared to $5.03 a year earlier. This, unfortunately, can't really be helped, as investments had to be made, which has hurt the operating margin. But next year things should begin to pick up.
We expect the operating margin to improve by at least 100 basis points and revenue to pick up at a higher rate than the 1.6% we have seen this fiscal year. The ecommerce site will contribute to this growth, as will the new house builds, in our view. According to our forecast, this will lead to earnings per share of $5.25, which would be growth of 4.5% year over year from the $5.02 we are forecasting in the current fiscal year.
We expect that as earnings start to improve, the price-to-earnings ratio will do so too. Our 1-year price target assumes earnings per share of $5.25 in fiscal 2017 and a price-to-earnings ratio of 10. No calculators are needed for this one: $52.50 is our price target - a 20% return from the price at the time of writing.
Disclosure: I am/we are long BBBY.
I wrote this article myself, and it expresses my own opinions. I am not receiving compensation for it (other than from Seeking Alpha). I have no business relationship with any company whose stock is mentioned in this article.