Yes, we've seen this movie before. Stocks got hit hard on Tuesday, as energy stocks plunged. All three major indices were down about 2%. Positive earnings from various tech companies had been helping the market in recent days, but Tuesday was more of the same old, same old.
Oil (NYSEARCA:USO) came unhinged, dropping another 5% on top of Monday's prodigious losses. Forget about $35, oil has already given back the $30 mark and is now trading at $29.70. So much for all the geopolitical excitement and production cuts chatter from just last week.
Natural gas (NYSEARCA:UNG) didn't want to miss out on the fun, as it also tanked an additional 5% on top of recent losses. Any energy investors who thought a decent bottom was forming have been cast back into sheer panic. Look at a chart of CDS movers on the day - huge moves!: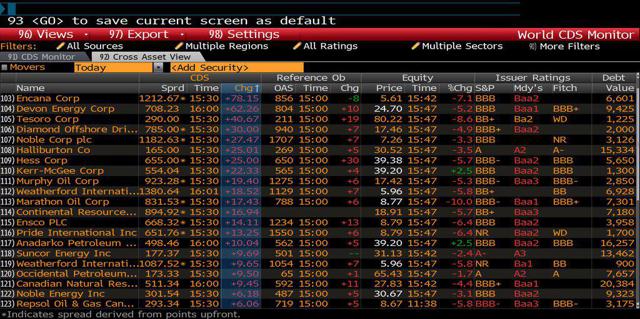 Click to enlarge
I'd note the inclusion of Tesoro (NYSE:TSO) on the list of CDS buying. Tesoro was for quite a while the single most overvalued energy company in the S&P 500 before its recent 40-point haircut.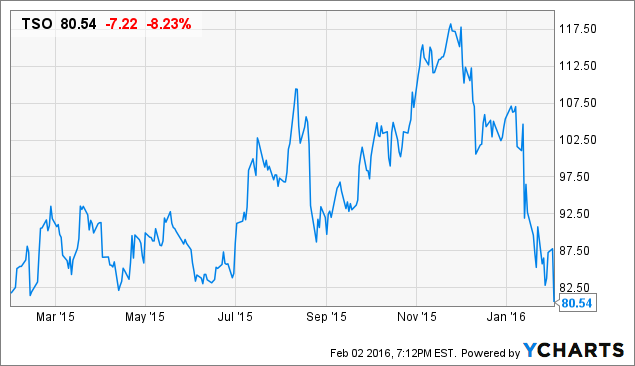 TSO data by YCharts
Anyone hiding in refiners to miss the energy storm can look forward to seeing what it's like to ride out a hurricane while sitting in a leaky canoe. Once the refining crack spread came in, the bullish refining trade was over. Earnings are now making that painfully clear to people who weren't watching the deteriorating fundamentals last fall. Speaking of leaking vessels, let's talk about the banks.
Banks Under Fire
This column has been resolutely against any and all Fed rate hikes since its inception last September. There are simply few reasons that support the idea of hiking rates at the current point.
Many of the supposed benefits of hiking rates are, in fact, turning out to have been wrong. For example, remember when raising interest rates was going to be great for banks? Everyone wanted to get long the banks and brokerages because they were going to make so much more money on their net interest margins. It was one of those trades that seemingly all the talking heads thought was a great idea. How's that trade going? (Hint: If you bought banks on that advice, you might want to ask for a refund.)
Here's the regional banks (NYSEARCA:KRE):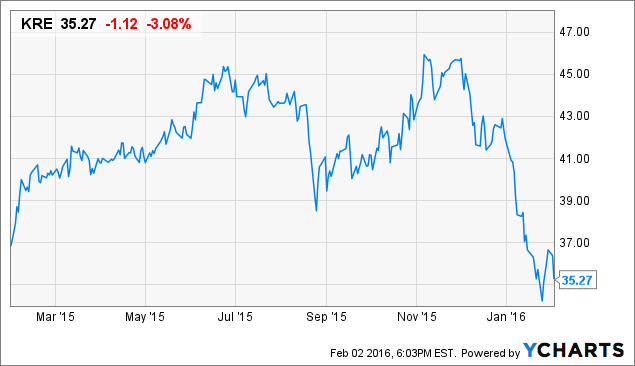 KRE data by YCharts
That doesn't look so good. How about the financial sector ETF (NYSEARCA:XLF)?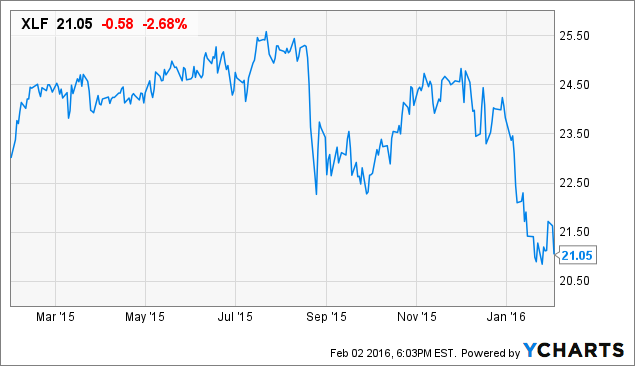 XLF data by YCharts
You see the flash crash back in August? It was way up there on the Y-axis. In other words, Fed hike not so good here either.
How about some of the biggest and best of the bunch? Wells Fargo (NYSE:WFC):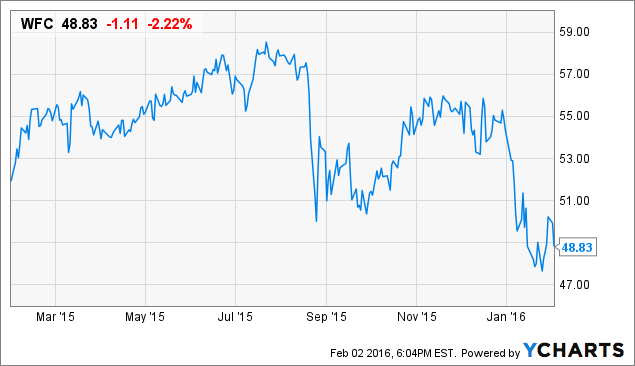 WFC data by YCharts
There's a reason I'm getting to buy Berkshire (NYSE:BRK.B) at such a depressed valuation. And how about everyone's favorite big bankers over at Goldman Sachs (NYSE:GS)?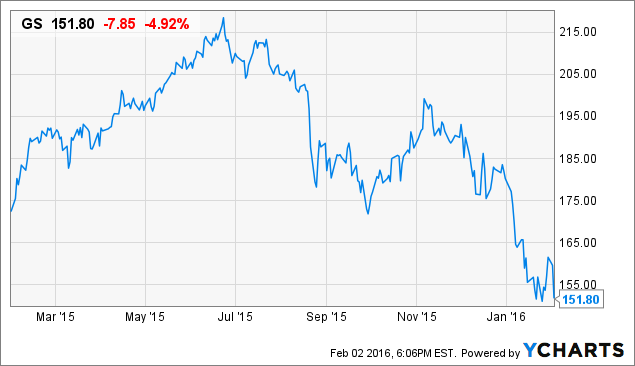 GS data by YCharts
That doesn't look so good either.
When everyone was telling you the Fed needed to hike rates to make the banks more profitable, just know that you were getting sold an agenda. Banks need a healthy economy, most of all. Rising bad loans far outweigh a marginal increase in the rate that banks can lend at in determining overall profitability. Sending the economy into a recession so that you can lend at a higher interest rate is more than a little bit counterproductive.
The Fed hikes are taking the oxygen out of the global economy, and as the under-1% 4th-quarter GDP print shows, even the US is no longer immune. Banks will suffer as badly as anyone if the Fed continues down its mistaken path.
For a taste of what may be to come if the US economy slips into European-style doldrums, check out Deutsche Bank (NYSE:DB):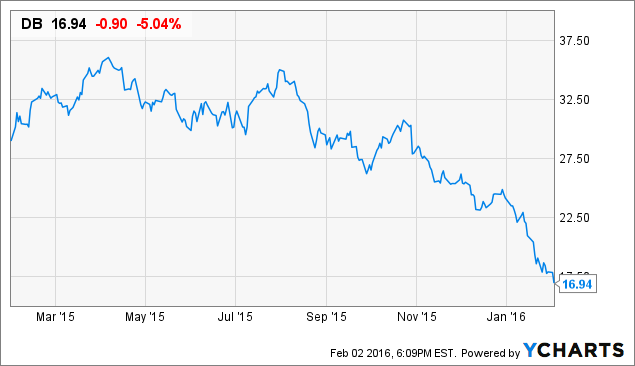 DB data by YCharts
This is seriously bad news. Oil companies going down are one thing, but if the rot spreads into the big money center banks, we have an entirely more serious crisis. Deutsche's CEO recently said, "I wish some people would actually think I have talent for running a company," and complained that being in charge of the bank was no fun. Given the $7 billion loss Deutsche Bank suffered last year and its currently cratering stock price, shareholders are likely sharing his glum attitude.
Gilead: Good Quarter, But The Stock Doesn't Move
For once, this column has nothing particularly negative to say about Gilead (NASDAQ:GILD). The company put up a big beat on earnings, with international sales for the HCV products way up. On the other hand, Harvoni sales in the US were well short of expectations.
The company's rotation from the US market to overseas is already in clear swing, with the overall revenue picture now showing a likely small decline for full-year 2016. But that's not new information.
Bears on the stock had assumed revenues would peak in the near term and then gradually decline off into the future. Despite the company plateauing on the top line, there's still potentially a value proposition, and this quarter's EPS is reconfirmation that Gilead is throwing off enough cash to make shares interesting around current levels despite the lack of top line growth.
The big news was announcement of a $12 billion buyback that could potentially put a big floor under the stock. This seems to be good news for Gilead shareholders. If nothing else, buying back stock at $83 is much preferable to buying at $110, as the company was doing last year.
On the other hand, it's very bad news for biotech (NYSEARCA:XBI) as a sector. XBI was down almost 4% on the day to new 52-week lows even prior to Gilead's results. It's been widely expected that the company will acquire something big with its large cash pile. Acquisitions have been the catalyst everyone is awaiting.
And still, on the conference call, what we heard was that the company has a shopping list, but it's seemingly waiting on better prices. Consider that the median stock in the sector is down nearly half off peak, and yet, a company with a huge cash pile is waiting for better discounts to go shopping. You've just heard from one of the big sector players that even with biotech's chart looking like this, the prices are still too high: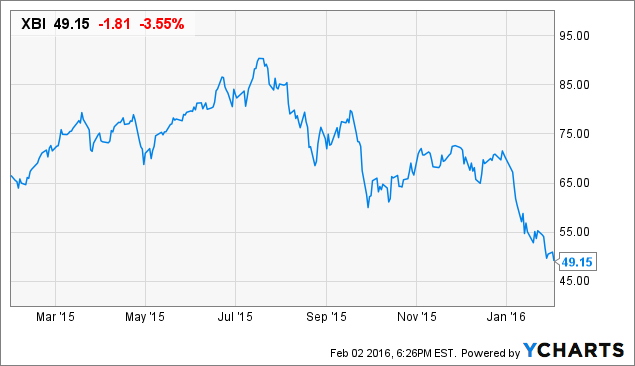 XBI data by YCharts
Disclosure: I am/we are long BRK.B.
I wrote this article myself, and it expresses my own opinions. I am not receiving compensation for it (other than from Seeking Alpha). I have no business relationship with any company whose stock is mentioned in this article.