By Greg Harrison
This week, 127 S&P 500 companies reported Q4 earnings, making it the busiest week of the earnings season. 72% of companies beat their EPS estimates this week, while 49% beat on revenue. The blended EPS growth rate improved to -4.1% from the -4.3% the previous week. Meanwhile, the blended revenue growth rate declined from -3.6% to -3.7%.
The Materials sector has the second-lowest EPS growth rate estimate of the ten sectors, at -22.3%. Materials companies have struggled in recent quarters with slowing demand and slumping commodities prices. However, the expectations were so low that 9 of the 10 companies in the sector were able to beat estimates this week. Unfortunately for them, 8 of these companies still reported earnings declines, as seen in the exhibit below. Additionally, 9 of the 10 companies missed their consensus revenue estimates.
Exhibit 1. Materials Sector Companies Reporting This Week: Earnings Surprise and Growth %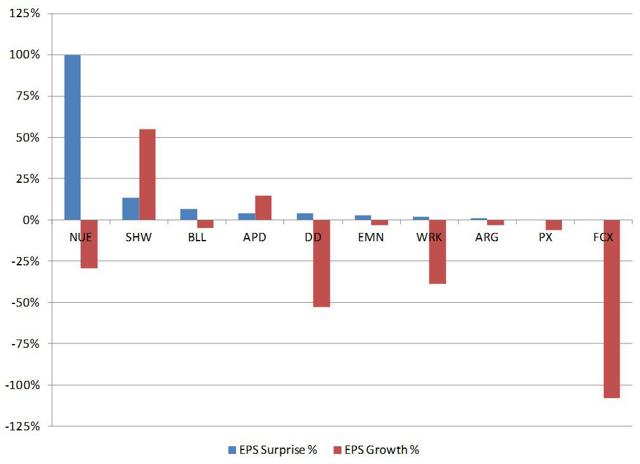 Click to enlarge
(Source: Thomson Reuters I/B/E/S)
Steel company Nucor Corporation (NYSE:NUC) reported EPS of $0.46 this week, doubling the $0.23 estimate. Though this result far surpassed analyst estimates, it is still a decline from the $0.65 that the company earned a year ago. It missed its sales estimate by 5.7%, reporting $3.46B in revenue - a 31% decline from the prior year.
Nucor has struggled with low steel prices, and in contrast to many commentators blaming earnings weakness on slowing global growth, CEO John Ferriola placed the responsibility on the structure of the global marketplace itself. He said, "It is not an exaggeration to say that the global steel industry is in a crisis. The crisis is the direct result of foreign governments, particularly China, blatantly subsidizing their steel industries. In further violation of international trade rules, this glut of global steel production has lead to the dumping of steel products into the US market. Despite the highest level of domestic steel consumption since 2006, the American steel industry capacity utilization in 2015 was around 70% and pricing for most steel products essentially collapsed."