Yahoo Inc. (NASDAQ: YHOO) has released its Q4 2015 results, and they are not good. Apart from taking a mammoth $4.5 billion goodwill impairment charge in Q4 which pushed it into a deep loss of $4.435 billion, the Company presented a bleak outlook for 2016. The soft guidance will weigh on stock when it opens today.
Before we discuss the weak outlook, let us discuss what Yahoo has achieved in Q4.
Highlights of Q4, 2015
· Search GAAP revenue increased 12% on a YoY basis.
· Display GAAP revenue improved 13% on a YoY basis.
· Mavens (Mobile, Video, Native Advertising, Social) surged 26% to $472 million YoY.
· Price-per-Ad increased 11% YoY while the number of ads sold increased 8% YoY.
· GAAP revenue increased 2% YoY to $1.273 billion.
All these figures present a pretty picture for the internet company. But the list of misses is bigger, and that is why I am worried about the stock today.
Shrinkage in Adjusted EBITDA
The Company reported a huge shrinkage of 48% in adjusted-EBITDA for the fourth quarter. The value declined to $215 million in Q4 2015 compared to $409 million for the same period a year ago.
Traffic Acquisition Costs Zooms 21.5 Percent
As can be seen from the infographic below, the TAC surged 21.5 percent in Q4, eating into company's profitability.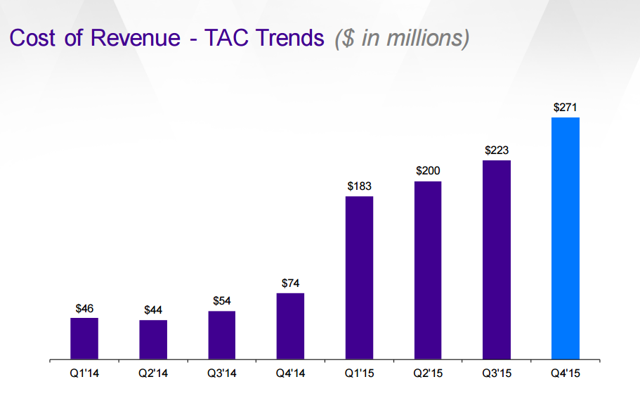 Click to enlarge
The metric is carefully watched by the Wall Street as it presents a major concern over the Company's ability to generate revenues without giving away huge payments to third-party entities (Affiliates) to direct consumers and business traffic to Yahoo. Yahoo is finding it hard to contain this expense.
Revenue adjusted for TAC was flat at $1,002 million in Q4 relative to Q3.
Free Cash Flow Plummets
Free Cash Flow is being used by many analysts as the crucial metric to value a company. Yahoo has posted a huge disappointment on this front; a 58% decline in FCF to $32 million YoY.
Take a look at the below snapshot taken from the Company's official filing.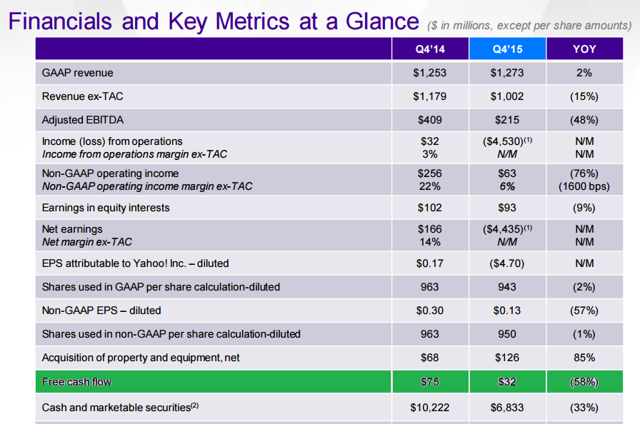 Click to enlarge
Slowdown in Major Markets
The Company has reported lower contributions in each of its three major geographic segments by market share: Americas (80%), EMEA (Europe, Middle East, and Africa - 7%), and Asia Pacific (13%).
According to the information presented below, all the markets have shown deceleration. Americas contributed 18% less YoY in Q4 2015. EMEA narrowed its contribution by 31% while APAC lowered its contribution by 18%.
Investors might not take the reduction in market share lightly.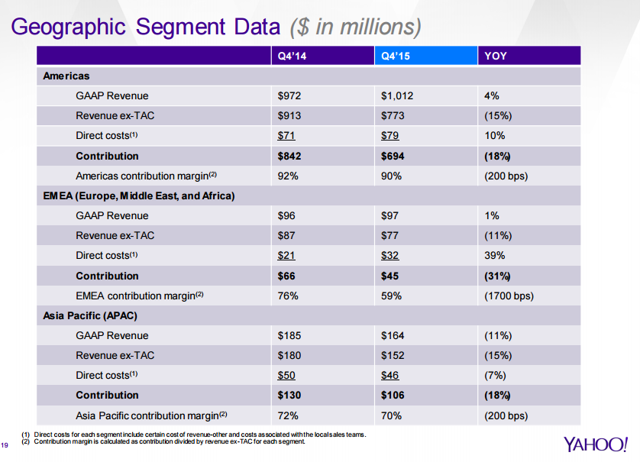 Click to enlarge
Slower Growth in 2016?
The Company has presented its Business Outlook for FY 2016. And there is nothing 'yahoo' in that.
Worldwide GAAP revenue for 2015 stood at $4,968 million; the Company estimates a 10% reduction, roughly $4,400 - $4,600 million, for 2016.
Yahoo Inc. sees a 14 percent jump in TAC for 2016. Only relief: this is much less than the four-fold jump for 2015.
Revenue ex-TAC will decline approximately 10 percent to $3,400 - $3,600 million from 2015's $4,091 million. The estimated decline is steeper than the 7 percent decline for 2015. The figure stood at $4,401 million in 2014.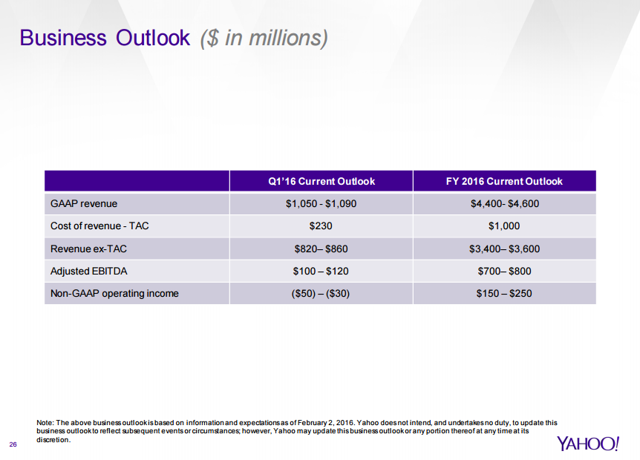 Click to enlarge
Goodwill Tumbles on Tumblr and Others
Of the $4,461 million goodwill impairment charge, not all was Tumblr's contribution. The Company has differentiated impairment charges for the acquisitions it made in the following periods: prior to 2007, 2007 - 2011, and 2012 - 2015.

Click to enlarge
The most prominent acquisitions by Yahoo have been Tumblr, which was purchased for $1.1 billion, Qwiki for $50 million, Flurry for $200 million, BrightRoll for $640 million, and Polyvore for $160 million.
With these write-downs, the Company is accepting that it overpaid heavily in its shopping spree. But the bigger question is: Will it stop here?
Conclusion: Marissa Mayer Misses On Her 'Turn Around Promise'
The Company will cut 15% in its workforce in 2016 as a part of its strategic plan. But investors won't be accepting of the continued underperformance of the Company as the growth estimates are even gloomier for the next four quarters.
Shareholders will ask Marissa Mayer harsh questions as she fails to fulfill her promise of a turnaround. If her answers (and her proposed strategies) satisfies the shareholders, then she can stay for longer. Otherwise, either she goes or the shareholders dump their holdings.
Disclosure: I/we have no positions in any stocks mentioned, and no plans to initiate any positions within the next 72 hours.
I wrote this article myself, and it expresses my own opinions. I am not receiving compensation for it (other than from Seeking Alpha). I have no business relationship with any company whose stock is mentioned in this article.