Introduction
Sometimes, some mergers seem like a good idea for both the buyer and the target. On the other hand, a number of mergers are nothing but a waste of time and funds for both parties involved in the transaction. In my opinion, good ideas always emerge when industrial groups try to collaborate. It is no news that financial buyers do not contribute anything significantly important to the targets since they are adept at doing one thing: restructuring. Unlike the financial buyers, the industrial groups understand the business and they can bring synergies and patents.
The merger between Air Liquide and Airgas Inc. (NYSE:ARG) is one of these outstanding ideas. In this article, I will explain why this merger is an attractive one for shrewd investors. In addition, I will point out the smart money managers (hedge funds) that had the same idea.
Buyer
Founded in 1902, Air Liquide has annual revenue of $20.4 billion with its headquarters in Paris, France. The French multinational company operates in 80 different countries and it has more than 50,000 employees. In the petroleum industry, it is recognized as a global leader in industrial gases, technologies, and services for chemical, medical, and electronic manufacturers.
Since the buyer is buying in the U.S., it is very important to evaluate the company's presence in this country. There are 5,000 employees working for this French company in the U.S. In addition, the company operates 140 industrial gas plants and has 2,000 miles of pipeline. What's more, the total number of customers is more than 2 million.
In sum, the buyer knows virtually everything about how to transact business in the U.S., a boon that is very remarkable to point out. M&A experts may claim that this merger will have problems obtaining the regulatory approvals, an assertion that, in my opinion, is true. In fact, the FTC requested more information ("second request"). The new combined company will be a global leader and it is logical for the regulators to study the merger dispassionately.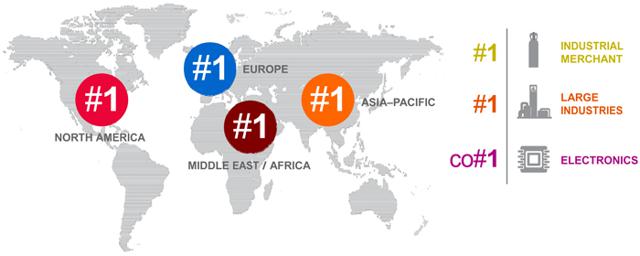 In my view, regulators will not stop the deal. The buyer will have to sell some locations, which is not a difficult thing in this industry not to harm competition in the market. I am very sure that this restructuring will solve any issue. In addition, regulators are aware that the new corporation will provide better and more efficient service to customers.
The following quote describes the business's collaboration:
"The combination builds on Air Liquide's longstanding track record of successfully operating in the U.S. and will benefit from Airgas' unmatched national presence and its more than 1 million customers in the U.S., as well as from its leading customer-facing platform including e-commerce and telesales capabilities. The combined entity will be able to better serve customers with the most advanced multi-distribution networks in the U.S. and more competitive product offerings thanks to an integrated upstream-downstream model."
Please peruse the doughnut charts below. Indeed, the merger is a very ambitious move:

Target
With total revenue of $5.3 billion, Airgas was founded in 1982 and it operates in 49 countries, including the U.S., Mexico, and Canada. The American company is located in Radnor, Pennsylvania, United States. Airgas is not a small target, as there are more than 17,000 employees working for this company. In addition, it has more than 1 million customers. What's more, the company is touted as a "leader in U.S. packaged gases business and associated products and services".
The next trading multiples are computed as well as the offer price. In my opinion, shareholders should be elated since the price seems expensive.
- Enterprise Value/EBITDA: 13.21

- Enterprise Value/Revenue: 2.4
Source: Yahoo Finance
Maybe, in order to understand the premium paid for the company, we should consider some other financial ratios. This is a very profitable company, according to the following source:
- ROA: 6.36%

- ROE: 17.13%
Source: Yahoo Finance
In my opinion, this is a very good opportunity for Air Liquide. This merger will not only expand its market share; it will also add profitable new divisions. Finally, the merger (press release) is expected to be accretive from year 1.
Transaction
The merger agreement includes the following conditions:
"1. The Company Stockholder Approval shall have been obtained.
2. No injunction by any court or other tribunal of competent jurisdiction shall have been entered and shall continue to be in effect and no Law shall have been adopted that remains in effect or be effective, in each case that prevents, enjoins, prohibits or makes illegal the consummation of the Merger.
3. All waiting periods applicable to the Merger under the HSR Act shall have expired or been terminated.
4. CFIUS Approval shall have been obtained."
Regarding the termination fees, they are equal for both companies:
- "Company Termination Fee" shall mean a cash amount equal to $400,000,000.00.

- "Parent Termination Fee" shall mean a cash amount equal to $400,000,000.00.
In my view, because the termination fees are the same, the winner of the negotiation process was the target.
The merger consideration and financing
Airgas shareholders will receive $143 per share in cash. The transaction is said to close in the second or the third quarter of 2016 (the merger was announced on November 18, 2015). The shareholders' meeting will be held on February 23, 2016, I do not think that this condition will be a problem. The regulatory approvals will take more time, but I do not expect many problems. In fact, I am optimistic that the deal will see the light of day. I believe that the merger will close in the second quarter. The merger spread is very small (2%), so I think my prediction is accurate. what's more, the regulatory conditions, in my opinion, will be waived very soon. And I believe that the annualized return in this merger can be very important if we buy now.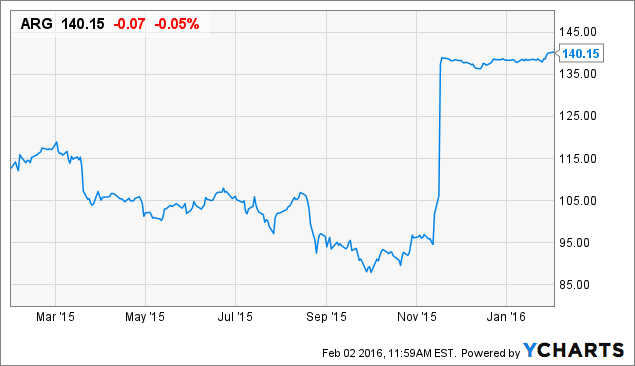 The financing is usually not a problem in this kind of business combinations between industrial groups. However, it is good to know that the "bridge financing" has been syndicated.
"The bridge financing, initially underwritten by Barclays Bank PLC and BNP Paribas, has been syndicated among a large group of international banks, who have longstanding working relationships with Air Liquide. The loan agreement was signed on December 17, 2015."
Smart money
Some retail investors and small money managers appreciate information about what investment tycoons are doing. Below are the hedge funds that also bought the target:
Conclusion
In conclusion, this is a very interesting merger. The target is a profitable company and the new group will be a global leader in the sector.
In addition, the market is discounting a fast close. The shareholders meeting will be held very soon and I do not think that the regulatory conditions will take a long time. In sum, the annualized return can be very important and the transaction risk is not high.
Disclosure: I/we have no positions in any stocks mentioned, and no plans to initiate any positions within the next 72 hours.
I wrote this article myself, and it expresses my own opinions. I am not receiving compensation for it (other than from Seeking Alpha). I have no business relationship with any company whose stock is mentioned in this article.