By Raul de Frutos
Zinc prices are finally finding some support. After nine consecutive months falling, zinc made a decent comeback over the past few weeks, hitting a 3-month high.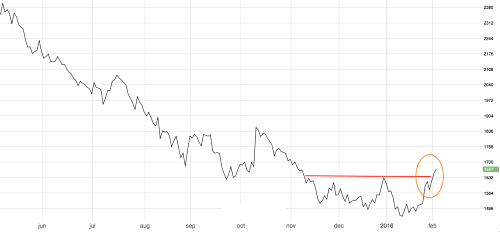 Zinc Hits 3-month high. Source: FastMarkets.
Analysts See Upside Potential
Analysts see a lot of upside potential in zinc prices and many of them are calling a bottom and predicting price increases over the next two years. Analysts argue that the zinc market is tightening on a combination of mine closures and capacity cutbacks.
In October, Glencore (OTCPK:GLCNF) announced its plans to slash zinc production by 500,000 metric tons. Just a month after, top zinc smelters in China indicated their intention to slash 500,000 mt of output in 2016.
A Wider View: Not Bullish Yet
If you narrow your view to the specific supply/demand picture of zinc, you might expect higher prices. But investors and traders are what move prices, and their psychology right now is being driven by other forces.
These include China's slowdown, a strong dollar, the slump in crude oil and falling commodity markets. All these forces are still weighing on investors' sentiment and while they persist, it is hard to imagine any base metal making a sustainable bull move. To us, calling a bottom for metal markets is like calling a bottom for crude oil or China's stock market, which seems like a risky bet to make.
What This Means for Metal Buyers
It seems too early to call a bottom for this bearish metal market, especially just days after many metals hit multi-year lows. After 9 consecutive months of decline, it's normal to see this kind of price reaction. We see the potential of a short-term rally in zinc prices, sure, but we are skeptical that this rally will last all that long. Buying long-term forward seems risky until macro conditions improve, regardless of how tight of a market many analysts think we are in.