Warren Buffett is considered one of the best long-term investors out there. His company, Berkshire Hathaway (BRK.A), is a holding company that maintains several large positions in well-known American companies. Additionally, most of his publicly-traded investments have above-average dividends and a history of growing them over time.
Here is a recent performance chart of Berkshire Hathaway's B-class shares.
Click on any image below to enlarge: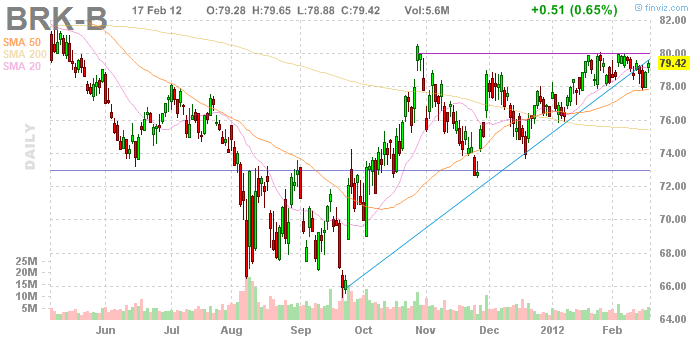 Many investors like to keep track of What Warren Buffett buys, believing there is much to learn by following the moves made by such an acclaimed investor. Every quarter, Warren Buffett and other large investors such as hedge funds must file reports indicating thier holdings, allowing investors to identify any changes made, and the largest holdings of the company or fund.
Below are Warren Buffett's five largest equity investments according Berkshire Hathaway's last 13F quarterly filing: Coca-Cola (KO), International Business Machines (IBM), Wells Fargo (WFC), American Express (AXP) and Procter & Gamble (PG). Each of these investments is sizable with valuations between about five and fourteen billion U.S. dollars.
Below, I have provided the value of Berkshire's position in each of these equities and its stake in the company, as well as their present yield and 2012-to-date performance rates. In addition, I have provided a recent performance chart for each equity.
Coca-Cola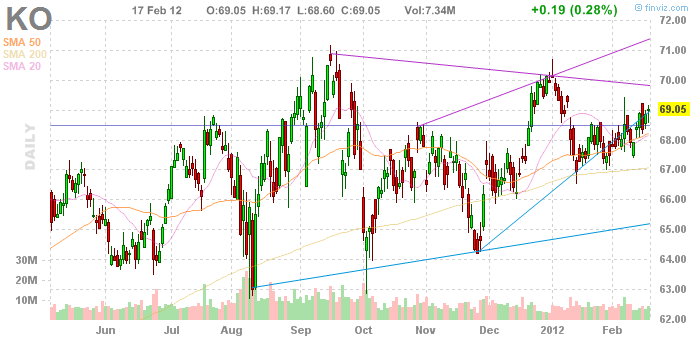 Berkshire's position: $13.81 Billion

Stake: 8.84%

Equity Yield: 2.7%

2012-to-date: -1.31%
International Business Machines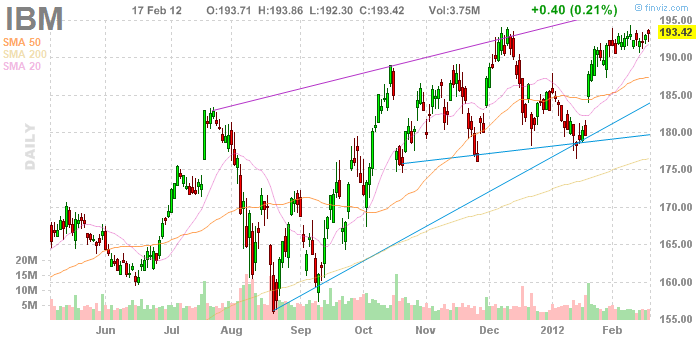 Berkshire's position: $12.36 Billion

Stake: 5.42%

Equity Yield: 1.6%

2012-to-date: 5.19%
Wells Fargo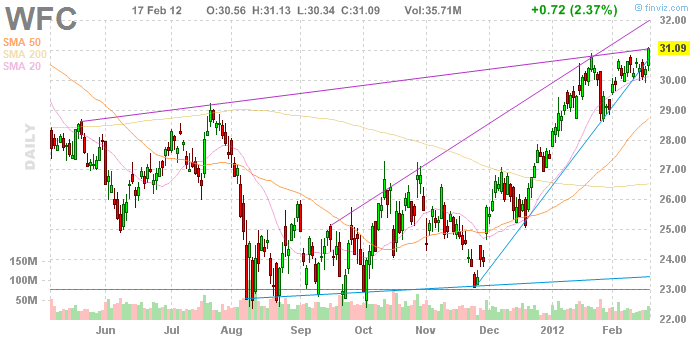 Berkshire's position: $11.93 Billion

Stake: 7.29%

Equity Yield: 1.6%

2012-to-date: 12.81%
American Express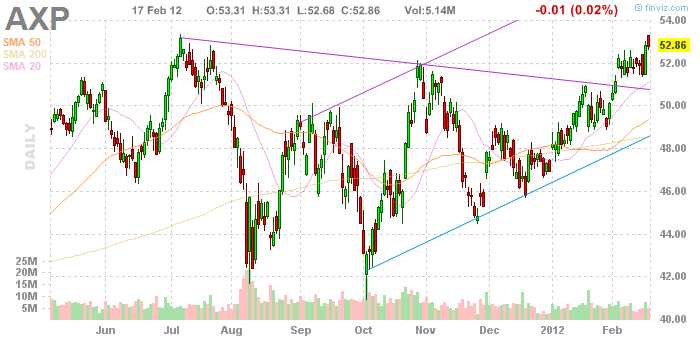 Berkshire's position: $8.01 Billion

Stake: 13.02%

Equity Yield: 1.4%

2012-to-date: 12.06%
Procter & Gamble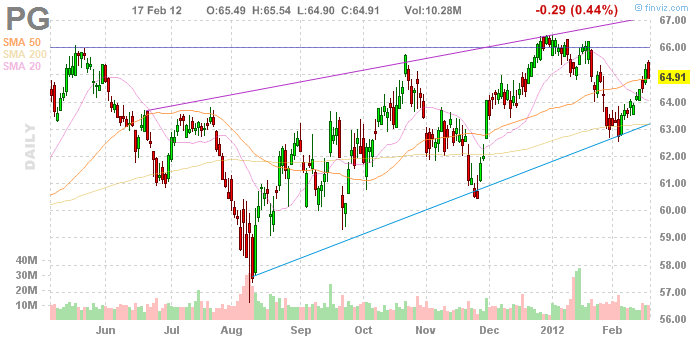 Of the listed equities above, YTD Buffett has seen the best performance out of the financial equities, Wells Fargo and American Express. Though it has not shown up in Coca-Cola's equity performance, the company did just increase its dividend for the fiftieth consecutive year, and Coca-Cola's increased payout works out to an additional $8 million per quarter to Berkshire.
Several of these equities, as well as many other of Buffett's top positions, are now fairly close to new 52-week highs. This may mean that these investments and the broader market are about to break through prior resistance points. However, it appears just as probable, if not more so, that a temporary correction period is overdue to hit the broader market, or at least the momentum of some of its constituents.
Many individuals may also appreciate that these companies are generally well-known. This familiarity should make it easier to understand the businesses, and allow for easy access to research and information on the companies and their prospects. Additionally, like Coca-Cola just did, most of these companies tend to grow their dividends over time.

Disclaimer: This article is intended to be informative and should not be construed as personalized advice as it does not take into account your specific situation or objectives.