3M (NYSE:MMM) has just announced its clock-like annual dividend increase as Seeking Alpha has covered here. This increase has pushed the current yield on the stock to 3% as of this writing. More importantly, the company has maintained its dividend champion status as it nears 60 years of consecutive dividend increases.
This article was written back in 2013 when 3M announced its dividend increase for 2014. Now with the 2016 dividend increase in mind, let us evaluate how the numbers look.
Payout Ratio and Dividend Growth Rate: Trailing payout ratio now has ballooned to 58%, which is significantly higher than the 41% two years ago. While it is well known that industrial companies in particular are having trouble, investors can take heart from the fact that 3M has still managed a sizeable dividend increase. But investors should always be wary of dividend increases that are funneled only by an increasing payout ratio. But is that the case with 3M?
The average five year dividend growth rate now stands at 15.54%, which is significantly up from the 11.45% two years ago.

Source: Finance.Yahoo.Com
Free Cash Flow: This section immediately negates any concerns investors might have about 3M's near-term ability to meet and even increase dividends. Free cash flow analysis is generally more useful than earnings per share when it comes to judging a company's dividend coverage. This is because companies might have one off events or capital expenses which may not be recurring. These events impact the earnings per share report for the quarter but not the free cash flow from operations.
Total shares outstanding: 615 million
That means at the new current quarterly dividend rate of $1.11 per share, 3M would need $682 million to offset the dividend expenses.
As can be seen here, 3M's average quarterly free cash flow over the past 5 years stands at $1.1 billion. Hence, dividends consume just about 60% of the company's normal free cash flow.
Even the historically weak March quarter has almost always generated sufficient free cash flow to meet the dividend requirements.
Buyback Effect:
Speaking of shares outstanding, 3M has also announced a buyback program of $10 billion. At the closing price of $148 per share, 3M could retire nearly 67 million shares from the open market. This will reduce the company's dividend commitments as explained above and also increase the earnings per share. 3M has been a steady buyer of its shares as the chart below shows. The company has gradually retired 13% of its shares over the last five years.

Click to enlarge
Source: YCharts.com
Extrapolation:
The table below shows what future dividend/dividend growth might look like for a long-term investor. It assumes an 8% annual dividend growth rate for the first five years and 6% for the next five years each. This assumption is on the conservative side given what 3M has delivered recently but we prefer being cautious than sorry. The yield on cost is very likely to double much quicker than shown here.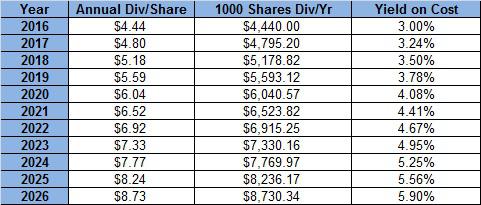 Forward Thoughts:
Comparing 3M's current numbers to its 2014 numbers has shown that the company has been keeping up and increasing its commitment to shareholders. Earnings are expected to grow at 8%/yr for the next five years. While we believe this looks a tad optimistic, expect the company to find ways to deliver value to shareholders through cost cutting and other means.
Like many global juggernauts, 3M is exposed to China and its weakness. Stronger dollar doesn't help such companies as well as forex impacts them adversely. Besides the macro factors, the fact that 3M is a textbook cyclical company means that investors must be really patient. This is more imperative when many believe that 3M's recent earning report is a sign of a global slowdown.
But with 100 years of uninterrupted dividend payments, it is hard to find better companies when it comes to reliability. Keep in mind, 3M did not cut its dividend back in 2009 when many major names felt the pressure to do so. If you are looking at adding an industrial stock for income and relative safety, it is hard to find better companies than 3M.
Disclosure: I/we have no positions in any stocks mentioned, and no plans to initiate any positions within the next 72 hours.
I wrote this article myself, and it expresses my own opinions. I am not receiving compensation for it (other than from Seeking Alpha). I have no business relationship with any company whose stock is mentioned in this article.