I find it surprising to see that investors have become bullish on Freeport-McMoRan (NYSE:FCX) since it released its fourth-quarter results at the end of January. In fact, since the results came out on January 26 last month, Freeport shares have shot up almost 14% on the market. This can be attributed to the fact that Freeport delivered a massive bottom-line beat last quarter, while the announcement that it will reduce debt to the tune of $5 billion-$10 billion on the back of asset sales also fanned enthusiasm.
However, I think that it will be a bad idea to get carried away by Freeport's earnings beat and the announcement to reduce debt as end-market difficulties will make it tough for the company to make a comeback. Let's see why.
China will weigh on copper demand
With 40% of the global copper consumption under its belt, there's no denying the fact that China will play a key role in deciding the direction that copper prices will take going forward. Now, the bad news for Freeport is that it will see weaker demand in China throughout 2016, which will accentuate the oversupply in the copper market.
In fact, at the end of 2015, the copper market was said to be carrying a surplus of 78,000 metric tons despite a reduction in output by several big miners. This surplus can be attributed to the declining demand in China, which is a key consumer of copper as pointed out above. Now, this year, China's copper consumption could decline further.
I'm saying this because the country's GDP growth is expected to slow down further this year. In 2015, China's growth fell to 25-year lows as its GDP grew at 6.9%. What was even more worrying was the fact that China's manufacturing growth fell to 6% last year from 7.3% in 2014, leading to a decline in demand for commodities such as copper. In fact, this year, it is expected that it is anticipated that copper shipments into China will decline 10%.
Also, this year, China's GDP growth could slow down to a range of 4.3%-5.2% according to Professor Xu Dianqing of the Beijing Normal University. As a result, it can be expected that industrial output in China will take a hit this year, which will be bad news for the copper industry since the metal finds diverse uses in different industries ranging from construction to telecom.
Thus, it won't be surprising if copper surplus in 2016 continues to grow. In fact, Goldman Sachs estimates that the oversupply in the copper industry will last until the end of the decade. This year, the surplus is estimated to come in at 530,000 tons, while it is "seen at 566,000 tons in 2017, 626,000 tons in 2018 and 657,000 tons in 2019."
Freeport's fundamentals will take a hit due to weak pricing
The weakness in copper prices has taken a heavy toll on Freeport-McMoRan's financial performance. In fact, last quarter, the company's average realized price per pound of copper dropped almost 26% on a year-over-year basis. For the current year, Freeport expects average realized price of $2 per pound, indicating a decline of just 8%. However, given that the surplus in the copper market is anticipated to grow in the coming years, copper prices could slip lower.
Now, as shown in the chart given below, a decline in copper prices over the past year, along with oil and gas weakness, has decimated Freeport's top line and operating cash flow, as shown in the chart below: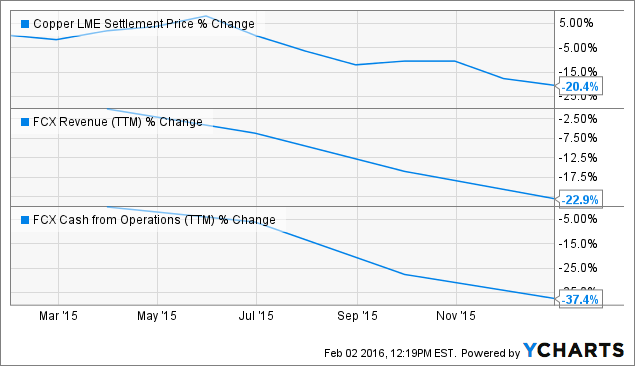 Copper LME Settlement Price data by YCharts
Thus, further weakness in the copper market will be a headwind for Freeport. Moreover, the company has a highly-levered balance sheet with over $20 billion in debt. In comparison, its cash position is quite weak at $224 million, while the operating cash flow, after declining massively in the past year, is now at $3.22 billion.
Now, as the weakness in the copper market is anticipated to continue, Freeport will continue burning through cash while its margins will continue getting weaker. On top of that, Freeport will struggle due to the heavy interest burden that is a result of its highly-leveraged balance sheet. Of course, the company has announced that it will be taking steps to reduce the debt, but it needs to move fast on this front as it has a number of debt maturities coming up in subsequent years, as shown below: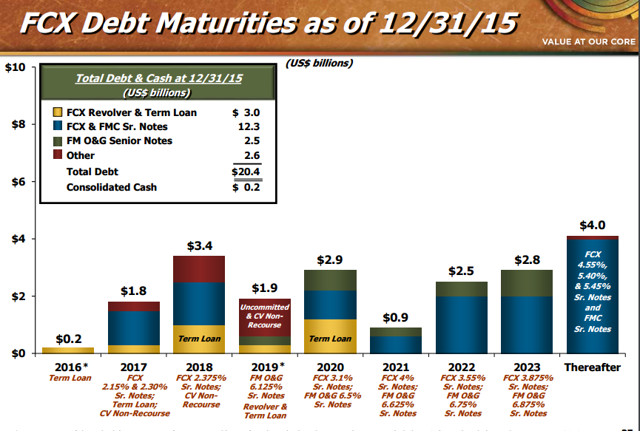 Source: Freeport-McMoRan
As seen above, though Freeport will find some relief on the maturity front this year, there will be no respite for the company from next year onward. As a result, it will need to engage in asset sales since its declining cash flow will not be enough to satisfy both interest obligations and debt repayments, while further weakness in the copper market will be another headwind.
However, selling off assets is easier said than done as Freeport might not consider putting up its best copper assets for sale as these are key to its long-term performance. On the other hand, the severe impairments of the oil and gas assets will make it difficult for Freeport to get good value in the market, while the overall downturn in the oil and gas market in itself will hamper asset sales as companies are looking to save money.
Conclusion
A turnaround at Freeport-McMoRan doesn't look likely considering the weakness in the commodity markets. Of course, the company might have beaten bottom-line estimates last quarter and posted a smaller-than-expected loss, but there's more pain ahead that investors should not ignore. So, it will be a bad idea to expect the rally in Freeport shares to continue going forward and I think that it will be prudent if investors stay away from this stock in light of the points discussed above.
Disclosure: I/we have no positions in any stocks mentioned, and no plans to initiate any positions within the next 72 hours.
I wrote this article myself, and it expresses my own opinions. I am not receiving compensation for it (other than from Seeking Alpha). I have no business relationship with any company whose stock is mentioned in this article.