Looking for an easy way to trace the progress of the housing bubble? Look no further than the 26 years of financial data provided on the website of luxury home-builder Toll Brothers (NYSE:TOL). See how revenue grew from $125 million in 1986 (802 homes completed) by relatively steady progress to $2.3 billion in 2002 (4430 homes).
Then something odd happens: 2003 suddenly balloons to $2.7 billion, and from there it's a heady ride to a peak of $6.1 billion in 2006 (8601 homes). Revenues and completions have been on a downward slide every year since then, culminating in 2011's $1.5 billion (2611 homes). But Toll Brothers has survived to tell the tale, and 2011 saw a return to profitability for the first time in four years. (Toll Brothers Financial Summary 1986 - 2011 (pdf))
Toll Brothers doesn't build basic, first home buyer dwellings. Instead the company operates in the luxury residential community market -- think golf courses, country clubs and upscale condominiums -- for well-heeled older clients. It acquires and develops land in prime locations and is currently working in 19 states. The company has architectural, engineering, mortgage finance, title, landscaping, security monitoring, lumber, house component assembly and manufacturing operations, so it can cater for every stage of housing development, from client's daydream to key-in-the-door. With a seasoned eye on the current state of the market, in fiscal 2010 the company formed a business unit to invest in distressed real estate opportunities.
The company now believes that many of its markets have reached bottom, after six years of declining consumer confidence, softening of demand and over supply of housing, a weakening of the economy, high unemployment and fear of job loss among the employed, vacant and foreclosed homes, falling home prices, reduction in homeowners' equity, inability to sell homes, and deterioration in the credit and mortgage loan markets. Pent-up demand may be gradually starting to release, and the company has available for sale over 15,000 home sites in communities currently being developed, and more than 20,000 home sites in 'future communities'. However, this is a sharp reduction from the 91,000 home sites the company had available in 2006, following a deliberate decision to cancel some land purchase contracts and sell non-strategic parcels. (2011 Form 10-K p25 (pdf)). The asking price for finished homes ranges from $185,000 to $1.8 million.
Toll Brothers faces substantial risks as a result of the time that lapses between sales agreements and delivery of a completed home. The company reduces its risks by purchasing land for future developments using options dependent on government development approvals before title passes, by requiring a substantial down payment from home buyers before construction commences, and by using subcontractors to perform work on a fixed price basis. In spite of this, many sales agreements on homes already under construction were cancelled during the downturn. The cancellation rate returned to more manageable historical levels in 2010-2011.
In November 2011 Toll Brothers purchased the assets of Seattle luxury home builder CamWest Development, including 1500 home sites. This demonstrated belief in the growth of its main target market -- the more than four million baby boomers born annually between 1954 and 1964, now in their peak years for 'move-up' home buying. The company quotes government and university research statistics to back up its faith in its business model: 24.3 million U.S. households (20.5% of the total) with an income of $100,000 or more, a group which has grown at four times the rate of normal households since 1980; and the 11.8 million new households expected to be formed between 2010 and 2020.
Toll Brothers believes that some of its smaller traditional competitors have been edged out by lack of capital during the downturn, and that its own financial strength and perseverance will be rewarded when the market rebounds. (2011 Form 10-K pp 2-6 (pdf)) Nevertheless, it still faces strong competition from D R Horton (NYSE:DHI), Lennar (NYSE:LEN), Pulte Homes (NYSE:PHM),and KB Home (NYSE:KBH).
Although 2011 annual revenue of $1.48 billion was slightly below 2010's $1.49 billion, net earnings ($40 million) were positive for the first time in four years. (2011 Form 10-K p32 (pdf)). An income tax benefit more than offset a small operating loss, but, as Toll Brother's CEO Douglas Yearly pointed out in the Q4 2011 earnings conference call, 2011's pre-tax income, excluding inventory and joint venture write-downs and debt retirement charges, was $67.1 million. CFO Marty Connor commented on the improved home-building gross margin in the fourth quarter, and went into detail about the company's FY2012 guidance: a delivery of between 2400 and 3200 homes at an average price between $500,000 and $575,000. (This would put homebuilding revenue at $1.84 billion at the top end of both forecasts, $1.58 billion in the mid-range.)
During the Q & A session, Mr Yearly revealed that Toll Brothers currently has 97 'mothballed' communities, only four of which are expected to come out of that state during 2012 because the company would rather wait for the market to recover and then sell at higher prices. On the plus side, in response to a question about buyers' customization options, he confirmed that buyers were still spending an average of $110,000 in upgrades, which was comparable to the 'glorious days of '03, '04 and 05'.
Toll Brothers' target customers have on the whole remained employed, and simply deferred their home buying decisions. Given the dwindling pipeline of approved home sites as smaller competitors struggle or even exit the market, Toll Brothers-- with its portfolio of land in desirable locations-- appears to be in a strong position to benefit when demand picks up. Its geographic diversification and wide product and price range, together with its access to an affluent demographic and lower-cost capital, should put the company in a strong position to recover.
However, it appears the housing market it still ailing. In Home Depot's (NYSE:HD) Q4 2011 earnings conference call held on February 21, 2012, executives with Home Depot indicated that while they are seeing some positives in the housing market with respect to affordability, some of the negatives-- such as lack of credit availability-- continue to linger. With this, Toll Brothers' stock price may have gotten the cart ahead of the horse as shown below: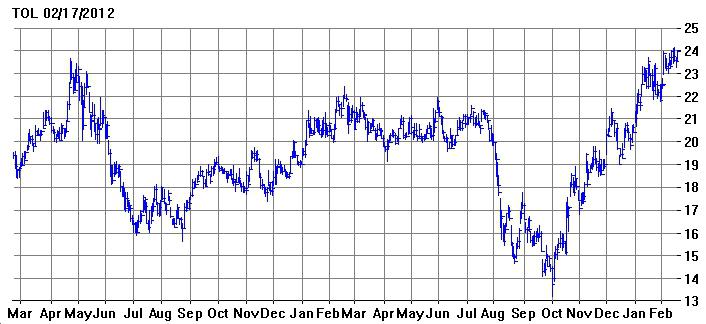 Even though Toll Brothers' stock price has managed to break through former resistance at the $21 to $23 price range, with credit availability issues continuing to linger, the stock price may be due for a correction in the near term.
An investor in Toll Brothers seeking to hedge a position in the company might consider entering a collar for the company. A collar may be entered by selling a call option against the stock and using some of the proceeds to purchase a put option for protection.
Using the PowerOptions tools, a collar position was found for Toll Brothers with a potential return of 2.1% (30.7% annualized) and a maximum potential loss of 5.9%, even if the price of the stock goes to zero. The selected position is shown in the table below: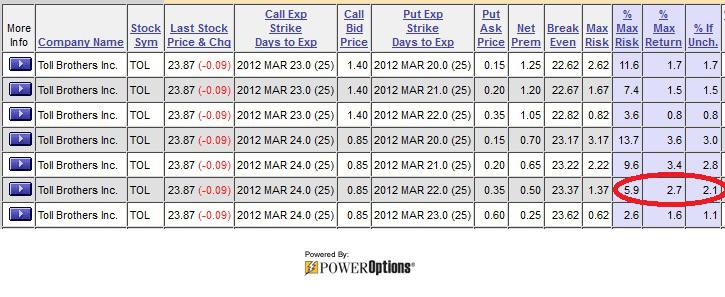 The specific call option to sell is the 2012 Mar 24 at $0.85 and the put option to purchase is the 2012 Mar 22 at $0.35. A profit/loss graph for one contract of the position is shown below: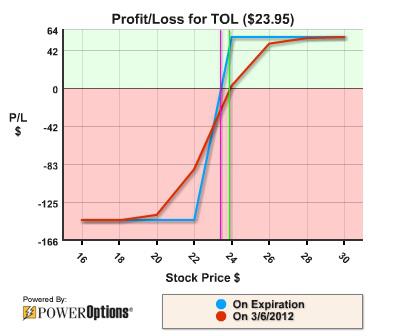 As a bonus, if the price of Toll Brothers' stock is greater than or equal to the $24 strike price of the call option at option expiration in March, the position will return 2.7% (39.4% annualized). For a stock price less than the $22 put option strike, the value of the collar position will remain unchanged, even if Toll Brothers' stock price drops to zero.
Disclosure: I have no positions in any stocks mentioned, and no plans to initiate any positions within the next 72 hours.