Whole Foods Market's (NASDAQ:WFM) stock price and business continues to struggle. It has lost much of its premium valuation and is beginning a potentially long road of investing in lower prices. In an environment where organic foods are increasingly becoming mainstream and conventional grocers are improving their in-store experience, it will be increasingly difficult for Whole Foods to sustain high operating margins.
As recently as yesterday, a fellow Seeking Alpha contributor highlighted the threat of lower margins. This article builds on that scenario by looking at the financial impact on earnings and the per share value of the business. However, I'll begin by looking at one cause of weak same-stores sales and declining margins: Trader Joe's.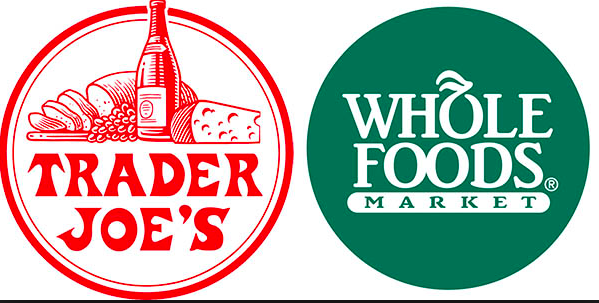 Note: I received a lot of great commentary on an article that discussed TJ's hard-discounter cousin, Aldi, and the potential threat to the conventional grocery business. Check it out if you are interested!
Trader Joe's
It seems that everyone is encroaching on Whole Foods' market niche. Conventional players like Kroger (NYSE:KR) continue to move upscale with Simple Truth being one of the nation's largest organic brands. Costco (NASDAQ:COST) is the nation's largest organic retailer while discounter Trader Joe's now has more locations than Whole Foods and offers comparable quality and lower prices.
TJ's recipe of selling high quality and unique products at very affordable prices continues to resonate with consumers. With a narrow, mostly private label product offering, the company generates the highest sales per square foot in the industry - nearly twice as high as Whole Foods. This well cited chart from 2014 highlights the productivity gap: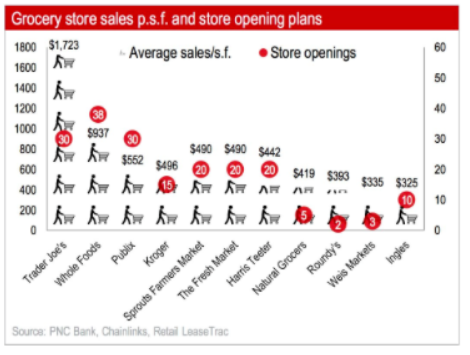 The heavy mix of private label and narrow SKU count has led to tremendous buying power. This allows TJ, much like Aldi, to avoid middlemen and undercut its competitors - recent price surveys have found Whole Foods upwards of 20% more expensive. Importantly, lower prices have not come at the expense of customer goodwill. Instead of being known as a retailer that consumes your whole paycheck, the brand has become synonymous with quality and value. Shoppers perceive TJ's as having high-quality products at affordable prices instead of high quality products at high prices.
The brand is also developing a cult-like following. Shoppers in Alabama and New Orleans rejoiced when a TJ finally opened last year. The latter opened near a Whole Foods and competes for the same customer demographic but with a niche, quirky and somewhat exclusive offering. While TJ likely never replaces a conventional grocery store, it continues to expand and gain traction with more consumers.
Here is a 2014 comparison from Food Navigator to sum up the similarities and differences: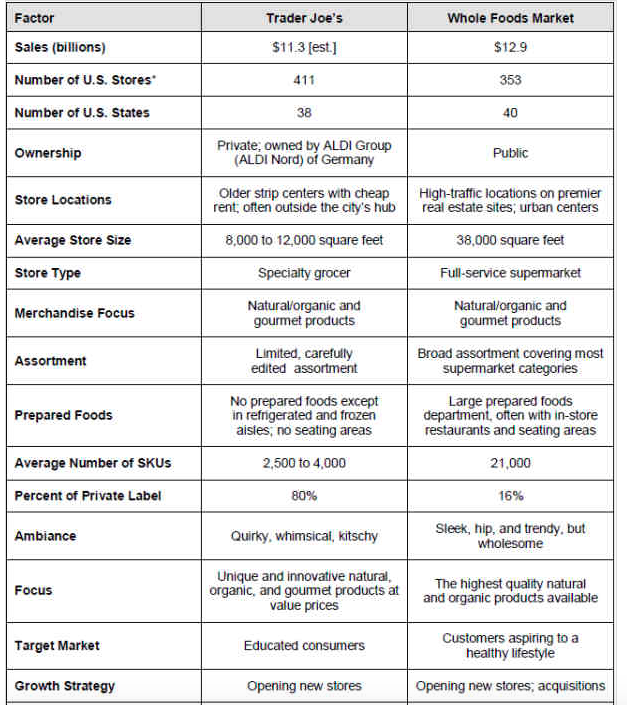 Conventional Grocery is Lower Margin
Much has been written about the struggles at Whole Foods. Not only are they losing customer goodwill, price perception is poor and competitors such as Kroger and Costco continue to encroach on their upscale franchise - at meaningfully lower prices. Same-stores sales have been trending lower and will likely be negative this year.
Less has been written about the financial and valuation impact of lower operating margins. If organic no longer differentiates the brand, Whole Foods risks becoming just another conventional grocer, albeit an upscale one. Now there is nothing wrong with that but a conventional grocer's operating margins are significantly lower than Whole Foods.

More Investments in Price Likely
Management had made some price investments but it may be the beginning of a long road towards meaningfully lower margins and earnings. Not only are ~6% operating margins difficult to sustain, recent research by BMO suggests the price investments are not working and prices are still too high.
First, it is rare to see 6% operating margins anywhere in the world, especially in a market that competes with Aldi or Trader Joe's. While outsized margins can be earned, competition appears to erode them over time. Canada's Metro (OTCPK:MTRAF) is the main outlier owing partially to very low SG&A and partially to the fact that Aldi or Trader Joe's does not operate up north.
Today, it is evident Whole Foods is struggling to maintain above-average margins when more and more competitors deliver a comparable product at a better price.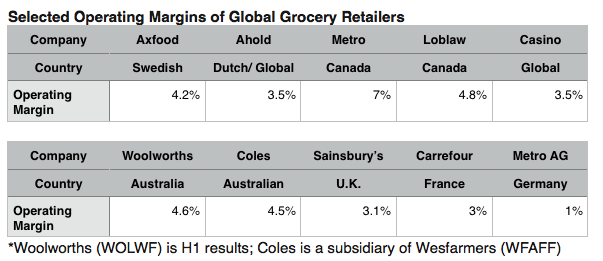 Second, recent price investments are not yet working. A survey by BMO found that customers have not yet been swayed by Whole Foods' attempts to lower prices. Perception is often far harder to change than reality and negative traffic trends suggest pricing remains an issue.
BMO found more than 70% of customers have not yet noticed a difference in pricing, even if others have found it has improved. Perception is a problem, especially when the "Whole Paycheck" idea is consistently reinforced in popular culture.
When customers do shop elsewhere, they are most often switching for lower prices and convenience. And more than 50% of the time, the grocer they are switching to is Trader Joe's.
Third, the price investments haven't gone far enough. BMO also conducted a pricing survey and found Kroger's Simple Truth approximately 10% cheaper. From the article linked above:
"With new competition across the retail landscape in both natural and organics, and more likely coming, we see increasing risk that Whole Foods will have to accelerate and broaden its price investments beyond current expectations to change consumer perception," analysts wrote in a note published Monday.
3% Operating Margins
So what would WFM's earnings and the valuation look like at 3% operating margins? Well it isn't pretty. In the table below, the "current scenario" assumes some margin contraction while 4.5% and 3% scenarios are more negative. For valuation, I chose an 18x multiple, similar to Kroger.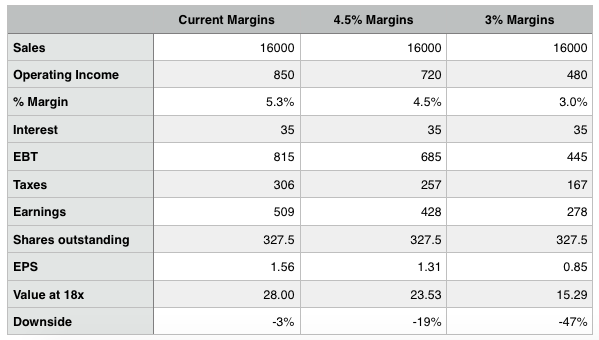 If one believes the Whole Foods franchise is damaged and under threat, then they continue to lose share to larger players or must make further price investments to change negative traffic trends.
In either case, it is hard to imagine margins not falling - the reader can choose whether 4.5% or 3% is more likely. While they can cut some SG&A, that potentially dilutes the experience making the brand look more like a conventional grocer anyway. If margins do continue to fall, then the current stock price is not even close to discounting that scenario - even at a very generous (and high multiple for a grocer) 18x earnings.
Concluding Thoughts
While this article has a negative tone, it is not a short thesis. Instead, I intended to outline one of many possible scenarios for investors and encourage further discussion among the SA community.
This negative scenario increasingly becomes possible with the growth of lower priced organic and upscale groceries at Trader Joe's, Kroger, and Costco (among others). Further, if customer perception does not change, more price investments may be required to reverse declining traffic trends. That suggests Whole Foods could be losing its premium franchise and margins will likely be lower in 1-2 years time.
That said with an active buyback and a lot of extra fat (i.e. SG&A), the company could realistically offset price investments by simply managing the business to the new, lower-growth environment. Or in a more optimistic scenario, they could be acquired by a retailer with far better price perception.
Unfortunately, Whole Foods will be swimming against the current to sustain current earnings. Not only must price investments be significant enough to reverse traffic trends and increase basket, they also require meaningful cost reductions to offset declining gross margin. The road ahead still looks challenging and complex.
Disclosure: I am/we are long COST.
I wrote this article myself, and it expresses my own opinions. I am not receiving compensation for it (other than from Seeking Alpha). I have no business relationship with any company whose stock is mentioned in this article.