In a previous piece, I dug into the numbers behind Memorial Production Partners (NASDAQ:MEMP) and concluded that, thanks to its impressive hedging, the company's cash flow is likely to stay positive through at least 2018 at current levels, likely allowing it the ability to survive this energy price downturn. In that piece, I touted the company's strong cash flow position but there is one area where investors should keep a close eye on moving forward, one that could pose issues for Memorial within the next few months; their credit facility.
A look back at cash flow
In the table below, you can see an updated version of the analysis I conducted in my previous piece on the company. According to my findings, current energy prices, with oil trading for $31.39 per barrel and natural gas going for $2.132 per Mcf, should result in Memorial generating positive cash flow this year of $104.68 million. Next year, that number will come down a bit, with the business generating cash flow of $46.18 million and 2018's number should come in at a positive $33.41 million. Meanwhile, if nothing changes with the business fundamentally, it will likely generate negative cash flow during 2019 totaling $63.88 million. All of these numbers assume that the business continues to pay out distributions every year of about $33.20 million.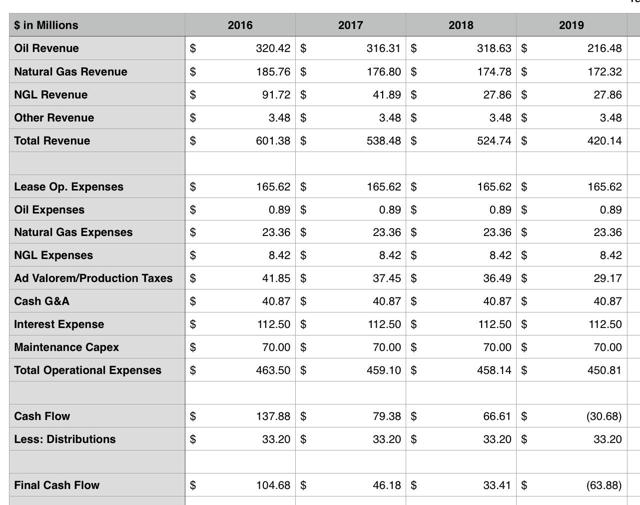 Click to enlarge
For a company whose current market capitalization stands at $232.5 million, this is all extremely impressive. To put things in perspective if, by 2019, oil is going for $80 per barrel while natural gas is going for $3.50 per Mcf, Memorial should be generating cash flow of $83.44 million after distributing $33.20 million in distributions. This should place a value on the company of probably $1.17 billion (10 times cash flow + dividend), approximately five times greater than where shares are standing today. By the time you count in distributions paid out during this timeframe and assume that all excess cash flow is allocated toward debt repayments or toward other activities, investors could make around five and a half times on their investment from current prices. If the company can allocate all cash flow toward distributions, this multiple could be 6.8 times.
The big if
Absent fraud, poor management execution, or energy prices that stay depressed beyond 2018, there doesn't seem to be a lot of downside potential for Memorial. The one exception to this, however, relates to the possibility of a credit crunch driven by Memorial's credit facility. In its most recent report on the issue, the company highlighted that it had $833 million borrowed under its credit facility, plus $2.1 million in letters of credit, and that it had excess capacity of $340 million that it could tap into. This is a nice chunk of liquidity but its lenders decide, twice each year, whether to increase, decrease or keep constant the amount of capital it can draw on this facility.
This is referred to as a redetermination and, in April of this year, Memorial has to go through the process again. As a rule of thumb, lenders typically allow a business to borrow around half of the present value of their reserves. The GAAP measure of this is referred to as PV-10 and is, essentially, the value of all projected cash flows of oil and natural gas from a company's reserves, less the operational costs of extracting and processing those products, and then discounted at a rate of 10% per annum to account for the time value of money.

Click to enlarge
In the image above, you can see Memorial's latest computation (from December of 2014) regarding the value of its reserves, but this isn't very useful today since the business used oil prices in excess of $90 per barrel at the time. According to the SEC, companies are required to use the ending price for fuels for the latest 12-month period. To account for changes in energy prices since 2014, I conducted my own analysis regarding Memorial's reserve value, which can be seen in the table below. As a note, I used the most recent energy prices from April of 2015 through January of 2016 and finished the last two months with the same assumed price as January's.
Based on the data provided, the picture looks materially different for Memorial right now. According to my computations, the company's net value (not discounted) on its reserves stands at $1.15 billion. By the time you incorporate the discount factor, you arrive at a price of only $524.07 million. Half of this is only $262.04 million and is much lower than where it should be. If the company had little or no hedges in place, I'd suggest that it's ready for the scrap heap but, fortunately, its hedges do possess a great deal of value.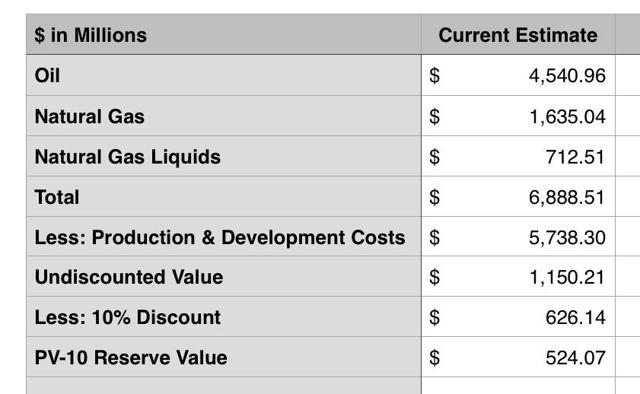 Click to enlarge
As of the time of this writing, I figured that Memorial's hedges are worth about $1.05 billion. If we are to assume that, in the first quarter, roughly $84.38 million of its hedges roll of the books, the value of its hedge book declines to $965.20 million. Seeing as how this value is guaranteed for collateral purposes and can be easily sold on the open market (and since it keeps Memorial cash flow positive for such a long time), it's likely that lenders would allow this value to be added to the discounted reserves, giving us a base of about $1.23 billion.
This is great but, even with this move, Memorial would see its borrowings under its credit facility equal 67.9% of this number. This means, to me, that Memorial's credit facility could become a material concern in April (or October if prices don't begin to recover). Having said this, the fact that the business will still be cash flow positive a couple years out from now, even in this current environment, implies that there probably isn't a huge chance that lenders would become impatient just yet. Although collateral value will be eroded during this period, especially in the form of hedges, Memorial is slated to generate cash flow of $283.87 million ($184.27 million if they cut the distribution to zero) between now and the end of 2018. This, in turn, would allow the company a good chance of using its cash flows to slowly pay off some of this debt as oil and natural gas prices eventually rise.
Takeaway
Right now, the fundamental picture facing Memorial is very positive but the risks associated with its credit facility are certainly scary. My data does imply a good chance of some sort of credit event transpiring if the market does not improve, but this data doesn't take into consideration the fact that Memorial can almost certainly survive this downturn and its bankers know this. At a time when lenders are likely willing to be flexible (since asset sales in terrible conditions don't yield a good return), I don't think investors should flee from the company but they should be aware of the risks involved with owning it.
Disclosure: I am/we are long LINE, BBEP.
I wrote this article myself, and it expresses my own opinions. I am not receiving compensation for it (other than from Seeking Alpha). I have no business relationship with any company whose stock is mentioned in this article.
Additional disclosure: I may buy into MEMP at any time.