GSK (NYSE:GSK) just published its Q4 results and the stock is up 3% as I write. Apparently, the market is relieved that the portfolio of new respiratory drugs is effectively picking up speed.
Here are the most important figures:
The whole Ellipta portfolio (Breo, Anoro, Incruse, Arnuity) delivered revenues of GBP 353 million in 2015, while Advair lost GBP 548 million YoY. However, looking at Q4 only, the picture changes: The new portfolio grew by GBP 91 million, while Advair lost GBP 90 million (Q4/15 sales - Q4/14 sales).
Most importantly, this highlights the strong acceleration of the new products over the past 4 quarters. In fact, thanks to the asthma approval early in the year and the DTC campaign launched in fall, Breo grew 78% QoQ in the U.S. and 55% QoQ globally to GBP 99 million in Q4. If we presume a far lower quarterly growth rate of ~30%, Breo could reach GBP 800 million of sales in 2016. Breo's TRx market share in the LABA/ICS market is now about 7%.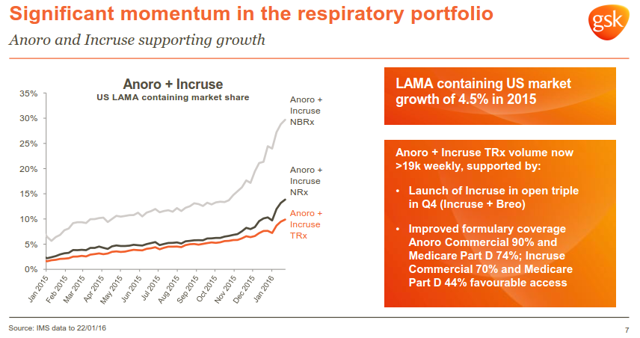 Click to enlarge
(Source)
Not only Breo accelerated in Q4, even Anoro did extremely well. In the U.S., it grew 50% QoQ and globally still by an excellent 36%. Together with Incruse (which contains only the LAMA included in the Anoro combination) it has now a 30% NBRx share among LAMA and LAMA combination products in the U.S. This share normally translates into TRx share within ~18 months and bodes well for Anoro's future, as the total market size is ~$5 billion.
These figures also show that the new marketing strategy introduced by GSK about one year ago seems to work very well.
In the past, I had highlighted several times how Novartis' (NYSE:NVS) Ultibro(n) significantly outperformed its direct competitor Anoro. Well, in Q4/15 the dynamic changed. Novartis delivered 15% growth QoQ, while Anoro printed 36%. Anoro is still behind with $46 million quarterly global sales versus Ultibro's $76 million, but could catch up further pretty quickly if the current momentum can be maintained. However, I personally expect Anoro to remain the underdog in the EU (where Ultibro is a once-daily drug like Anoro, whereas in the U.S. it is twice daily), but believe it will be the leader in the United States.
My sales forecast of GBP300-400 million I had provided last year for the two most important new respiratory drugs developed together with Innoviva (NASDAQ:INVA) (formerly called Theravance) was met quite precisely with total sales of Anoro + Breo of GBP 336 million and I expect the pair to come close to the GBP 1 billion mark in 2016.
Disclosure: I am/we are long INVA.
I wrote this article myself, and it expresses my own opinions. I am not receiving compensation for it (other than from Seeking Alpha). I have no business relationship with any company whose stock is mentioned in this article.