Ambac Financial Group, Inc. (NASDAQ:AMBC) is a $604.63M market cap Financial company with annual revenue of $659.05M. The company's primary business is Surety & Title Insurance. Meanwhile, the enterprise value of the company is $16.47B. This stock could be considered a Small Cap, due to the aggregate market value of the stock. Some value metrics for this stock may be appealing to investors.
In recent weeks, Ambac has slid to near historic lows.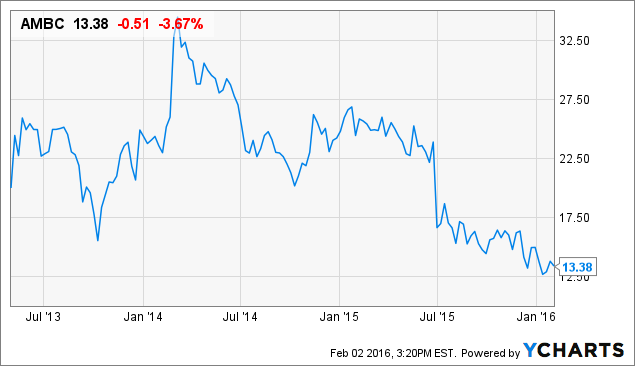 A big reason for the slide in Ambac shares is the potential exposure to Puerto Rico. The government has been in the process of working on restructuring their debt for many months.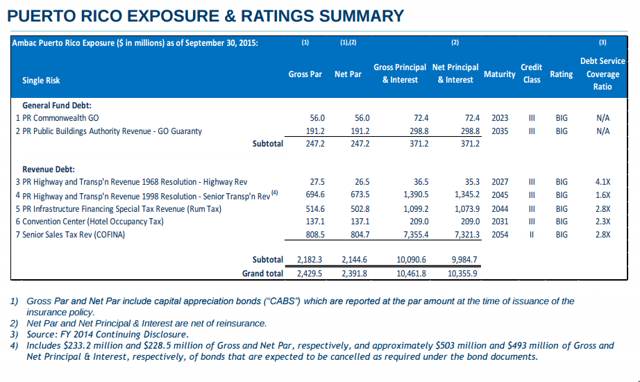 Click to enlarge
Per the latest 10Q filing,
Our exposures to the Commonwealth of Puerto Rico are under stress arising from the Commonwealth's poor financial condition, weak economy and loss of meaningful capital market access. The Commonwealth has indicated it cannot afford to pay its debts. The Commonwealth's announced plans to improve its financial position and prospects include the restructuring of debt obligations, and while terms and timing are unknown, and the targets of their restructuring may change, there is a possibility that we may incur a loss that could be higher than our current reserves.
Looking at the latest 10Q filing, the total "Loss and Loss Expense Reserves" as of September 30, 2015 are $4.23 billion. Additionally, the balance of this reserve has dropped since the end of 2014. This crisis has not snuck up and surprised the company overnight. They've had plenty of time to build up loss reserves and calculate probable outcomes.
Valuation

A trailing P/E is opposite of the earnings yield. It is price divided by last year's GAAP earnings. Lower P/E ratios may be better than high ones as they indicate less value being placed on the shares from the market. The value proposition appears to come from an extremely low trailing PE of 1.11, but included in the earnings figure are several one-time gains and losses. As you might expect, investors should take this ratio with a "grain of salt."
However, value investors may delight in the Forward P/E ratio of 3.34, which is exceptionally low. The forward P/E ratio is simply price divided by estimated GAAP earnings. It is a preferred valuation measure by some investors and in this case, likely provides more value than looking at trailing earnings.
One of the easiest measures of value is the price to book ratio, which shows a stock's price divided by book value per share. Low P/B ratios indicate a value stock. The company currently has $30.10 per share in book value. With a low P/B ratio of 0.46, investors might call this a deeply undervalued stock.
A Price to Earnings Growth (PEG) ratio can also be used to determine value, especially in stocks that are growing earnings. This measures the valuation of the stock through the P/E against the expected growth rate of earnings. With a low PEG ratio of 0.08, investors might consider this stock to be underappreciated.
Insider Buying

Click to enlarge
Insider buying is generally an indication that a company's performance is improving. So, generally speaking, when three officers and directors purchased 20,500 shares in July 2015, you have to take note. This buying may be verification of a positive future, even though it occurred several months ago. The three officers and directors now hold 20,500 total shares worth about $274,290 and they paid about $16.88/share, or a 26% premium to the current price.
Technical Perspective
Stock price data may show the technical information needed to make a buy or sell decision. With the stock currently priced at $13.89, it is trading about 16.52% above the 52-week low at $11.92. The stock's 52 week high is $26.56 and the current price shows a drop of 47.7% from that level. Currently the stock trades above the 20 day moving average ($13.10), but below the 50 day moving average ($14.15) and 200 day moving average ($17.47). This is an indication that oversold conditions in the market have had a dramatic impact on this stock's price. A 52 week range for stocks says little by itself. One must look at this information as part of a holistic picture of valuation.
Price Target
Based on the forward P/E estimates and book value this stock should trade much higher. Perhaps, $30 per share is a long-term price target (almost 8x forward P/E and right at book value per share). In the near-term, investors should be leery of this weak market environment. If they choose to buy a stock like this, they should average-in to the position over a long period of time.
Disclosure: I/we have no positions in any stocks mentioned, and no plans to initiate any positions within the next 72 hours.
I wrote this article myself, and it expresses my own opinions. I am not receiving compensation for it (other than from Seeking Alpha). I have no business relationship with any company whose stock is mentioned in this article.