Chipotle (NYSE:CMG) reported fourth quarter and full year 2015 results today, beating estimates for the bottom line but missing top line estimates. The earnings report included a couple of positive points and some negatives.
Numbers recap
Total revenues for the fourth quarter decreased 6.8 percent to $998 million, which was $12 million shy of the consensus estimate. Net income was $68 million, which lead to earnings per share of $2.17, beating estimates by $0.31 or more than fifteen percent.
Full year revenues totaled $4.5 billion, whilst net income for 2015 came in at $476 million (up seven percent) and earnings per share totaled $15.10 (up seven percent as well).
The bad news:
The biggest negative was the company's weak same restaurant sales performance in the fourth quarter: Average sales declined 14.6 percent in comparison to the prior year's quarter, which was responsible for the company's revenue miss. The E. coli issues hurt the company's performance in the fourth quarter, as was expected (and guided for by management), yet the severity of the comps decline was slightly higher than expected.
Unsurprisingly the company's margins were hurt by lower comps sales as well: Since some of the costs are not dependent on the number of guests (e.g. infrastructure costs, salaried employees etc.) lower average comps sales mean lower margins. Chipotle's operating margin decreased 700 base points in the fourth quarter, which made net earnings decline as well. Analysts had expected that Chipotle's earnings would fall by a wider margin, i.e. they thought that the fixed costs (in combination with lower revenues) would hurt the company more than they did. Chipotle's operating margin of 19.6 percent is still not a bad result, and a lot of other restaurant companies would be happy if they could report margins that high.
The next negative I see is that the company is not following through with its share repurchases. As a reaction to the share price decline we have seen in the fourth quarter Chipotle has announced a share repurchase authorization, and with share prices at multiyear lows it would have been a good time to utilize some of the company's cash balance to reduce the share count. Yet, in comparison to the prior year's quarter, we see that the company's basic share count actually grew (although only by a very small amount, from 31.02 million to 31.03 million). I'd like to see the company use some of its cash in order to shrink the share count in the current quarter (whilst valuations are low), or at least increase the share repurchase pace to a level that prevents dilution. Since management announced a new $300 million share buyback program during the earnings call I am positive we will see higher repurchase activity in the next months.
What was good?
Despite struggles in the fourth quarter, Chipotle remains on growth track: During the fourth quarter Chipotle has opened 79 new restaurants, which is a growth rate of four percent in just three months. Chipotle's total restaurant count stands at 2010, and with management guiding for 220 to 235 new restaurants in the current year we will see a double digit restaurant count growth rate again. The fact that management sees demand for its restaurants strong enough to justify a growth pace this strong is encouraging, and the broader restaurant base should help offset comparable restaurant sales declines (until the E. coli issue is finally left behind and comps are increasing again).
Looking at the E. coli issue we heard that the CDC has officially concluded its investigation into the E. coli incidents linked to Chipotle. Steve Ells, Chipotle's co-CEO and founder, stated that the company was focusing on increasing food safety now, as the CDC investigation is officially over. Focus on increasing food safety sounds good, and is necessary, since further cases of issues with Chipotle's food would hurt the company. By "becoming a leader in food safety" (as management states its plans) Chipotle could improve its reputation, but we will have to wait and see what actually happens regarding this issue. The CDC investigation being over is a positive nevertheless, since the officials at the CDC apparently have all the answers they need, which allows Chipotle to look forward and focus on the future.
The next positive is the fact that despite a weak fourth quarter, the company's full year results for revenues, net income and even comparable restaurant sales improved. If a company's growth rate is so strong that even a very weak quarter doesn't lead to yoy declined in any of these metrics, I rate that as a positive. With net income growing seven percent on a year on year basis Chipotle still did better than a lot of other companies, and with the E. coli issues not officially left behind I wouldn't be surprised if 2016's results will come in at an even higher level.
The last positive is Chipotle's cost control: During the fourth quarter Chipotle was able to grow its gross margin (in other words, food costs as a percentage of revenues decreased) by 120 base points, and at the same time Chipotle was able to lower SG&A expenses by nine percent as well -- which is a great result, when we look at the fact that the company's restaurant count (and thus administrative effort) grew substantially over the prior year's quarter.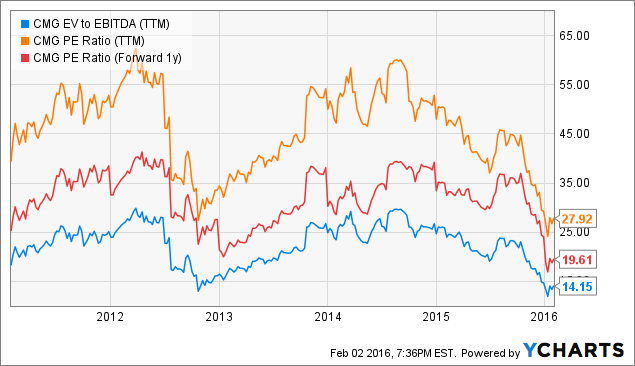 Chipotle's sell-off over the last months has made the company's shares cheap on a relative basis: Over the last five years the company was valued this low just one (late 2012 / early 2013), and has been trading at twice the valuation several times.
With a forward earnings multiple of 19.6 (which shows that analysts expect the company to overcome the current weakness and earn substantially more money in the next years) the company is inexpensively priced when it comes to future earnings potential.
Takeaway
Chipotle was hurt by the E. coli issues during the fourth quarter, but the company's results were not as bad as some analysts feared. The company remained very profitable, was investing heavily into new restaurants, was able to shrink costs and grow gross margins and reported net income growth for the full year despite the fourth quarter's problems.
With the E. coli investigation left behind and the company being able to focus on the future, I believe the outlook is not too bad.
Since Chipotle's valuation is at a multi year low, I don't think the company is unattractive at the current price.
Disclosure: I am/we are long CMG.
I wrote this article myself, and it expresses my own opinions. I am not receiving compensation for it (other than from Seeking Alpha). I have no business relationship with any company whose stock is mentioned in this article.