Plug Power, Inc. (NASDAQ:PLUG) has been a company that I have followed for a few years now. It has been a volatile stock over that span. There seems to be strong feelings from both bears and bulls on the stock as well. I have previously written concerning the stock, and as a long-term investor, I have been more bullish than bearish, acknowledging that the stock is a high-risk investment. I have invested in the stock, but I have yet to reap a positive benefit from that investment (yet). The company has made a lot of progress over the last few years, some of which appears to make it a worth a small investment. The stock has seen a decline as many stocks have and is priced at the point where I find it worth the risk to buy.
Consistency in Estimates
One problem that the company has persistently had is not meeting estimates. There could be multiple reasons for this, maybe it is the nature in which the company operates or the way that it makes sales, but when it really comes down to it, I think that it falls to the management. Plug's management has just been plain out bad at making and achieving estimates. It has a history of overstating and missing those estimates, which makes the stock price extremely volatile. The CEO, Andy Marsh, is the largest to fault for this. Many have accused him of "pumping" the stock, and I have even read in many comments that he is a liar and should not be trusted. I do not necessarily think that Andy is intentionally pumping the stock with comments that he has made nor do I think that he is lying. I think that it is more along the lines of him being an overoptimistic CEO. He obviously believes in his company and wants it to be successful. This causes him to think that his company is going to perform better than it actuality will. I find it similar to a parent and their kids, most all parents think their kids are much better at sports, music, or whatever it may be than they really are. Sometimes I think that when he speaks to media, he says more of what he hopes happens and is not as much backed up by numbers.
The fix to this recurring problem is a man named Paul Middleton. Paul was hired as the CFO and started in December 2014. So he has had just over a year at the helm. In that time, the company has become much more accurate with its estimates. There has not been so much of the boom and bust on the stock and the expectations. I'm sure that Paul has played a significant role in this. Now the company has an experienced financial officer to assist with the finances and estimates for the company. I would expect the estimates to be much more accurate going forward as well. It also helps that Andy does not seem to talk to the media, or at least we do not see as many headlines as we used to from the company, which in most cases appears to be a good thing. Paul even said on its investor update call that the numbers going forward should continue to be more accurate. This is largely in part due to the contract backlogs, as 70 percent of planned sales will come from the current contract backlog and 30 percent from 2016 contract bookings, which he said leaves the company with a clear line of sight. It makes me much more confident investing in the company knowing that the numbers coming from the management are much more likely to be achieved. I think this is the first important problem that the company has improved on. Investors need to have confidence in the management.
Growth
Plug has seen strong growth in its revenues over the past years. This revenue growth is expected to continue. The table below outlines the growth in revenues since 2013 and the expected revenues for 2015 and 2016:
| | | | | |
| --- | --- | --- | --- | --- |
| In Thousands USD | 2013 | 2014 | 2015 (est.) | 2016 (est.) |
| Revenue | $26,601 | $64,230 | $100,000 | $150,000 |
| | | | | |
| Growth Year over Year | 2% | 141% | 56% | 50% |
Source: Company Filings
In the investor update, the company said that it reached its goal of $100 million in revenue for 2015, so it can be assumed that is a lock. PLUG has shown that it can grow revenues. 2016 is expected to be the third year in a row that it has grown revenues by over 50 percent.
The company records revenue in two main business lines, the first being product revenue and the second being service revenue. There is a third much smaller business line - research and development contract revenue. Product revenue includes revenue from the sale of GenDrive units, as well as revenue from ReliOn's stationary backup power units. Service revenue includes revenue from the installation of hydrogen infrastructure, service and maintenance contracts, hydrogen delivery contracts, spare parts and leased units. Research and development contract revenue relates to both cost reimbursement and fixed-price research and development contracts associated with the development of PEM fuel cell technology (Taken from the 10-K). The table below shows the revenue percentage breakdown over the previous years and through the first nine months of 2015:
| | | | | | | |
| --- | --- | --- | --- | --- | --- | --- |
| | 2013 | % of Total | 2014 | % of Total | 9 months 2015 | % of Total |
| Product | $18,446,000 | 69% | $40,504,929 | 63% | $37,367,476 | 58% |
| Service | $6,659,000 | 25% | $21,806,224 | 34% | $27,177,063 | 42% |
| R&D Contract | $1,496,530 | 6% | $1,918,731 | 3% | $313,000 | 0% |
| Total | $26,601,530 | 100% | $64,229,884 | 100% | $64,857,539 | 100% |
Source: Company Filings
Service revenue has become a much larger portion of the business than in previous years. The percentage of total revenues from R&D has almost become non-existent as well. The table below shows the growth that the two main business lines have experienced in the last few years, broken down on a quarterly basis:
| | | | | | | | |
| --- | --- | --- | --- | --- | --- | --- | --- |
| | 1Q 2014 | 2Q 2014 | 3Q 2014 | 4Q 2014 | 1Q 2015 | 2Q 2015 | 3Q 2015 |
| Product Revenue | $3,162,327 | $12,578,841 | $12,595,044 | $12,168,717 | $4,067,476 | $15,324,000 | $17,976,000 |
| Service Revenue | $2,065,715 | $4,414,858 | $6,914,933 | $8,410,718 | $5,303,063 | $8,428,000 | $13,446,000 |
| Total of Product and Service | $5,228,042 | $16,993,699 | $19,509,977 | $20,579,435 | $9,370,539 | $23,752,000 | $31,422,000 |
| | | | | | | | |
| YOY Growth for Product Revenue | -32% | 125% | 397% | 115% | 29% | 22% | 43% |
| YOY Growth for Service Revenue | 50% | 185% | 324% | 299% | 157% | 91% | 94% |
Source: Company Filings
Plug has seen strong growth in product revenue, which means the company has been placing its products in many more locations. This inevitably means more service revenue as PLUG has to service these products and also deliver hydrogen. The service revenue will grow along with the product revenue and continue into future years. The service revenue also has grown at a much faster rate than the product revenue. This does not surprise me as the company has been able to install more GenDrive units and ReliOn units. Service revenue has begun to pick up for the installed units in place. As long as the company can continue to sell the GenDrive units, then it will continue to grow the service revenue as well. The only problem is that the service revenue is not yet profitable, which I will discuss in the following section.
Margins and Profitability
One misconception that I keep hearing about Plug is that it is only losing money on every sale that it makes, and the more sales that it makes, the more money it is going to lose. Whoever tries to make that argument needs to look at the financials, and it won't take long to understand that is completely false. The company has a positive gross margin on its GenDrive product. The Product segment operates at a positive gross margin. Therefore, the more it sells, the more money the company is making. Most of the fixed costs are already in place regardless of how many units will be sold. The more revenue that is generated brings the company closer to covering the fixed costs and the overhead costs. It's the simple rule of economies of scale. This can clearly be seen with the expansion in gross margins displayed in the table below:

The correlation is very clear between the growth in revenues and the growth in gross margins for both lines of business. We do not know the breakdown for the fourth quarter yet, but the company stated in the investor call that gross margins in the fourth quarter for GenDrive was over 25 percent. As I previously stated, the service line is not profitable and can be seen in the third quarter with a gross margin of -20 percent. This is far from breakeven, but when you see the progress that the gross margin has made in the last few years, it is very impressive. The gross margin for the service line was -139 percent two years ago. That is a significant jump, and I would fully expect the negative gross margins to continue toward profitability as revenues continue to climb. The economies of scale factor will continue to come into play. The company estimates that overall gross margins will be 10 percent in 2016. The trend in margins backs up its estimates.
The gross margins are increasing for both lines of business and are expected to be positive for the year. The bottom line is another story. Step one is to have a profitable product to sell, which despite what many naysayers believe, Plug does have a profitable product. The SG&A costs also come into play. Every company has to pay employees of course and run operations. The company has been able to keep SG&A costs rather steady as it has been able to increase revenues. This is another positive sign toward profitability for the company. The chart below taken from the investor presentation shows this correlation: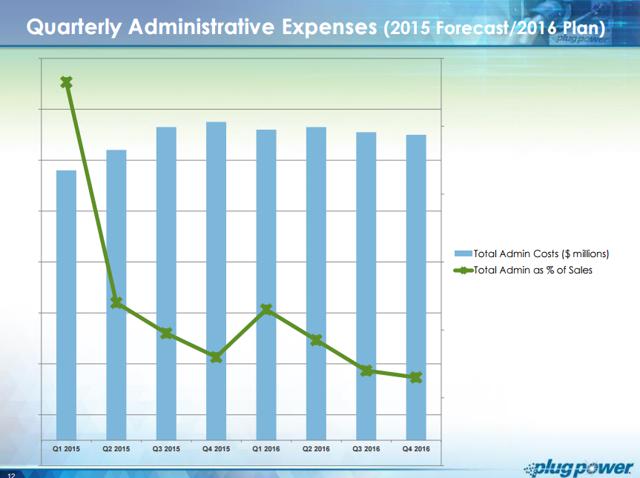 Liquidity and Dilution
Liquidity has been a topic of hot discussion. This is due to the leasing operations that the company runs. It has to hold cash as collateral, and therefore, that cash is restricted and cannot be used for operations. This topic has been covered by Henrik Alex on the bear side. His analysis is insightful for someone investing in Plug. While I tend to be more bullish on the stock and disagree with his position and some of his analysis, it is important to research the bearish side of any investment as well as the bullish side. Many times bears point out risks that bulls may have overlooked. The risk from large amounts of cash being restricted is that the company will not be able to access that cash and may need to raise more capital in order to have cash for operations. PLUG did not discuss this on the investor call, so we did not get much enlightenment as to what the company's solution is for this restricted cash situation. I'm assuming that we will get much more information concerning the restricted cash situation come March when it reports for the quarter.
What we do know is that the company is predicting that it will be EBITDA positive come fourth quarter of 2016. It also estimates that it expects to use less than $20 million in operating cash flow for the year. That is a great sign if you are long Plug. The chart below from the presentation shows the trend line for EBITDA and operating cash flow: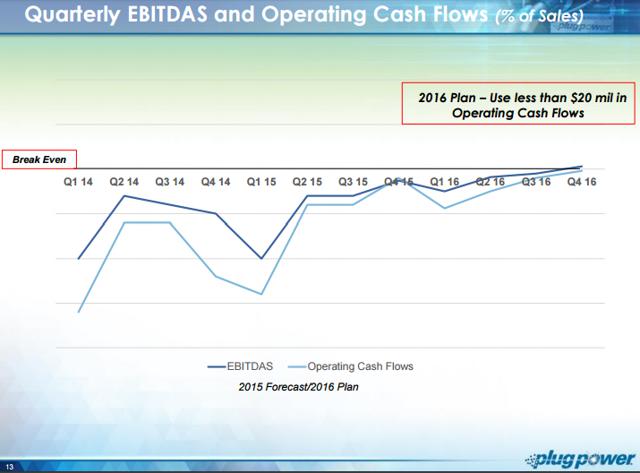 While this is an estimate and the company may not achieve that goal, I feel more confident with the estimates that it is making and trust that management is not throwing an unachievable number to get investors excited. The company has a long history of diluting the stock to raise more capital. This has been a large turnoff to investors for years with the stock. The fact that Plug is estimated to achieve positive EBITDA in the fourth quarter and only use $20 million in operating cash for FY2016 makes me as an investor feel much more confident that my position won't further get diluted.
Customer List
Plug has begun to pick up traction with its client list. The largest client is Wal-Mart (NYSE:WMT) - if you follow Plug at all, you should be familiar with the fact that this has been the largest client for years. The company has a history with other large companies such as Kroger (NYSE:KR), Sysco (NYSE:SYY), and Procter & Gamble (NYSE:PG), all of which it has deployed at two sites or more. The company has recently acquired two new large clients - Nike (NYSE:NKE) and Home Depot (NYSE:HD).
The fact that the company has been able to get recurring business with large corporations and acquire new large accounts is very promising. All these companies have many distribution centers. Since Plug is already doing business with them, it has lots of potential to expand its operations to other locations with these companies.
Investment Tax Credit
A very important note that was made during the investor call was concerning the investment tax credit (ITC). Congress decided to extend the ITC for five more years. At first, it appeared that hydrogen fuel cell technology was not included in the new extension. It was clarified in the investor call that this was a mistake by Congress and that it was meant to be included. Andy said that this would be taken care of, and it will not have any effect on its order flow. It was nothing more than a typo mistake being left off the bill. The extension of the ITC is critical for Plug to help it compete on price and should help the company continue to grow.
Overview
Plug has given many investors reasons not to get too excited. The company has continually missed estimates. It has over-promised many times. It has never been profitable in a year of operation. These things are all true. Yet, it looks like the company is rounding the corner on many of the issues that have maligned it for years. It has hired a CFO to help it with the financial estimates, which already appear to be more accurate as the company has achieved the goals set forth for the previous year. Investors will be much more confident investing in the company if it can continue to hit estimates and not mislead investors. The company has set some lofty goals for the coming year. When you look at the historical trend for PLUG's revenues and margins, I do not think the goals are unachievable. 2016 looks like it will shape up to be a very positive year for Plug. The table below outlines the expectations that the company has set forward: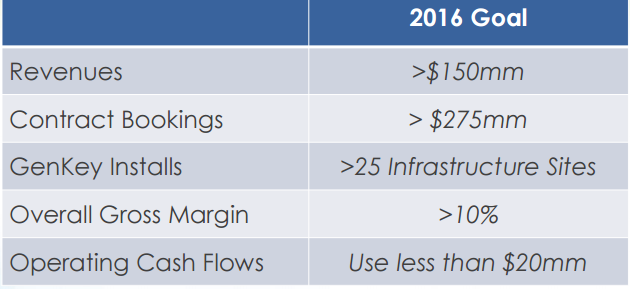 The company is expecting to grow revenues by 50 percent to reach $150 million for the year. This includes installations of more than 25 GenKey installs - GenKey is inclusive of the GenDrive, GenFuel and GenCare. Then, lastly, the company expects to have an overall gross margin of 10 percent for the year. If the company can deliver on that, then it will do wonders to those who continually question the profitability of Plug.
Conclusion
I have outlined the reasons that I'm bullish on Plug. This does not mean that there is not a lot of risks involved with the stock. As I outlined in the previous section, there are quite a few reasons to be negative about the stock. The company has set some high but achievable goals for 2016. It may not meet those estimates. It has missed them many times. While I think the overall trend is positive, there will still be hiccups to come along the way. The stock price has come down to a point where I think it is worth the risk. I would not make it a substantial portion of your portfolio as the stock is very volatile and carries high risk. If it can continue to grow revenues and become profitable then there is lot of upside for the company at this price. While the company carries a lot of risk, the reward is more enticing at the low levels the stock price has been trading for. I have initiated a long position through LEAPS that expire in 2017 and 2018. If you are not as confident or want to be more conservative, then I suggest waiting until after the earnings call in March. That way the actual numbers will be released to assure that the company meets the estimates and also to get more clarification on the coming guidance.
Disclosure: I am/we are long PLUG.
I wrote this article myself, and it expresses my own opinions. I am not receiving compensation for it (other than from Seeking Alpha). I have no business relationship with any company whose stock is mentioned in this article.