In my article titled "Offshore Drillers - Earnings Preview," I outlined the stocks which are likely to be in big trouble during this market downturn. My primary candidates for a wipeout were Pacific Drilling (NYSE:PACD) and Ocean Rig (NASDAQ:ORIG).
Judging by the comments on the above-mentioned article and my other pieces on offshore drillers, investors tend to agree that Pacific Drilling is likely done but strongly disagree on Ocean Rig. In this article, I will clarify my thoughts on Ocean Rig.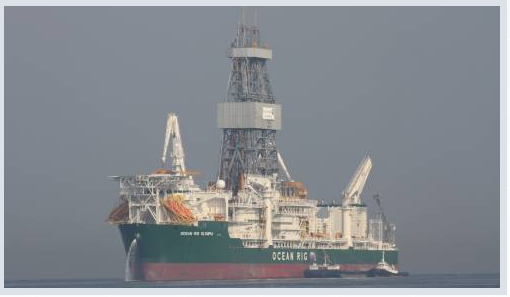 OR Olympia; Source: Company website.
The Backlog Illusion
The first common argument for the bull case on Ocean Rig is its backlog. During the latest earnings call, the company stated that it had $1.6 billion of backlog in 2016 and $1 billion in 2017. The bullish premise is that the worst-case scenario implies the company won't be able to get any new jobs during this year. I would argue that this is not the worst-case scenario.
There are plenty or risks, as shown by the recent termination of the Ocean Rig Olympia. Eni decided that the crude oil price decline was "dramatic" and used its right to terminate the contract. The news release did not specify the exact termination fee. Next, On Feb. 1, Ocean Rig stated that it received a notice of breach of material obligations from Premier Oil under the drilling contract for the Eirik Raude. The company stated that it was studying this notice.
The recent news highlight the fact that many oil companies will try to minimize their current exposure to deepwater drilling. This means an increased possibility of the blend-and-extend agreements for Ocean Rig, which will immediately hurt cash flow. Why would Ocean Rig agree to such deals? I think the answer is simple -- 2018 is not that far away, and the company has little work beyond 2017. The world will not end in 2017, and Ocean Rig will be forced to search for jobs.
The Debt Repurchase Illusion
The next topic I'd like to address is the company's ability to repurchase its debt. The news that the company has purchased $268.1 million of the 7.25% senior unsecured notes due 2019 and $156.3 million senior secured notes due 2017 was met positively by commenters here on Seeking Alpha. The company itself stated the following during the earnings call: "For the time being, we're very happy with the amount and the levels [of debt repurchases] we have achieved. And we currently have no plans to continue the program."
So why doesn't the company want to continue buying back debt at a discount? Management has a responsibility to operate the company as a going concern and has to take care of future liquidity. I think that Ocean Rig is serious in its statement that it won't be buying back its debt. Also, the biggest part of the company's debt is the debt on the credit facilities, so buying back bonds won't entirely solve the debt problem -- even if the company had the funds to establish such a program.
The Cash Flow Illusion
The next topic to talk about is the amount of cash flow that the company can get in 2016 and 2017. On Dec. 7, the company had around $650 million of cash. At first glance, this looks like a significant cash cushion. However, if we take into account capex needs ($329 million in 2016 alone), the final payment for OR Santorini (which is due 2017), a repayment of around $650 million of notes due 2017 and interest expense for the two years, the cash cushion does not look that great.
Here is the math. I assume that the company will have $3.25 billion at its disposal for all expenses in 2016 and 2017. I do not count the net cash that the company earned during the remaining 24 days in December, as I expect that it will likely be offset by the termination of the OR Olympia or other inconveniences. I also assume that Leiv Eiriksson and Eirik Raude go to scrap. I see no future for these rigs in the current environment.
I estimate that the total amount of expenses during this period will be around $2.8 billion to $2.9 billion, so Ocean Rig will start 2018 with $400 million or so. The problem is that Ocean Rig has to take the delivery of OR Crete in the first quarter of 2018. In the scenario that I presented, the company won't be able to take the delivery of the rig.
A Word on Assumptions
Assumptions are subjective by definition. I do not believe in any kind of a rapid oil price rebound. So far, this has worked well for me. The recent spike of oil prices (which is already over) was fueled by a rumor and purely based on technicals.
In my article "Russia Will Not Cut Oil Production Now And RSX Will Head Lower," I explained why there was no chance of coordinated production cuts by Russia and Saudi Arabia in the first half of this year. Rumors aside, the oil market remains oversupplied and it will take time before a new equilibrium is reached.
I also believe that there will be a significant lag between a rebound in the price of oil and new contracts for offshore drillers. In my view, oil companies will wait to see whether the rebound in the price of oil is temporary or not. Also, the first moves will be cautious, which is bad for the industry.
Don't Look at P/B or Replacement Cost
There are a number of ways to look at a company's assets, but for a company that faces existential threats, most of the approaches won't work. For example, you can look at Ocean Rig's latest report and see that stockholders' equity stands at $3.45 billion. This looks very encouraging for a company with a current market capitalization of $156 million, but I would argue that the stockholders' equity number does not matter in the current environment because the book value of the company's assets does not reflect the current market environment.
There is also little sense to calculate the replacement cost as there will be no new rig orders in the years to come. The number of newbuilds, which were postponed until 2017 and beyond, is sufficient enough to serve all the market's needs. Surviving companies will be looking for distressed assets in order to buy them cheaply. As this process will likely take place at the moment when there will still be no contracts for such rigs, the price tags will be low. I doubt that Ocean Rig would be able to get more than $2 billion if it were to sell all its existing rigs now.
Target Price
My target price for Ocean Rig is zero. In my view, Ocean Rig will end up being owned by banks that gave the company credit. I'm not sure about bonds, but the equity will likely become worthless. It might seem strange to assign a zero target price for a stock that trades just above $1, but look at North Atlantic Drilling (NYSE:NADL) -- its stock is trading at $1.63 after a 1:10 reverse stock split.
Disclosure: I/we have no positions in any stocks mentioned, but may initiate a short position in ORIG over the next 72 hours.
I wrote this article myself, and it expresses my own opinions. I am not receiving compensation for it (other than from Seeking Alpha). I have no business relationship with any company whose stock is mentioned in this article.
Editor's Note: This article covers one or more stocks trading at less than $1 per share and/or with less than a $100 million market cap. Please be aware of the risks associated with these stocks.