Silver Wheaton (NYSE:SLW) Enters Into New Streaming Agreement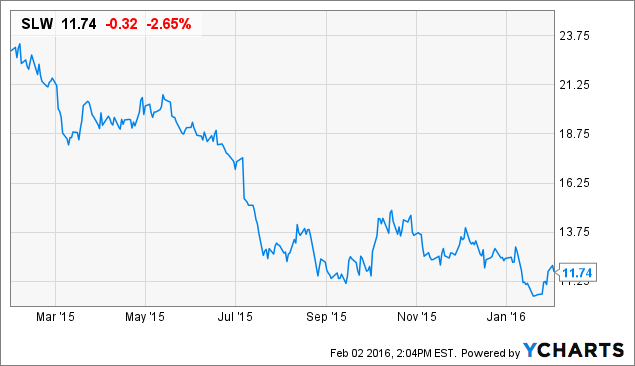 SLW data by YCharts
Recent Stock Price: $11.74
Shares Outstanding: 403.83 billion
Market Cap: $4.74 billion
52-Week Range: $10.04 - $23.37
Silver Wheaton is still active on the deal front despite recently acquiring a massive $900 million silver stream on Glencore's (OTCPK:GLNCY) Antamina mine. Last week, the company announced it has signed a term sheet with Panoro Minerals (OTC:POROF) to enter into an early deposit precious metals purchase agreement for the Cotabambas project in Peru.
Silver Wheaton can purchase 100% of the silver and 25% of the gold at Cotabambas until 90 million silver equivalent ounces have been produced, at which point the stream would drop to 66.67% of silver production and 16.67% of gold production for the life of mine; Silver Wheaton would pay a total of $140 million in cash and ongoing payments of $5.90 per silver ounce and $450 per gold ounce (subject to a small 1% annual inflation adjustment in the fourth year).
An early deposit agreement is really nice, because it means Silver Wheaton does not have to pay all of the cash in the deal up front and significantly lowers its risk. Under a typical streaming transaction, the streamer would pay a lump sum of cash up front and then wait for the project to get to production (usually a few months to a few years), and only then start to earn a return on its investment.
This model gives the transaction much more risk for the streamer, because a lot can go wrong when bringing a gold mine to production - just look at the Rubicon Minerals (RBY) situation as a recent example.
But in this case, Silver Wheaton has to give nothing at the moment - only once certain conditions have been met does Silver Wheaton have to advance $14 million to Panoro (spread over up to nine years), and then the remaining funds upon delivery of a feasibility study and other related documents. And, Silver Wheaton can elect to terminate the agreement and be entitled to a return of a portion of its $14 million.
This means the company doesn't have to commit any capital until Panoro significantly de-risks the project with further drilling, engineering work and late-stage feasibility studies.
Is It a Good Deal?
Basically, I think this deal is simply a no-brainer for Silver Wheaton and I view it as a leveraged long-term call option on metals prices. There's really low risk here in my view because of the way the deal is set up.
At the Cotabambas mine, annual payable metals is estimated at 155 million copper pounds, 95,100 gold ounces and 1.01 million silver ounces. At $3 per pound copper, $1,250 an ounce gold and $18.50 per ounce silver, the project carries a net present value (7.5% discount) of $683.9 million and an internal rate of return of 16.7%; average cash costs are expected at $1.22 per pound copper (Source: Panoro Mineral Preliminary Economic Assessment). So with slightly higher metals prices, it certainly looks like it could be a strong asset. Since the mine won't get to production for several years, there is some time for metal prices to recover.
Based on this production, Silver Wheaton would net 1.01 million silver ounces and 23,775 gold ounces annually (at $5.90 per silver and $450 per gold ounce). At $1,100 gold and $15 silver, the company would earn $15.4 million in cash flow from gold and $9.2 million in cash flow from silver annually, or $24.6 million cash flow in total annually. This would represent an annual return of 17.5% (Silver Wheaton's investment of $140 million).
The upside for this project looks really big too. The Cotabambas project has Indicated Mineral Resources 1.09 billion pounds of copper, 0.86 million ounces gold, and 10.3 million ounces silver. That doesn't seem too impressive, however, the project also contains a massive inferred resource base of 4.16 billion pounds of copper, 3.38 million ounces of gold, and 45.37 million ounces of silver. Therefore, with further infill drilling and exploration work, it's possible Panoro can convert some of these inferred resources into higher-confidence categories.
According to Silver Wheaton:"Significant exploration potential may exist within the Maria Jose target immediately to the northeast of Ccalla and Azulccacca as well as the Jean Louis target located to the southwest. Further potential may exist on parallel trends within the Guaclle-Buenavista, Carayoc, Chuyllullo, Chaupec and Añarqui targets. All of these targets are within Panoro's current exploration concessions, and are also to be contained within the area of interest for this proposed Early Deposit Agreement."
The Risks
Cotabambas really looks like a massive project with big exploration potential. However, Panoro Metals is a real tiny company with a market cap of just $26.48 million. According to Yahoo Finance, the company ended last quarter with just $1.46 million in cash.
Even with $14 million in payments from Silver Wheaton (that will be spread out over 9 years), Panoro will likely need to tap into the equity markets to raise cash at some point in the near future. Exploring and advancing a project of this size will cost in the tens of millions, and I think Panoro could have issues raising cash if commodities continue to slump.
However, as mentioned, Silver Wheaton's risk here looks pretty low, as the company does not have to advance the entire $140 million up front. Instead, Silver Wheaton will advance $14 million spread out over nine years and then the remaining funds when the project is in the construction phase. Readers should also take note that Silver Wheaton has agreed to match any third party funding up to a total of $3.5 million in the first two years, such as an equity raise.
The most obvious risk is if metals prices continue to slump several years from now, when the project will be ready for production. However, this is a risk that streaming companies must take on any deal they sign.
Automatic Share buy back Plan?
Down in the news release, the company also announced that it has entered into an automatic securities purchase plan. This means Silver Wheaton could buy back up to 20.22 million common shares of its stock, expiring on Sept. 22, 2016.
This could be a really smart move by the company, as shares are currently trading near 52-week lows at $11.74 per share. It may also mean that Silver Wheaton's management thinks the company will get a positive ruling on its tax issues with the Canada Revenue Agency. If the company elects for a full buy back, it would cost $237.5 million, but would reduce the share count from 403.83 million to 383.61 million.
The Bottom Line
Silver Wheaton continues to invest in its business and its future, despite low metals prices and the lingering tax issue. Its latest deal with Panoro is a really low-risk, but high-reward deal as it gives the company long-term optionality on metals prices and exploration success at Cotabambas.
By 2019, Silver Wheaton is forecasting growth to 55 million silver equivalent ounces (up from 44.5 million last year), but this could be much higher with potential production from the Toroparu, Rosemont, Pascua Lama and Cotabambas streams, which would add 15+ million ounces. This remains one of my favorite growth stocks in the precious metals sector.
Disclosure: I am/we are long SLW.
I wrote this article myself, and it expresses my own opinions. I am not receiving compensation for it (other than from Seeking Alpha). I have no business relationship with any company whose stock is mentioned in this article.
Editor's Note: This article covers one or more stocks trading at less than $1 per share and/or with less than a $100 million market cap. Please be aware of the risks associated with these stocks.