Anadarko Petroleum (NYSE:APC) experienced significant volatility in the lost year which resulted in big losses for the company. Its earnings turned to big losses, share price collapsed and dividends came under threat aimed volatile oil prices. In the last twelve months, the company's shares lost almost 53%, more than half of their share price. However, it has sustained dividend of 0.27 per share despite dismal situation.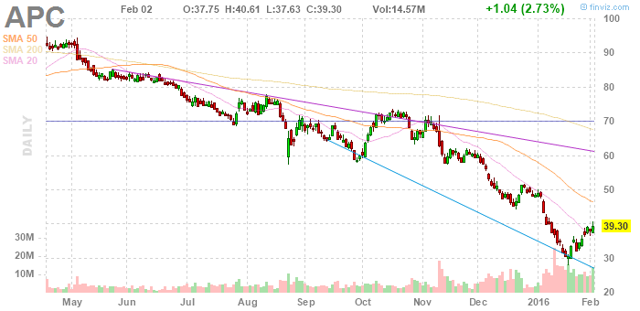 There was nothing wrong with the Anadarko's business model for such a big loss of share price; it has been only external factors. The company's business model is dependent on oil and gas prices which are declining at a sharp pace. In the latest trading session, WTI crude oil prices were standing around 31.62 per barrel while Brent was little high around 34 per barrel. On the other hand, Most of producers require oil prices of around $60 per barrel to make any profit at all and to remain cash flow neutral. The future fundamentals for oil prices are bleak, especially since the major oil producers are not looking to cut their production at all, despite continued falling prices.
Recently, Anadarko petroleum posted big losses for fourth quarter and fiscal 2015 aimed low oil prices. The company posted fourth-quarter net loss of $1.250 billion, or $2.45 per share. For the fiscal 2015, Anadarko generated its ever bigger net loss of $6.692 billion, or $13.18 per share. Despite cost cutting and defensive moves, the company was unable to reduce losses only due to low commodity prices as its business model is directly related to the commodity prices. Compared to 2014, the company has completion costs by 32 percent and lowered drilling costs per foot by 50 percent in the Wattenberg field.
Higher volumes are also unable to offset the impact of prices. In fiscal 2015, its full-year sales volumes of crude oil, natural gas and natural gas liquids (NYSE:NGLS) totaled 305 million barrels of oil equivalent (NYSE:BOE), or an average of 836,000 BOE per day. Fourth-quarter 2015 sales volumes of crude oil, natural gas and NGLs averaged approximately 779,000 BOE per day. The company has been focusing on its major play's including the Wattenberg field, Delaware Basin and Wolfcamp Shale
However, despite lucrative positions in rich oil & gas play's, the company is declining day over the day due to unstable oil prices. Even if we forget Anadarko's performance in the fiscal 2015 and the big losses it has posted, future prospects are not looking hopeful. The company posted big losses in 2015 when oil prices averaged around 50 per barrel. Since the start of this year, oil prices went even lower in the range of 30 per barrel, which is much lower level of price compared with 2015. This means that the company's losses will widen in the coming days based on low prices.
In Conclusion
Based on the EIA's latest forecast, oil prices are expected to remain at around $38 per barrel, which is a level that not many companies are content with. Oil production is expected to remain near 95.93 million barrels a day in 2016, with consumption projected at about 95.19 million bpd. Therefore, I'm expecting even big losses from Anadarko in the first and second quarter of this year. Its dividends are under threat as free cash flows turned negative in fiscal 2015 and even not provided cover to its capital requirements.
The company has announced to cut capital budget by nearly half compared to 2015. With the expected losses, we can also expected a sharp declined in discretionary cash flow which will continue to create pressure on its dividends. The company's share price could gain some momentum on market speculation, but the steady growth in stock prices is unlikely. Its stock price will remain under pressure due to poor financials and low oil prices.
Disclosure: I/we have no positions in any stocks mentioned, and no plans to initiate any positions within the next 72 hours.
I wrote this article myself, and it expresses my own opinions. I am not receiving compensation for it (other than from Seeking Alpha). I have no business relationship with any company whose stock is mentioned in this article.