George Soros's Soros Fund Management recently disclosed its position for the quarter ending December 31, 2012. The new positions initiated by the fund included two steel producers; United States Steel Corp. (NYSE:X) and Steel Dynamics, Inc. (NASDAQ:STLD). Soros bought approximately 266,000 shares of X and 1,000,000 shares of STLD during the previous quarter. In this article, I will evaluate the two companies and perform relative valuation to determine their attractiveness at current levels.
Some basic information about the companies is presented in the table that follows: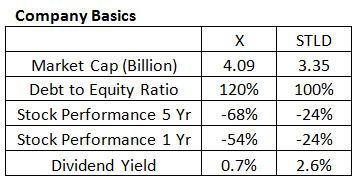 X is the larger of the two firms by market capitalization, and has a higher debt to equity ratio. The two companies have been underperformers over the last 5 years, with X losing 68% of its value and STLD shareholders down 24% over the same period. STLD does offer a respectable dividend yield of 2.6%.
Next, I observed the historical growth rates of revenue, income and book value, and the projected long term earnings growth rates. These are summarized in the table shown below: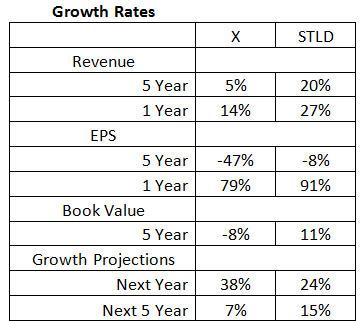 Looking at the table above, it is easy to see the reason why X lost 68% of its value during the last 5 years. However, both the firms have increased their revenues at an impressive rate over the last 1 year. Longer term, analysts expect better and faster growth rate from STLD compared to X. For reference, the steel industry is projected to grow at an annual rate of 3% during the next 5 years.
After checking the historical and projected future growth rates, I evaluated the margins and operational effectiveness of the 2 companies. The table that follows presents the evaluation results.

X currently sports a negative EPS and badly lags both the industry and STLD. STLD's margins and returns are also lower than the industry averages. Comparing the growth rates, margins and managerial effectiveness, STLD is clearly the better company between the two steel stocks bought by Soros during Q4 2011.
Now that we have developed a good idea about the fundamentals of the companies selected for analysis, the next step was to perform relative valuation. The multiples used in the analysis were based on historical analysis of individual company and industry multiples.
The table below presents the valuation analysis results.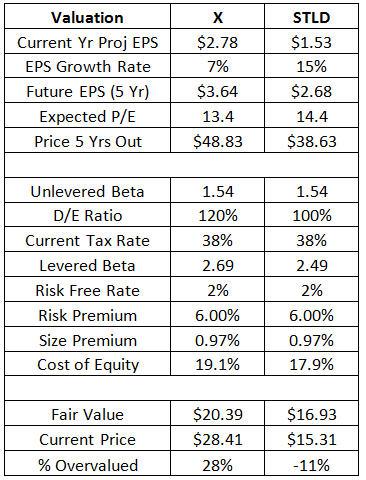 As shown in the table above, analysts expect X to return to profitability during this financial year. However, the stock is significantly overvalued at current levels. On the other hand, STLD trades at modest discount to fair value. Adding the dividend yield, STLD makes a good long candidate on any pullback to the $13 levels.
Disclosure: I have no positions in any stocks mentioned, and no plans to initiate any positions within the next 72 hours.