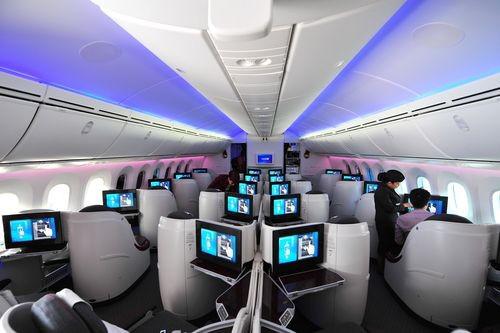 Image source: Intelligent Aerospace
Global Eagle Entertainment (NASDAQ:ENT) is a full service provider of content, connectivity and digital media services to airlines. The content division manages and distributes licensed media content including media, video and games to over 150 airlines worldwide. The connectivity division provides Wi-Fi connectivity to airlines through Ku-band satellites, offering digital media services and connected aircraft solutions. The company also sells network equipment, media application and content services with functions like live TV, VOD and shopping.
Growing in-flight market
The market opportunity for in-flight entertainment and connectivity today is estimated to be $3 billion with potential to grow to $10 billion by 2020. There are a total of 20k aircraft globally that are addressable to in-flight connectivity and entertainment. However, only 4k of these aircraft are currently installed with connectivity solutions and roughly 2k planes are currently under contract in service providers' backlogs. This leaves over 13k aircraft untapped in the addressable market. That being said, the opportunity for ENT is likely to exist outside of North America as 71% of the ASMs are fully rolled compared to rest of the world where only 13% are fully rolled out.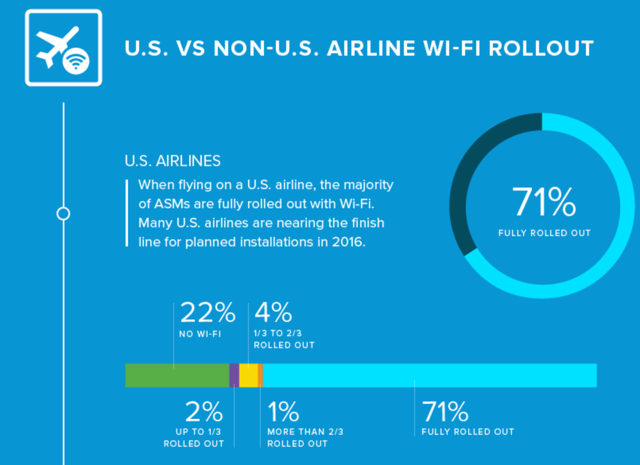 Click to enlarge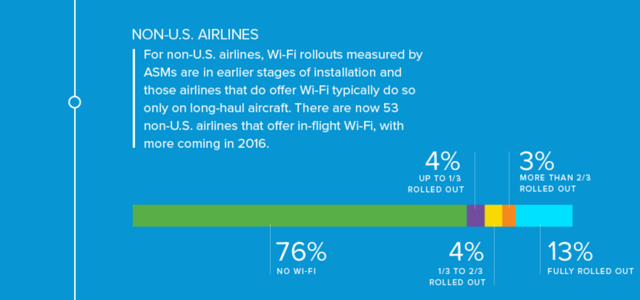 Click to enlarge
Source: Route Happy
Leader in Content
ENT's content segment is focused on traditional seatback entertainment. They provide services like licensing and distribution of content, graphical user interfaces, IPTV, software and games. It provides its services to more than 150 airlines around the globe. Although, in-flight connectivity has been growing tremendously over the last few years, the seatback market continues to grow at moderate speed as it is still a standard provision on many aircraft types. It owns around 60% of the total content market share in the world.
Because of its economies of scale, ENT is able to negotiate as the exclusive airline distribution for Lions Gate (NYSE:LGF)/Summit Entertainment. It also sources content from over 100 worldwide studios including famous studios like Warner Bros (NYSE:TWX), Disney (NYSE:DIS), CBS (NYSE:CBS) and Twenty-First Century Fox (NASDAQ:FOX). Aside from licensing, ENT also has a catalog of over 180 game titles, around 90% of the total market share for in-flight video game entertainment. I see that ENT will continue to dominate this market going forward because of its economic scale and the sticky nature of aircraft products.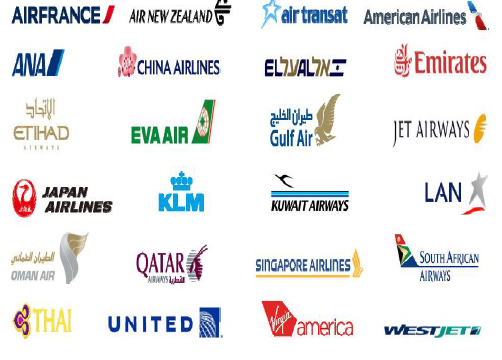 Source: Company website
Despite its already large market share, the company has been able to add more airlines and expand its existing customer base. For example, in 2014, ENT added Etihad which has 116 aircraft, Garuda Indonesia (135 aircraft), WestJet (107 aircraft) and Royal Air Maroc (48 aircraft) to its customer base. And in 2015, the company expanded its relationships with two of the largest airlines in United States; American Airlines (NASDAQ:AAL) and United (NYSE:UAL). Its content business is projected to be growing at 10% over the next five years.
Connectivity Opportunity
The connectivity market represents the biggest opportunity for ENT. It currently has 675 airlines in service, third place in terms of number of aircraft globally. As the global market is only 13% penetrated, ENT is well capitalized to take on this opportunity because of its relations with customers and technology.

Source: Company filings and my own estimation
ENT's customers include Southwest Airlines (NYSE:LUV), HNA Group of China, Norwegian (OTCPK:NWARF), Icelandair, Nok Air and Mango airlines after Transaero ceased their operation in Russia. Out of the 700 aircraft in service around 500 are with Southwest Airlines.
Ku Vs. Ka
In case you are confused with the difference between Ka and Ku spectrum bands - Ka is currently the faster service. It is able to provide higher capacity in certain regions of the world due to the earlier launch of high throughput satellites. However, there are currently only three satellites online and it's only offering regional service. Ku satellites on the other hand number in the hundreds and offer global coverage availability, lower cost per bit and better performance at the equator and high latitude. Ku is currently the industry standard as three of the top four Wi-Fi providers all choose Ku over Ka.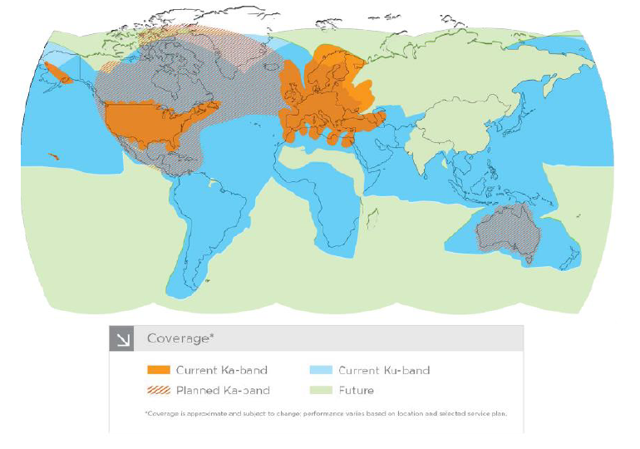 Source: ViaSat filings
The Antenna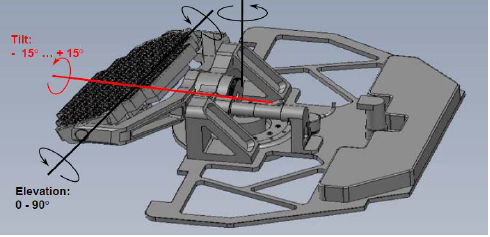 Source: Company filings
ENT is currently developing a new antenna. The new antenna is expected to have improved performance at the equator and high latitude, lower fuel burn, and most importantly it will fit under Boeing radomes. Being compatible with Boeing will allow ENT to receive future line-fit installations.
Ku-band Connectivity
Like GOGO (NASDAQ:GOGO) and Panasonic, ENT offers Ku-band connectivity with a current speed of 8-12 Mbps which is around the same speed as Gogo's ATG4. Historically, the service was provided through an exclusivity agreement in NA with Hughes Network Systems. In 2014, the company announced a deal with SES to transition their global network over after two to three years. This transition allows ENT to enjoy SES HTS satellites which are scheduled to launch in 2017. HTS satellites with ENT's newly developed HTS satellites should enable ENT to increase bandwidth from 8-12 Mpbs to over 100 Mbps in 2017. The company claimed that the new antenna is faster than all of the current solutions that exist today, the current 2Ku that GOGO offers which is 70 Mpbs and 100 Mpbs with HTS satellites.
Conclusion
Currently, the company generates over 70% of total revenue from its content service and 30% from connectivity. In the future, ENT should be able to leverage its large existing customer base in its content division and its advanced connectivity technology to gain a fair market share in the international connectivity market. I think in the next few years its connectivity revenue share will largely exceed the traditional content share of the revenue while ENT continues to grow on a large scale. Going forward, ENT is well positioned to capture significant share in the in-flight connectivity market.
Disclosure: I am/we are long GOGO.
I wrote this article myself, and it expresses my own opinions. I am not receiving compensation for it (other than from Seeking Alpha). I have no business relationship with any company whose stock is mentioned in this article.